A 58-year-old Uruguayan man found alive four months after disappearing in the remote Andes Mountains had fled Chile after accusations he sexually abused a minor.
Raul Fernando Gomez Circunegui is accused of abusing an eight-year-old in the poor neighbourhood of Cerro Navia in Santiago.
He reportedly survived the brutal Andean winter eating rats, raisins and leftover supplies in a shelter,
A Santiago branch of the prosecutor's office put Mr Gomez under investigation in April and banned him from leaving the country.
But Mr Gomez, a plumber, reportedly set out in May to cross the mountains from Chile to Argentina on foot, but lost his way during a snowstorm.
Argentine officials from the northwestern province of San Juan stumbled upon Mr Gomez in a shelter 2,840 metres above sea level when they travelled there to record snow levels.
He has given no details about his trek, but reportedly lost 20kg during the ordeal and is dehydrated.
"(He) sought to evade justice," the Chilean prosecutor's office said in a statement on its website.
The prosecutor is now asking Argentine authorities to extradite Mr Gomez to Chile.
His daughter Paula Gomez has rejected the accusations.
"(The issue) arose because of an aunt with whom we don't have a good relationship, but it's been resolved," Paula Gomez was quoted as saying by Argentine state news agency Telam.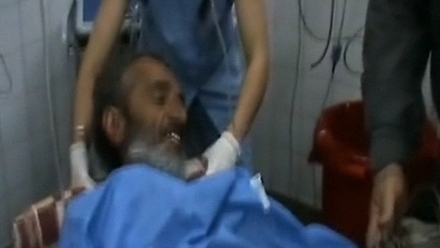 Chilean media outlets have reported Mr Gomez is accused of abusing his sister-in-law's son.
"He was being looked for because he disappeared, not for any other reason," Ms Gomez said.