Four men have been convicted of the gang rape of a young woman on a bus in New Delhi.
The men are now facing the death penalty.
Judge Yogesh Khanna told the court: "I convict all of the accused.
"They have been found guilty of gang rape, unnatural offences, destruction of evidence ... and for committing the murder of the helpless victim."
Defence lawyer VK Anand told reporters that arguments for sentencing of the four - fruit seller Pawan Gupta, bus cleaner Akshay Kumar Singh, gym instructor Vinay Sharma and Mukesh Singh, an unemployed man - would start on Wednesday.
Police constable Naresh Chand, who led the men away from the court after the verdict, said they were subdued.
"It was not like normal today. They are usually whispering among themselves, even smiling. Today they were quiet," he said.
In March, a fifth accused, Ram Singh, was found dead in his prison cell.
A teenager tried separately in the same case was sentenced to three years in juvenile detention last month.
The woman's death led to days of violent protests across India in a wave of unprecedented anger and also sparked a national debate about the treatment of women.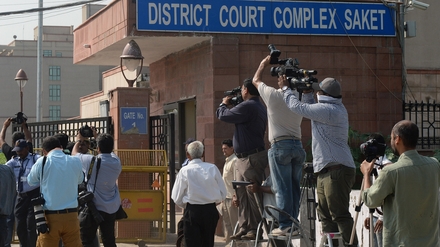 Prosecutors allege that the four men lured the woman and a male friend onto the bus on the night of 16 December 2012 as the pair returned home from watching a movie at a shopping centre in south Delhi.
As the bus drove through the streets of the capital, the men repeatedly raped and tortured the woman with a metal bar before dumping her and her friend, naked and semi-conscious, on the road, prosecutors said.
Her friend later recovered, but the woman's internal injuries were so severe that she died in a Singapore hospital two weeks after the attack.
Two of the suspects said they were at a party in a park when the attack took place. Akshay Singh said he was hundreds of kilometres away in his village in Bihar state.
Mukesh Singh also denied being present, but during the trial he changed his story and said he had been driving the bus.
He said his three co-accused had been on the bus, but he insisted he had not seen anything as the interior lights had been switched off after the victim and her friend had boarded.
Indian law prohibits naming the woman victim, a trainee physiotherapist from a lower-middle class family who had worked in a call centre, but Indian media have dubbed her Nirbhaya, a Hindi word meaning fearless.