President Michael D Higgins has led tributes to the poet and Noble laureate, Seamus Heaney, who has died at the age of 74.
The President said that Mr Heaney was touched by a "mark of genius" and praised his work in dealing with human rights issues in his poetry.
In a statement, he said: "The presence of Seamus was a warm one, full of humour, care and courtesy - a courtesy that enabled him to carry with such wry Northern Irish dignity so many well-deserved honours from all over the world.
"His careful delving, translation and attention to the work of other poets in different languages and often in conditions of unfreedom, meant that he provided them with an audience of a global kind."
Taoiseach Enda Kenny said Mr Heaney's death "brings great sorrow to Ireland, to language and to literature".
He said: "He is mourned - and deeply - wherever poetry and the world of the spirit are cherished and celebrated.
"For us, Seamus Heaney was the keeper of language, our codes, our essence as a people.
"Today, it would take Seamus Heaney himself to describe the depth of his loss to us as a nation.
"He belongs with Joyce, Yeats, Shaw and Beckett in the pantheon of our greatest literary exponents."
Former US President Bill Clinton and his wife Hillary paid tribute to Mr Heaney's "uniquely Irish gift for language".
In a joint statement to RTÉ News they said: "He was a good and true friend. We loved him and we will miss him.
"More than a brilliant artist, Seamus was, from the first day we met him, a joy to be with and a warm and caring friend - in short, a true son of Northern Ireland."
Minister for Arts, Culture and the Gaeltacht Jimmy Deenihan said Mr Heaney was a "great ambassador for literature, but also for Ireland".
Speaking on RTÉ Radio, Mr Deenihan described the Nobel laureate as a "humble" and "accessible" man, whose poetry was known and respected throughout the world.
"He was a huge figure internationally, just a great ambassador for literature obviously but also for Ireland," he said.
Heaney's words will 'continue to inspire'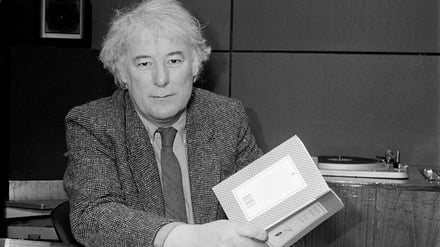 Tánaiste Eamon Gilmore said Mr Heaney's work reflected his deep love and knowledge of the Irish land and the Irish people.
"His poetry explained us to ourselves. In his work, the dignity and honour of the everyday lives of people came to life," he said.
Fianna Fáil leader Micheál Martin said it is "a sad day for the country, as we lose one of our very best".
He said: "Seamus Heaney was a giant of modern literature who achieved the highest accolades and honours across the globe.
"And yet, what struck anyone who had the privilege of meeting him was the extent to which he never lost his connection to, and love for, the people and places of his native County Derry."
Sinn Féin leader Gerry Adams said he knew and was very fond of the poet.
Mr Adams said: "He was a wonderful man as well as a literary figure of huge international stature, regarded by many as the greatest Irish poet since Yeats."
Northern Ireland's Deputy First Minister Martin McGuinness said he had spent time with Mr Heaney at the Fleadh Cheoil na hÉireann in Derry last week and enjoyed a great conversation with him.
"He will be sadly missed not just across Ireland but also further afield where his work resonated with many people over many decades," Mr McGuinness said.
RTÉ Director General Noel Curran said Mr Heaney was not only among the most lauded of writers, he was also among the most read.
"Seamus Heaney shone a light into and onto Ireland and, in a particular way, Irish rural life, charting also our intimate engagements as parents, children, lovers and friends, with wisdom, humour and astuteness.
"RTÉ's own long-standing relationship with Seamus Heaney was one we valued hugely, including the privilege of joining with the national and international celebrations of his 70th birthday in 2009.
"His words live now, and will endure, in all our memories."
Tribute programmes will be broadcast across the weekend on radio, television and online.
Other planned coverage will include a special obituary programme compiled by historian John Bowman, a repeat of an interview between Seamus Heaney and fellow poet Dennis O'Driscoll and an excerpt of an interview with Marian Finucane.
Heaney's 'talent was one to be shared'
Former president Mary Robinson said Mr Heaney's death was an enormous loss that would be felt by ordinary people all over the island and by millions beyond.
She said that while he was aware of his talent and creative ability, he was very humble.
"He had always that sense of giving, but he himself knew that his talent was one to be shared," Mrs Robinson said.
She said she had quoted him in many of her speeches, and she had been influenced many times in her life by his words.
Amnesty International Ireland's Colm O'Gorman said the poet's words will continue to inspire countless generations to come.
He added: "In 1985 Seamus Heaney wrote the poem, From the Republic of Conscience, for Amnesty International to mark International Human Rights Day. It has since inspired a generation of human rights activists around the world."
Archbishop Eamon Martin said the Nobel laureate was "always at heart a quiet Irish man who wrote our story without rhetoric".
He said Mr Heaney was "a poet of compassion, a great teacher and a gentle man in every sense".
The Most Revd Dr Richard Clarke, Archbishop of Armagh and Primate of All Ireland, said Mr Heaney was a man with a great generosity of spirit.
He said: "His poetry illuminated aspects of Irish life North and South which perhaps many of us would not have understood without his writing."
Fellow poet Michael Longley paid tribute, saying Mr Heaney was an utterly distinguished man of letters, as well as a magical poet.
He said: "He was a poet of extraordinary complexity and profundity, it's almost odd how a poet so complex should also be so popular.
"He appealed not just to the critics and fellow poets but to the man in the street."
Publishers Faber and Faber said it could not "have been prouder to publish his work over nearly 50 years.
"He was nothing short of an inspiration to the company, and his friendship over many years is a great loss."
Tributes from the worlds of arts and education
U2 frontman Bono has described Mr Heaney as "a great, great poet" who "changed my life".
Bono said: "In so many things he was a gentle genius, whose words challenged us with the grit and beauty of life as much as they gave us solace. He wrote with a brevity that strangely spilled to the brim.
"We all envied how he made that most complicated of things, the balancing of work and family, appear so simple. In Marie he found his other whole. And it is a joy to be around his kids Michael, Chris and Catherine Ann. They have all of his humility in their sharpness.
"I am bewildered to think Seamus is no longer with us. Because his words will be around forever, it seemed so would he."
Fellow poet and Aosdána member Theo Dorgan said: "The death of Seamus Heaney will be a heart-blow to all who knew and loved him, a wound that will be a long time healing.
"As a Saoi, Seamus was exemplary in his firm and unswerving commitment to poetry; as a colleague and friend to all artists he was immensely generous with his time, his experience and indeed his wisdom." 
Abbey director Fiach Mac Conghail said Mr Heaney "was an advocate for art and conscience; a true and inspiring cultural chieftain".
He said Mr Heaney read his poetry at the Abbey on numerous occasions, with his first reading in 1972.
The National Library of Ireland described Mr Heaney's contribution to the artistic and cultural life of the Irish nation as extraordinary.
Mr Heaney donated his literary papers to the Library in 2011.
Chairman of the Arts Council Pat Moylan said Mr Heaney was a towering figure in the arts who will be mourned profoundly by people in Ireland and across the world.
"His work, always intelligent, humane and beautiful, earned him devoted readers across the globe," she said.
General Secretary of the Irish National Teachers' Organisation Sheila Nunan said Mr Heaney "will be fondly remembered not only as a poet and a scholar, but as a great teacher and teacher educator".
She said he regularly spoke fondly of his time in Carysfort College and retained his links with teachers and the teaching profession.
His poem Valedictory Verses was written for the graduation ceremony in Carysfort in 1988.
NUI Chancellor Dr Maurice Manning said of Mr Heaney that "with his death, Ireland and the world have lost a truly great poet, a great citizen and a person of immeasurable humanity and charm".
Paying tribute, he said the "squat pen" that Mr Heaney took up early in place of the spade of his father and grandfather has dug deep, rich, lasting furrows in the field of world poetry.
Elsewhere, tributes are being paid to the late poet at the music and arts festival, Electric Picnic, which takes place in Stradbally, Co Laois this weekend.
The Mindfield area, a hub for literary readings and poetry performances, has been dedicated to the poet, who previously performed there.
Death of Seamus Heaney announced
Heaney reads his poem Bogland in 1976
Heaney discusses his life and career in a broadcast from 1989
GALLERY: A life in pictures