Boston mob boss James "Whitey" Bulger has been described as a "vicious, violent and calculating" criminal.
The 83-year-old is accused of committing or ordering 19 murders in the 1970s and 1980s and of racketeering.
In closing arguments, federal prosecutor Fred Wyshak urged jurors to trust the testimony of three former members of Bulger's "Winter Hill".
"The evidence in this trial has convincingly proven that the defendant was one of the most vicious, violent and calculating criminals to ever walk the streets of Boston," Mr Wyshak said.
Bulger has pleaded not guilty to all criminal counts and the jury is expected to begin deliberating tomorrow.
Mr Wyshak recounted the testimony of three top Bulger allies: Stephen "The Rifleman" Flemmi, John "The Executioner" Martorano and Kevin Weeks.
The former members of Bulger's gang testified to murders that Bulger ordered or carried out himself of gangland rivals, suspected informants and two women.
They also testified they shook down both fellow criminals and local business owners in extortion schemes.
"These men were the scariest people walking the streets of Boston and that's why when they approached a bookmaker or a drug dealer or a loan shark ... there was very little resistance," Mr Wyshak said.
"Because those individuals knew that either they paid or they got hurt."
Mr Bulger's attorneys began their closing statements by asking why Martorano, who admitted to 20 murders and Weeks, who was convicted of playing a role in five, were free men today.
Martorano served 12 years in prison and Weeks served five in exchange for testifying against their former boss.
"You have to sit there and ask yourself why are they still walking the streets? If they are so vicious and violent and our government knows about it why are they still out there right now?" defence attorney Henry Brennan said to the jury.
"Is there something in your stomach that just resonates and says, 'There's got to be more. There's got to be more to this story?'" Mr Brennan said.
Bulger sat quietly in court writing notes in a yellow legal pad.
Bulger's story has fascinated Boston
His story has fascinated Boston for years.
He rose from living in a gritty housing project to become the city's most feared crime lord while his brother, William, wielded political power, rising to president of the Massachusetts state senate.
The gangster served time in Alcatraz early in his long criminal career. After escaping Boston on a tip from a corrupt FBI agent that arrest was imminent, he lived as a fugitive for 16 years before his capture in California two years ago.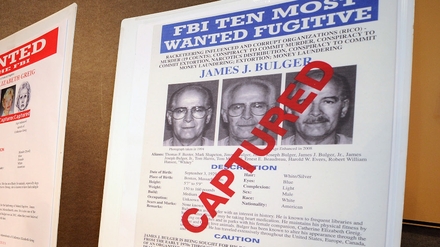 During the trial, the defence admitted Bulger had been a drug dealer, extortionist and loan shark, in short, an "organized criminal."
They argued most strenuously against one government assertion: that Bulger was an FBI informant, who rose to power with the help of corrupt law enforcement agents who turned a blind eye to his crimes.
Black era for Boston law enforcement
The trial, which began on 12 June , also illustrated a black era for Boston law enforcement, when FBI agents who shared Bulger's Irish ethnicity and South Boston upbringing allowed his gang to operate with impunity, in exchange for information the FBI could use against the Italian Mafia, which then was a top national target for the bureau.
Mr Wyshak showed the jury a 700-page file that corrupt FBI agent John Connolly produced over more than a decade of regular meetings with Bulger and Flemmi, which recounted tips they had provided about rival gangs, some true and some not.
Bulger adamantly denies having served as an informant, contending he paid Connolly off and that the agent invented the contents of the file to provide a cover for his regular meetings with the mobster.
Connolly is serving a 40-year prison sentence for murder and racketeering.
Mr Wyshak also advised jurors that Bulger can be found guilty of ordering or playing a supporting role in a murder, even if he did not kill the victim with his own hands.
Witnesses offered conflicting testimony on whether one of his female victims, Debra Davis, died when Bulger strangled her or whether it was her boyfriend Flemmi who finished her off.
"You don't have to decide who strangled Debbie Davis," Mr Wyshak said. "What you need to decide is whether Mr Bulger has any criminal liability in this murder."
Bulger's story inspired the character played by Jack Nicholson in Martin Scorsese's Academy Award-winning film The Departed.