Taoiseach Enda Kenny has led tributes to RTÉ broadcaster Colm Murray, who has died at the age of 61.
Mr Murray had been diagnosed with motor neurone disease in recent years.
He died at his family home in Clontarf in Dublin.
The Taoiseach said Mr Murray was the voice of Irish racing for many years and that he lit up the coverage of many a racing meet with his passion and enthusiasm for the sport.
RTÉ Director General Noel Curran said Mr Murray was a hugely admired, versatile and talented broadcaster.
He said Colm was always an incredibly popular individual who was full of energy and positivity.
Today was a very sad day for everyone at RTÉ, he said, particularly as Colm's death had occurred so closely to that of his sister, Cathy.
RTÉ News Deputy Managing Director Michael Good described him as one of RTÉ's finest journalists and a wonderful human being.
Tánaiste Eamon Gilmore said: "Colm was one of the most accomplished sports journalists of his generation and was, as far as most people were concerned, the voice of horse racing in Ireland.
"Colm was diagnosed with motor neurone disease in 2011, but he bore his illness with incredible bravery and dignity.
"It was a mark of his professionalism and courage that he continued to work for as long as he did after his diagnosis, and it was this courage that inspired so many people."
Minister of State for Tourism and Sport Michael Ring has said that Colm's passion and enthusiasm for sport was always evident in his work.
"His enthusiasm was so strong that he made others want to listen to his coverage, especially when it featured horse-racing."
Trainer Ted Walsh described Mr Murray as one of nature's gentlemen and said he was "great company".
Speaking on RTÉ Radio, Mr Walsh said: "He loved to have a bet, loved to do the aul jackpot. He wasn't a big compulsive gambler, but he loved a bet and loved going racing.
"He was just a joy to be with. He wasn't one of those fellas who when you went into a room you wanted to buzz away and sit somewhere else.
"You wanted to sit alongside him and get the stories. He was enthusiastic. He was just one of nature's gentlemen."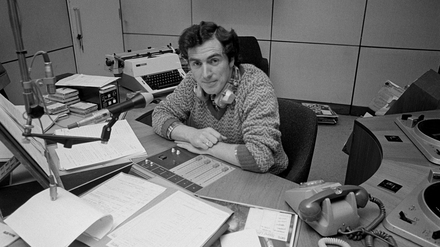 Irish Secretary of the National Union of Journalists Séamus Dooley said Colm was a remarkable figure in Irish journalism.
"In a profession characterised by professional rivalry and jealousy Colm had no enemies."
He said: "He was admired for his wit, his humour and his generosity of spirit.
"His stoical acceptance of his illness has served as a powerful inspiration and it is a cruel irony that someone who loved life with such passion should have been struck with such a debilitating illness."
Fianna Fáil leader Micheál Martin described Mr Murray as "an icon of Irish sports broadcasting and a gentleman to his fingertips".
He said: "He was an exceptional raconteur and enlivened many an occasion with the depth of his knowledge and humour."
Minister for Arts, Heritage and the Gaeltacht Jimmy Deenihan said: "Colm's passing has come all too soon. He was a tremendous supporter of the Listowel Racing Festival and the poignancy of his passing coinciding with the opening day's racing in Galway is of itself significant of the support he provided to the racing fraternity.
"Colm's battle with his illness was fought bravely in public and in private. We mourn his passing now but we remember a life which contributed much to many.
"To his wife Ann and their daughters I offer my deepest sympathy, it was my privilege to have known him."
NUIG President Jim Browne said: "Colm was a great friend and supporter of NUI Galway. An Arts graduate (BA 1972) and an Alumni Award Winner for Sports Achievement and Leadership (2011), Colm was involved in a range of alumni events and activities.
"Over the years Colm participated in and hosted a range of alumni events in Dublin and in Galway - events which always attracted audiences who relished his enthusiasm and his story-telling flair.
"We note his passing with sadness and pay tribute to a graduate whose commitment to his alma mater was deeply-held and much valued."
Colm is survived by his wife Anne, daughters Kate and Patricia, and his sister Mary.
Colm's sister Cathy, who also worked in RTÉ, passed away in May.