The White House has said US Vice President Joe Biden has told Northern Ireland's power-sharing government he is deeply concerned about parade-related violence in Belfast.
It is understood Mr Biden has spoken with First Minister Peter Robinson and Deputy First Minister Martin McGuinness.
The White House said Mr Biden called for calm after riots over a blocked march left 32 police officers, DUP MP NIgel Dodds and at least eight rioters injured.
Meanwhile, at least four blast bombs have been thrown at police in east Belfast.
Several petrol bombs were also thrown after disturbances broke out in the Lower Newtownards Road area.
At least one plastic bullet was fired and water cannons have been deployed to quell the disorder.
It is the fourth consecutive night of trouble in parts of Belfast.
Earlier, a pipe bomb packed with nails was thrown towards police lines in Ardoyne.
There were no reports of any injuries following the attacks.
A PSNI spokeswoman said: "Police would appeal for calm in the area and would call on those with influence to do what they can to help restore calm."
Superintendent Emma Bond said: "We consider ourselves extremely fortunate that we are not dealing with a much more serious incident and that all of the officers were able to walk away from that situation unharmed."
The Crumlin Road was closed between Tennent Street and Twaddell Avenue.
There has been a large police presence in Belfast since violence erupted on Friday after Orangemen were prevented from marching on a contested stretch of road past the nationalist Ardoyne area.
Policing bill expected to run to millions
The policing bill for weekend disturbances around 12 July events is running to millions of pounds.
Assistant Chief Constable Will Kerr described the behaviour of some rioters as almost animalistic and amounting to attempted murder.
The Parades Commission, which stipulated that Orange bands could not march past nationalist homes in Ardoyne on Friday night, has praised the actions of the police.
The commission said that the flagship parade in Derry passed off peacefully thanks to good local leadership and a genuine dialogue.
"In Belfast, a similar example of leadership and dialogue is needed," it said.
Tánaiste Eamonn Gilmore called on the leadership of the Orange Order to condemn what he called blatant acts of sectarianism.
Mr Gilmore said the vast majority of parades were peaceful and uneventful, however where there was trouble, the organisers must condemn it.
In a statement, the Orange Order said the police have questions to answer.
It said the anger had been generated within the entire Protestant, unionist and loyalist community by an illogical Parades Commission.
Speaking on RTÉ's News At One, Rev Mervyn Gibson, the county grand chaplain of the Orange Order in Belfast, said that the Parades Commission was ultimately responsible for what he described as the "crisis" in Belfast over the weekend and called for it to go.
He said that while everyone bore some responsibility for what had happened, the ultimate responsibility lay with the Parades Commission.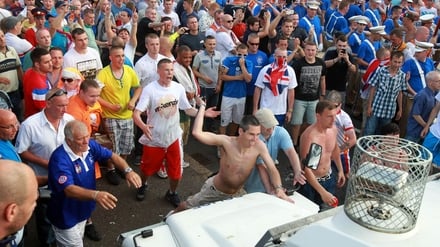 A number of items from the weekend rioting have been put on display at PSNI headquarters, including a police officer's helmet split by a sword, a spiked weapon used by rioters, and police shields damaged by ball bearings and bricks.
The PSNI has warned that "hundreds" of people will be charged over the coming weeks with offences arising from the rioting.
Police say more than 35 people have been arrested and 40 officers injured since the violence flared.
Ten people appeared before a special sitting of Belfast Magistrates' Court yesterday, charged with public order offences related to recent disorder in north and east Belfast.
Eight people were remanded in custody, one pleaded guilty and one was released on court bail.
Belfast violence a 'disgrace'
British Secretary of State for Northern Ireland Theresa Villiers said that the Orange Order needs to reflect on its role in calling on people to protest on the streets of Belfast at a time of serious tension.
Speaking on RTÉ's Morning Ireland, Ms Villiers said that there was concern over the Orange Order's original call to people to come out and protest, without a defined plan as to how to manage and steward these protests.
She said that she would welcome a move by the Orange Order for people to come off the streets completely.
The violence seen on the streets of Belfast is a shame and a disgrace, she said.
She added that it was especially disappointing coming just a few weeks after Northern Ireland hosted the G8 meeting of world leaders.
Stormont Justice Minister David Ford has warned rioters they "will face the full rigour of the law" and should be aware of the impact a conviction could have on their future.
Northern Ireland's Assembly will tomorrow reconvene from its summer break to debate the weekend events.
The speeches and actions of some members of the Orange Order will also be raised.