Four men have been arrested in north and East Belfast tonight following trouble in Ardoyne.
The violence came after tens of thousands of people attended the annual 12 July Orange Parades at 550 centres in Northern Ireland.
Loyalists clashed with police after Orange men were prevented from marching through a potential flashpoint in Ardoyne.
At least four officers were injured after petrol bombs, fireworks, bricks and bottles were thrown by protesters.
The police were enforcing a ruling made earlier in the week by the Parades Commission.
DUP MP, Nigel Dodds, has been taken to hospital after being knocked unconscious after it appears he was struck by a brick in north Belfast tonight.
He was taken from the Ardoyne area by ambulance, and is now being treated for his injuries.
Around 4,000 police officers, including 600 brought in from England, Scotland and Wales, are on duty this evening.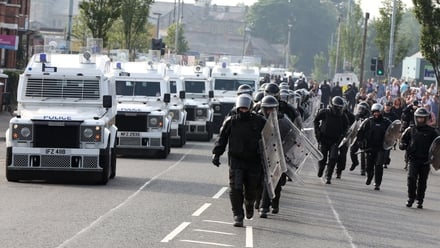 The PSNI said last night was broadly peaceful with isolated minor disturbances in Belfast.
A number of missiles were thrown at several locations.
A 19-year-old man was arrested in Belfast for possession of an offensive weapon, while in Bangor, a 39-year-old man was arrested for possession of fireworks.
Meanwhile, the Northern Ireland Fire and Rescue Service (NIFRS) dealt with one call every 77 seconds over a three-hour period last night.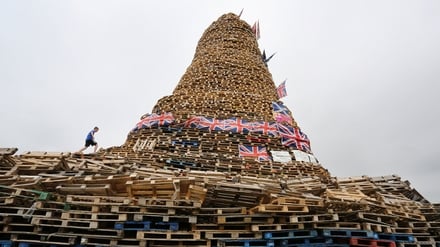 Forty-two incidents were related to "Eleventh Night" bonfires. Only 15 required fire service assistance.
Bonfires were lit across Northern Ireland at midnight to remember the defeat of King James II by William of Orange in 1690.