South African President Jacob Zuma has said Nelson Mandela's condition improved overnight and he is critical but stable.
In a statement on the Presidential website, Mr Zuma said, "He is much better today than he was when I saw him last night. The medical team continues to do a sterling job.
"We must pray for Tata's health and wish him well."
President Zuma added that he was "disturbed" by rumours surrounding the former president's health and appealed for respect, privacy and dignity.
Mr Mandela's eldest daughter Makaziwe has led a group of his grandchildren to see the 94-year-old retired statesman in the Pretoria hospital.
She said after her visit that her father was responding to touch.
"I won't lie, it doesn't look good. But as I say, if we speak to him, he responds and tries to open his eyes. He's still there. He might be waning off, but he's still there," she said.
One granddaughter, Ndileka, described him as "stable" and thanked well-wishers from around the world for their support.
Earlier, Mr Zuma cancelled a visit to Mozambique following consultations with Mr Mandela's doctors.
Asked whether the seriousness of the former president's condition could force changes to the schedule of a planned visit to South Africa this weekend by US President Barack Obama, a spokesperson said it was too early to say.
Mac Maharaj pointed out that Mr Obama was also visiting two other countries, Senegal and Tanzania, starting in the Senegalese capital last night.
Makaziwe Mandela later criticised the "bad taste" of foreign media she said were intruding on the privacy of her father and his family.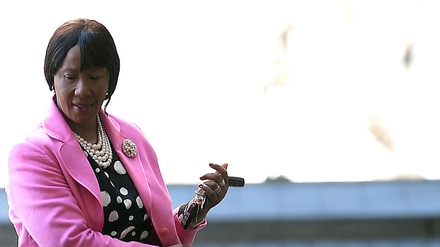 "There's sort of a racist element with many of the foreign media, where they just cross boundaries," she said, after running the gauntlet of the pack of camera crews and reporters gathered outside the hospital.
"It's truly like vultures waiting when the lion has devoured the buffalo, waiting there for the last of the carcass. That's the image we have as a family," she added.
She compared the massive media attention on Mr Mandela, who has been in and out of hospital in the last few months with a recurring lung infection, with the coverage of the death in April of former British prime minister Margaret Thatcher.
"We don't mind the interest but I just feel it has gone overboard. When Margaret Thatcher was sick in hospital, I didn't see this kind of media frenzy around Margaret Thatcher," she said. "It is only God who knows when the time to go is."
Mr Mandela - or Madiba, as he is affectionately known - is revered among most of South Africa's 53 million people as the architect of the 1994 transition to multi-racial democracy after apartheid.
However, his latest hospitalisation - his fourth in six months - has reinforced a realisation that the father of the "Rainbow Nation" will not be around forever.
The deterioration in Mr Mandela's health last weekend to "critical" from "serious but stable" caused a perceptible switch in the national mood, from prayers for his recovery to preparations for a fond farewell.
Well-wishers' messages, bouquets and stuffed animals have piled up outside Mr Mandela's Johannesburg home and the wall of the hospital compound where he is being treated in the heart of the capital.
Schoolchildren, prayer groups, office workers and colleagues who followed Mr Mandela in the anti-apartheid fight have trickled past the hospital day by day, passing journalists and camera crews camped outside the main gate.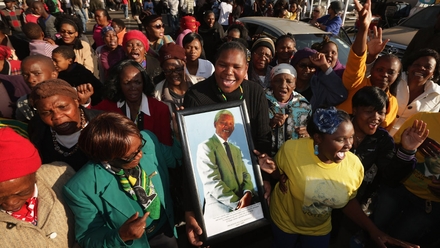 Fallen notes have been collected and replaced with new ones, some written in crayon by children and others penned by adults expressing their appreciation for Madiba.
President Obama said his thoughts and prayers were with the Mandela family and South Africans.
Speaking in Senegal, his first stop on a three-nation African tour, Mr Obama said Mr Mandela was a "personal hero" of his.
"Even if he passes on, his legacy will linger on," Mr Obama said.
He confirmed he still planned to travel to South Africa in the coming days, in response to speculation he might re-schedule his trip because of Mr Mandela's deteriorating health.