Protesters blocked roads in Sao Paulo and marched toward a stadium hosting a major international soccer game in Brazil's northeast today.
The demonstrations were part of a growing wave of nationwide demonstrations against poor public services, inflation and other woes in Latin America's biggest country.
After more than a week, the biggest series of protests to sweep Brazil in more than two decades continued in major capitals and moved into smaller cities.
Focused at first in cities such as Sao Paulo, Rio de Janeiro and the capital, Brasilia, demonstrations in more than 70 smaller cities are expected across the country tomorrow.
Today's protests in Sao Paulo, the site of the most frequent marches, followed overnight demonstrations that led to looting and vandalism.
Police arrested more than 63 people after protesters torched a police facility, tried to storm City Hall and broke windows and ransacked stores.
"People have the right to participate in protests," Sao Paulo Mayor Fernando Haddad said at a news conference.
He was critical, however, of unrest that interfered with "the right to get to work, to get home".
Mr Haddad said he was considering a reduction in bus fares, following cuts by officials in a handful of other state capitals, but still had to weigh how to make up for the subsequent shortfall in revenues for Brazil's biggest city and its financial and industrial hub.
In response, the Free Fare Movement, a protest group that is pushing for free transportation and is one of the chief organisers of the demonstrations, lambasted what it called the "inversion of the debate" by local authorities.
"They say the demonstrations impede the right to come and go of the population," the group said in a statement. "It is the people demonstrating who are in fact fighting to guarantee that right."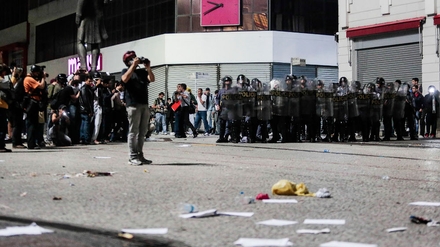 The nationwide protests were sparked last week by transportation fare increases, which came as Brazil struggles with annual inflation of 6.5%, unleashing a tide of complaints that caught authorities off guard.
Contrasting the country's high taxes with its ramshackle schools, hospitals and other government services, demonstrators have criticized the 28 billion reals (€9.6bn) of public money being spent on preparations for the 2014 World Cup, to be played in 12 Brazilian cities.
Tonight, President Dilma Rousseff, who has acknowledged the legitimacy of the protesters' demands, dispatched federal troops to five Brazilian cities to help maintain order around the Confederations Cup, which began earlier this month.
The international soccer tournament is a warm-up for the World Cup.
Ms Rousseff's action, part of the contingency plan for the tournament, is similar to previous deployments of federal troops when crime, violence or other unrest disrupted annual Carnival celebrations and other big events.
Brazil's national soccer team played Mexico tonight in the northeastern city of Fortaleza.
Some protesters among thousands marching before the game crossed police lines and had to be repelled by force, according to local authorities.
A Reuters photographer covering the protest said police pointed guns armed with rubber bullets at journalists to get them to step back.
Protesters outside the stadium carried signs and banners asking residents to "hit the street" and demanding "health, education, not corruption".
It remains unclear whether transportation fare reductions will be enough to slow the demonstrations or whether organisers, a loose collection of young activists who are connecting through social media, will continue calling for protests.
Ms Rousseff, a former leftist guerrilla who was imprisoned and tortured by military dictators in her youth, yesterday said Brazilians deserved better public services.
Neither her words nor efforts by state and local officials have done much to stop the unrest, in part because of the diffuse nature of the protesters and the wide array of demands.
"It's difficult to get ahead of the movement because there isn't a clear image of who they are or what exactly they will do," said David Fleischer, a political scientist at the University of Brasilia.
"It's hard to have a discourse with someone you don't know."
Although many Brazilians support the issues raised by the protesters, some are concerned about the vandalism and scattered violence that has accompanied some of the demonstrations.