The Taoiseach has been heckled by 200 abortion protesters as he unveiled a statue of the former War of Independence leader, General Seán Mac Eoin in Co Longford.
Mr Kenny was heckled throughout a 20-minute public address to over 500 people at Ballinlee.
The protesters called out "Keep your promise" repeatedly throughout the speech - despite appeals from two speakers and Mr Kenny himself to refrain from shouting at a ceremony to honour those who died in the War of Independence.
Mr Kenny was later personally confronted by a protester who told him that he was "proposing to kill the unborn" while attending a function to honour the dead.
The Taoiseach told the protester he was abiding by the constitution of Ireland but the protester replied that the Supreme Court ruling was not abiding by the constitution.
Afterwards Mr Kenny told RTÉ News his public engagements including school openings were being continuously disrupted.
The Taoiseach said he was not affected one way or the other because he had "a job to do."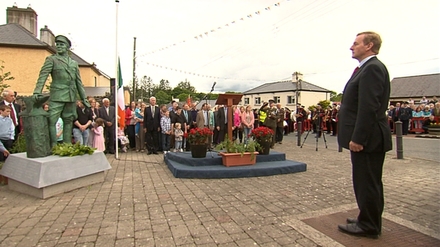 Meanwhile, Fine Gael Senator Fidelma Healy Eames has publicly confirmed that she will not be supporting the Protection of Life in Pregnancy Bill.
She said the bill was a victory for pro-choice abortion advocates and that it was too much to take lying down.
Speaking to RTÉ News the Senator said that over time women would know who the psychiatrists are who will approve and certify an abortion.
Fine Gael has made no comment on the matter, however the Senator will automatically lose the party whip if she does vote against the Government.
The legislation is due to be debated in the Dáil next week.