A total of four people, including the two men shot by police, have now been arrested in connection with the murder of a soldier in Woolwich.
Scotland Yard said a man and a woman, both 29, were held today on suspicion of conspiracy to murder and are being questioned at a police station in south London.
The two men who were shot, aged 22 and 28, have been arrested on suspicion of murder and remain in hospital in a stable condition with non life-threatening injuries.
25 year-old Lee Rigby was hacked to death by two attackers in Woolwich, south east London.
His family paid tribute to "a loving son, husband, father, brother and uncle", adding that "he always wanted to be in the Army, live life and enjoy himself".
The two men shot by police in London after the terrorist murder of a soldier were both known to security services, it was confirmed today.
While the killers were under armed guard in different London hospitals, it is understood police searched the former home of a man called Michael Adebolajo in Lincolnshire.
In the immediate aftermath of the barbaric assault, video footage emerged of the men clutching bloodied weapons including a meat cleaver.
One chilling clip showed a man with heavily blood-stained hands claiming the killing was committed in the name of Allah and ranting about the Government.
Police are preparing to question the two men shot.
Following a meeting of the Cobra emergency response committee today, British Prime Minister David Cameron said: "What happened yesterday in Woolwich has sickened us all. On our televisions last night and in our newspapers this morning, we have all seen images that are deeply shocking."
"The point that the two suspects in this horrific attack were known to the security services has been widely reported. You would not expect me to comment on this when a criminal investigation is ongoing," he said.
President Barack Obama said he condemned "in the strongest terms" the attack in London on a British service member.
"The United States stands resolute with the United Kingdom, our ally and friend, against violent extremism and terror," he said in a statement.
Earlier, London Mayor Boris Johnson said it was wrong to link the murder with British foreign policy or the actions of Britain's armed forces overseas.
Mr Johnson said: "The fault lies wholly and exclusively in the warped and deluded mindset of the people who did it."
The meeting lasted around one hour and afterwards Mr Johnson appeared to indicate that yesterday's attack was being seen as a one-off incident.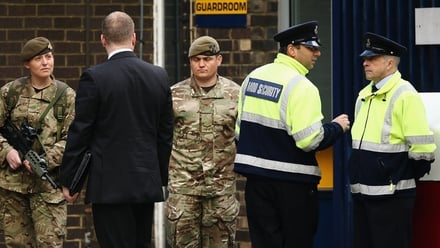 He said: "Everything I am hearing leads me to think that Londoners can go about their business in the normal way and we are going to bring the killers to justice."
Police sources said both men are believed to be British citizens with Nigerian connections who converted to a radical form of Islam.
However, they are not thought to have links to terror groups based in Nigeria, such as the jihadist organisation Boko Haram.
Mr Cameron was briefed by Metropolitan Police Commissioner Bernard Hogan-Howe on the murder investigation before chairing the meeting of Cobra at Downing Street.
Witness speaks of confrontation with suspects
Meanwhile, a woman who risked her life to confront one of the men who attacked the soldier in front of horrified passers-by described how she tried to calm him moments after the barbaric attack.
Ingrid Loyau-Kennett, 48, was on a bus going through Woolwich when she spotted the victim lying in the road.
Her bravery - and that of others who tried to reason with the killers - has been praised, particularly in the wake of amateur footage from the scene, which shows one of the killers making political statements about the slaughter while still brandishing weapons.
Ms Loyau-Kennett told ITV Daybreak she initially thought the victim had been injured in a car crash after spotting a badly-damaged vehicle on a pavement at the scene.
She said: "I went to the guy and when I approached the body there was a lady cradling him. And then (one of the killers), the most excited one of the two, said 'Don't go too close to the body'.
"Because I was down I could see a butcher's knife and an axe - that's what he had - and blood. I thought, what the heck? I thought obviously he was a bit excited and the thing was just to talk to him."
Ms Loyau-Kennett said she tried to reason with the man to focus his attention away from other potential victims, as large crowds began to gather at the scene.
She said: "I know it's big today but for me it was just a regular guy, just a bit upset. He was not on drugs, he was not drunk.
"He said 'Don't touch, I killed him'. I said 'Why?' He said 'He's a British soldier. He killed people. He killed Muslim people in Muslim countries'.
"I tried to make him talk about how he felt. He said all the bombs dropping and blindly killing women, children.
"More and more people were starting to come. There were so many people around. I just looked around and I found it so daunting."
The suspects were shot by police at the scene.
One of the attackers was filmed wielding a bloodied meat cleaver, saying: "We swear by almighty Allah we will never stop fighting you."
The attacker, who spoke clear English without a foreign accent, is then seen walking towards the victim, who is lying in the street.
Another man is standing by the damaged car.
The incident occurred some 200 yards from the Royal Artillery Barracks, adjacent to Woolwich Common, the historical home of the Royal Artillery.
Miliband condemns killing
Speaking on RTÉ's Morning Ireland, former British foreign secretary David Miliband condemned the murder and said the revulsion of the people of London was quite clear.
Mr Miliband said he hoped the brutal attack would bring Britons together as happened after the London bombings in July 2005.
He said: "The first thought is for the victim and his family, a young man serving his country the subject of a deranged, not to say psychotic attack.
"I think that it brings home some of the dangers of open societies, but I think it's also fitting to recognise the breadth of revulsion ... all across races and religions."
Tánaiste and Minister for Foreign Affairs Eamon Gilmore condemned the attack, which he described as shocking.
Speaking in the Dáil, Mr Gilmore said he expressed the Government's deepest sympathy to the British government and family and friends of Mr Rigby.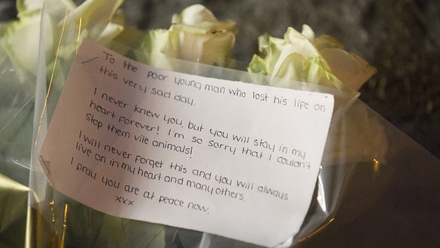 Meanwhile, one of Ireland's main Islamic organizations has condemned the murder as "unjustified and barbarous".
In a statement, the Islamic Cultural Centre of Ireland urged all the Republic's 50,000 or so Muslims to distance themselves from such deplorable acts or association with their perpetrators.
It also calls on Imams to condemn the murder in sermons at Friday prayers marking the Muslim weekly Holy Day.
Charged
Elsewhere, two men were charged over separate attacks at mosques.
Police in Kent were called to a mosque last night hours after the young soldier was hacked to death.
Officers arrested a man and tonight, Kent Police said they had charged Andrew John Grindlay, 45 from Rochester, with religiously aggravated criminal damage and burglary.
Separately, detectives charged a 43-year-old man from Braintree after an incident where a man was arrested in possession of a knife outside the prayer centre in Silks Way, Braintree.
Threw bottles 
Supporters of the English Defence League (EDL) had gathered at Woolwich Arsenal train station near the scene and threw bottles at police.
Officers formed a cordon and the men left the immediate area after the brief incident.
Mr Miliband condemned the rioting in the area last night, which he described as an attempt by the far-right EDL to "exploit" the situation.
He said there were also serious security aspects to be considered.