French police investigating fatal shootings in Toulouse remain at a house in the city where they believe the suspected gunman is holed up, with conflicting reports over the nature of three explosions at the scene.
Deputy Mayor of Toulouse Jean-Pierre Havrin had confirmed that negotiations had ended and that the assault had begun.
However, the French Interior Ministry said the blasts were to intimidate the suspect and that the assault has not started.
French Interior Minister Claude Gueant today denied reports by a number of French TV channels that the gunman had been arrested.
The operation to surround the house in Toulouse got under way at 2am Irish time.
Earlier, Mr Gueant told reporters at the scene that the 24-year-old man claims to have links with al-Qaeda.
Police said the suspect, Mohammed Merah, is of Algerian origin.
He is suspected of killing three children and a rabbi at a Jewish school on Monday and of killing three soldiers of North African origin last week.
Updates:
2351 Interior ministry spokesman Pierre-Henry Brandet told Reuters: "They were moves to intimidate the gunman who seems to have changed his mind and does not want to surrender.
"There is no assault."
2235 The French Interior Ministry has said the blasts were to intimidate the suspect and that the assault has not started.
2250 The three loud blasts blew open the door of the apartment.
"I confirm that the assault has started," a police source told Reuters.
Deputy mayor of Toulouse Jean-Pierre Havrin confirmed that negotiations had ended and the assault had begun.

2243 Three blasts have been heard at the site. The deputy mayor of Toulouse has confirmed an assault on the apartment has begun.
2020 Public street lighting was switched off Wednesday evening in the Toulouse district where the suspected serial killer is holed up in an apartment.
The move could be in anticipation of an assault on Mohammed Merah.
1825 An Afghan provincial governor has denied statements by a senior prison official that Mohamed Merah was jailed for bombings in Afghanistan in 2007 and escaped months later.
Citing prison documents, Kandahar prison chief Ghulam Faruq had told Reuters that Afghan security forces detained Merah on 19 December 2007, and that he was sentenced to three years in jail for planting bombs in the southern province of Kandahar, the Taliban's birthplace.
But the Kandahar governor's office said that account was "baseless".
1753 The Jewish victims from the Ozar Hatorah school were buried in Jerusalem.
Parliament speaker Reuben Rivlin said in his eulogy at the hill-top cemetery that the attack was inspired by "wild animals with hatred in their hearts".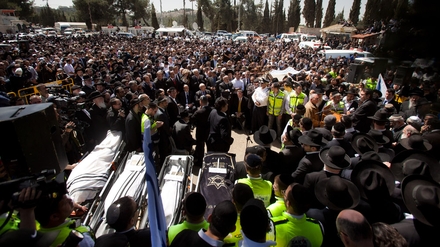 1704 French police have found a camera that may have used to film the attacks.
"A camera was indeed found in a bag which [the suspect] had given to an acquaintance to look after," prosecutor Francois Molins said.
1630 French police have found the scooter allegedly used by Mohamed Merah in three deadly attacks and are looking for a car that may contain weapons.
1605 According to the French prosecutor, the US army sent the suspect back to France after he had been arrested at a road checkpoint in Afghanistan.
The US army "put him on the first plane headed to France," Francois Molins told reporters. He said the incident occurred on one of two trips the 23-year-old Frenchman made to Afghanistan.
1600 French prosecutor Francois Molins told a press conference that the suspect will surrender: "He had said he wanted to give himself up in the afternoon or evening, now it's in the late evening."
1550 The French prosecutor said in a press conference that the suspect claimed responsibility for the shootings and said he had "always acted alone". He also told journalists that the suspect boasted of bringing "France to its knees".
Mr Molins said that "Mohamed Merah explained that he belonged to al-Qaeda... he had been trained by al-Qaeda in the Pakistani-Afghanistan region in Waziristan."
1520 President Sarkozy told a memorial ceremony that the three slain soldiers were victims of a "terrorist execution".
1505 AFP reports that President Sarkozy told religious community representatives that the suspect "planned to kill this morning".

1501 French police said they found explosives in the suspect's brother's car.

1356 The French Interior Minister has denied reports that the gunman has been arrested. A spokesperson gave no further details.
1337 French television channels BFM TV and i-Tele are now reporting that the man has been arrested - One police source confirmed the arrest to Reuters.
The TV channels cited police sources for the information, without providing further details.
No official confirmation as yet.
1334 French President Nicolas Sarkozy has arrived in Toulouse - close to the scene of the police operation.
Sarkozy is to meet with police in charge of the operation and then attend a ceremony in honour of three dead soldiers.
1320 BFM television has reported that the suspected killer has been arrested.
1245 Further details on the Afghan prison escape. Merah escaped along with up to 1,000 prisoners, including 400 Taliban insurgents.
The escape occurred during an attack on southern Afghanistan's main Sarposa Prison in June 2008.
The Taliban blew apart the main gate with a large truck bomb, allowing the prisoners to escape.
1215 The suspect has resumed negotiations with police, according to officials.
Mohamed Merah had cut off talks about two hours earlier.
1200 French police have said they are probing a call made to a news channel by a man claiming to be the killer, who said footage of the attacks would soon be on the Internet.

1105 Gunman was broken out of an Afghanistan prison in a mass Tailban jailbreak, according to the Kandhar prison director.
He had been sentenced to three years before his escape.
1104 Kandahar Prison Director Ghulam Faruq has said the gunman had previously been arrested for planting bombs in Kandahar.
1102 "This unbelievable act of violence has struck France to the heart, touching what is most fragile and most dear: families, a father, young children, your children, our children." French Foreign Minister Alain Juppe in Jerusalem.
1100 I hope that the operation is concluded as soon as possible, so to end this unbearable grief. At this exact moment I would like to remind you that the fight against terrorism should be pursued continuously, without any weakness." Francois Hollande, French presidential candidate.
1055 "They came to arrest the man as part of the investigation. Yes it went wrong. There had been some shootings. Now they are negotiating. We are trying to negotiate to find a solution so things go well." Didier Martinez, police union representative.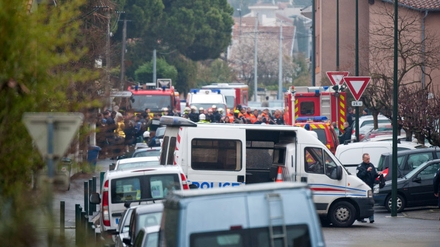 1045 "It is time for these criminals to stop marketing their terrorist acts in the name of Palestine and to stop pretending to stand up for the rights of Palestinian children who only ask for a decent life," Palestinian prime minister Salam Fayyad.
1033 The Palestinian diplomatic missions in France "condemn in the strongest possible terms the hateful attack carried out in Toulouse".

"All racist crimes are attacks on humanity in general and on the republic in particular."

1030 AFP is reporting that the residents of the besieged building have been taken to safety.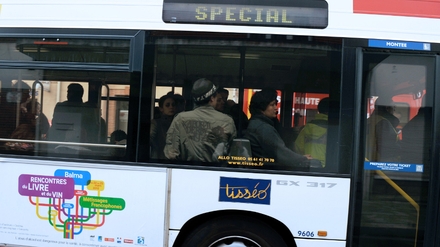 1021 French President Nicolas Sarkozy has said France should not give way to discrimination or vengence after the shootings.
Terrorism will not divide France, he said.
1015 ITV's Europe Correspondent Martin Geissler on Twitter: "Gas cut off in block where Toulouse shooting suspect is holed up, neighbour tells me."
1005 Irish Times Paris Correspondent Ruadhán Mac Cormaic on Twitter: "Have a partial view of the building from new vantage point. Police in balaclavas coming and going."
1000 French Interior Minister Claude Gueant said French intelligence has tracked the suspect for years.
0957 AFP is reporting that Mr Merah has stopped talking to police and his mother and brother have been detained.
0950 "These acts are in total contradiction with the foundations of this religion. France's Muslims are offended by this claim of belonging to this religion," head of the French Muslim Council, Mohammed Moussaoui.
0945 French police are continuing to negotiate with Mohammed Merah.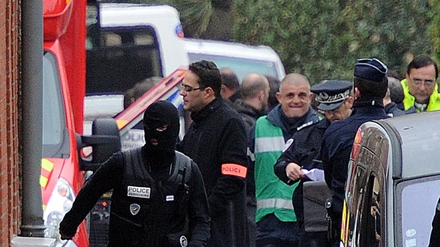 0943 Sinéad Hussey reports on the latest from the siege in Toulouse.
0930 Mark Sztulman, a representative from the local Jewish community, said people will be able to breathe easy again knowing that the police had identified the killer.
Mr Szultman said: "I saw an extremely heavy police deployment. A lot of elite forces who are visibly negotiating. We saw (Interior Minister) Claude Gueant, whom we thanked warmly in the name of the Jewish community but also as republicans."
0907 A loud blast heard near the building where the suspect was under siege was police destroying a vehicle that was in the way.
Police said that they were blowing up of a vehicle that was blocking access in the area.
0855 Channel 4's Foreign Affairs Correspondent on Twitter: "Police spokesman tells me suspect took scooter to garage. And garage then called police."
0850 France 24's Douglas Herbert on Twitter: "Sarkozy going to Toulouse to meet with investigators before heading to Montauban for soldiers' burial.
"Negotiator from French special strike force (RAID) said to be speaking with Toulouse suspect through door."
0839 AFP - French police say the suspect, named as Mohammed Merah, is of Algerian origin.
0829 Claude Gueant: "Our main concern is to catch him and to catch him under such conditions that he can be brought to justice. Our concern is certainly to catch him alive."
0827 Around 1,000 mourners have gathered at Givat Shaul cemetery in Jerusalem for the funerals of the four people killed on Monday.
0822 Claude Gueant said the man still has an Uzi machine gun, a Kalashnikov assault rifle and other weapons.
0816 AFP reports that Claude Gueant said French police aim to catch the suspect "alive". There are also reports that a blast has been heard at the scene.
0814 The funerals for Jewish school shooting victims have begun in Jerusalem, reports AFP.
0809 AP reports that the French interior minister said the suspect says he will turn himself in sometime in afternoon.
0808 Channel 4's Jonathan Rugman: "Shots just heard Toulouse siege."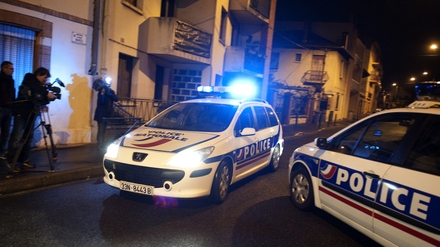 0806 AP reports that Mr Gueant has said the suspect threw a handgun out window but has other weapons.
0801 Channel 4's Foreign Affairs Correspondent Jonathan Rugman is at the scene and has tweeted: "Special police in balaclavas still outside block of flats. Suspect understood to be on ground or a lower floor inside."
0755 French Finance Minister Alain Juppe has accompanied the coffins carrying victims of Toulouse shooting to Israel for burial.
0750 The rector of Paris' Grand Mosque urged France not to stigmatise its Muslim citizens in the wake of deadly shootings.

Dalil Boubakeur said that "99.9%" of Muslims in France are law-abiding citizens and that the killings of soldiers, Jewish children and a rabbi in were the work of a tiny "fringe".
0742 French police made a breakthrough in the hunt when they identified his brother's internet address, police sources said.

One line of the police inquiry was into an internet ad to sell a motorbike placed by the scooter-riding killer's first victim, a 30-year-old soldier in the southwestern city of Toulouse.

0735 The bodies of three children and a rabbi who were shot dead at a Jewish school in France have arrived in Israel for a burial service in Jerusalem.

The bodies of Rabbi Jonathan Sandler, 30, his sons Arieh, 5, and Gabriel, 4, and seven-year-old Miriam Monsonego arrived at Ben Gurion international airport near Tel Aviv shortly after 3.45am Irish time.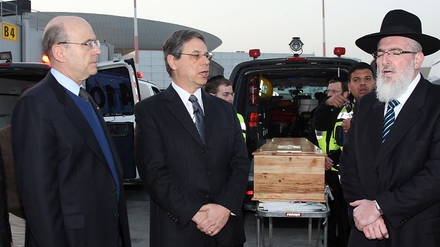 0730 AFP news agency is quoting police sources as saying that the suspect was previously arrested in Afghanistan.
A source close to the investigation said that the 24-year-old had once been arrested on a matter of common law in Afghanistan.
0725 The suspect's mother has also been brought to the scene to help negotiate.

"The suspect's mother was brought to the scene. She was asked to make contact with her son, to reason with him, but she did not want to, saying she had little influence on him," Mr Gueant said.

0720 Interior Minister Claude Gueant said: "He claims to be a Mujahideen and to belong to al-Qaeda.

"He wanted revenge for the Palestinian children and he also wanted to attack the French army because of its foreign intervention."

0715 Police sources say that another man has been arrested at a separate location in connection with the killings.

0710 A gunman suspected of killing three children and a rabbi at a Jewish school has wounded three police officers in a shoot-out at a house in Toulouse in France.

Heavily armed police in bullet-proof vests and helmets have cordoned off the area where the raid is taking place.

The scene is a few kilometres from the Ozar Hatorah Jewish school where Monday's shootings took place.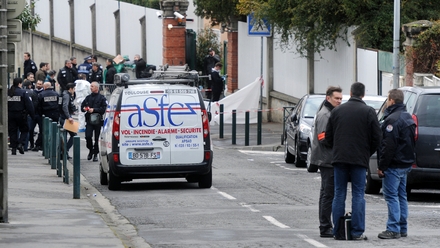 Authorities believe that the gunman in the school shooting was the same person responsible for killing three soldiers of North African origin in two shootings last week in Toulouse and the nearby town of Montauban.

The same Colt 45 handgun was used in all three attacks and in each case the gunman arrived on a Yamaha scooter with his face hidden by a motorcycle helmet.