If you are using the NewsNow app, go to http://m.rte.ie in your mobile internet browser to see all the live blog photos
Celebrations to mark St Patrick's Day have taken place around the world - with over 500,000 people turning out for the parade in Dublin.
Over 3,000 performers took part in the parade itself - which had Irish football legend John Giles as Grand Marshall.
Dozens of other parades also took place in cities and towns across Ireland and the rest of the world. More than two million lined the streets for the 251st St Patrick's Day parade in New York.
Taoiseach Enda Kenny was guest of honour at the Chicago St Patrick's Day parade.
As part of the celebrations, 31 global landmarks turned green for the day, including the leaning tower of Pisa, Table Mountain, the London Eye, the Sydney Opera House and Burj al Arab in Dubai.
The 'Global Greening' was part of a Tourism Ireland initiative to promote the country abroad.

Updates:
2100 This wraps up our live blog for the day. Thank you for all your photos - sorry we couldn't publish them all.
You can watch highlights from all the parades around Ireland and the world in the video tab above.
Happy St Patrick's Day!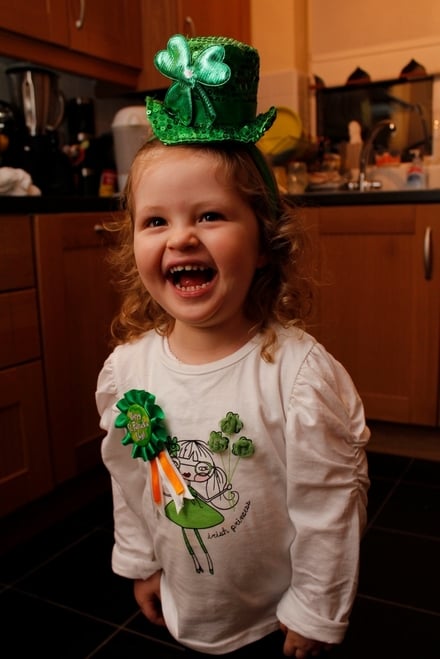 2032 Barack Obama was out for a few pints with the family from Moneygall this evening... Seen here with distant cousin Henry Healy at the Dubliner pub in Washington DC a short time ago.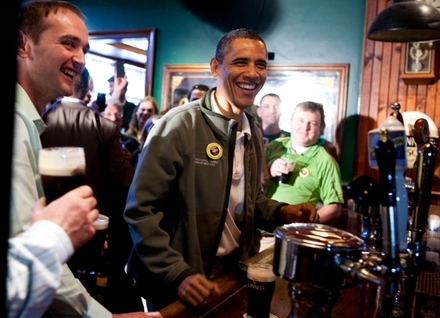 2022 Would you like to learn some REAL Irish dancing steps for St Patrick's Day? The good people at Diddlyi.com have a video which will have you doing the 1-2-3 in no time
2009 Hello from Paddy's Point pub on the Costa Blanca...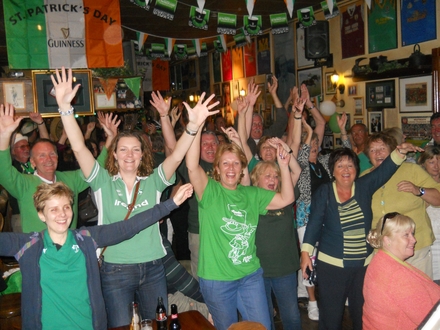 2007 This 10-week-old leprechaun - Leon - is celebrating in Stockholm (Pic from Helena Maher)
1957 A great shot of the Liffey and the Convention Centre this evening - taken by Dublin taxi driver Brian Meleady...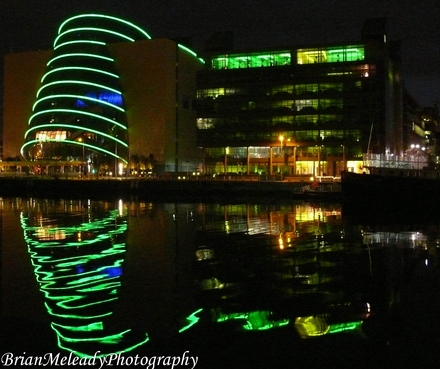 1955 Rick O'Shea explores what it means to be Irish - using videos and photos sent in by the public - Watch How To Be Irish here
1954 Aisling Kirwan met Mickey Mouse at the parade in Wicklow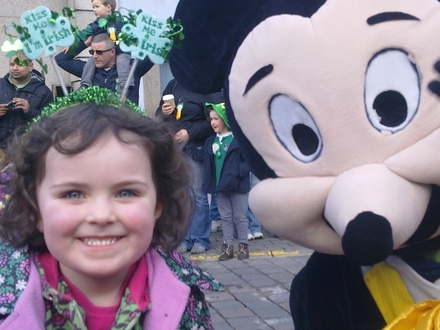 1951 We had no picture sent in from Israel today - until now. Hello to Aimee and Sophie!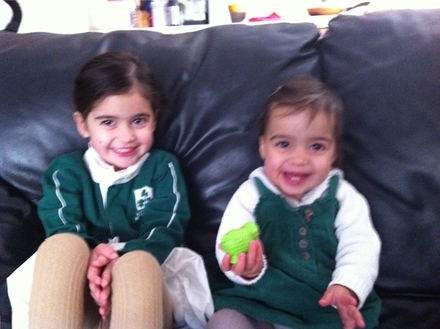 1942 The full match report from Ireland's Six Nations defeat to England is here
1928 Darren Hall emailed the below pic - "Cheeky Simon!" was all he wrote...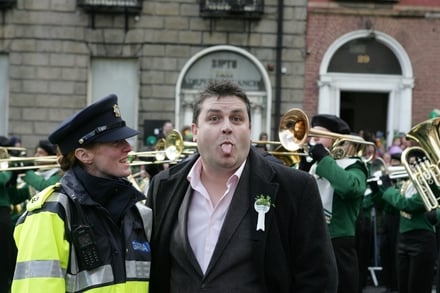 1924 Monsignor Joseph Corbett sends us this photo of the parade in Atlanta, Georgia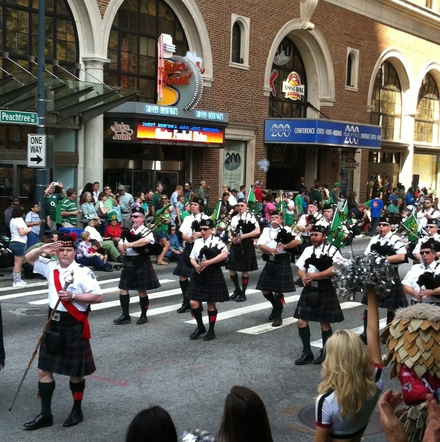 1909 Meanwhile, Kirsten and Neve in New York City are wearing the green for Paddy's Day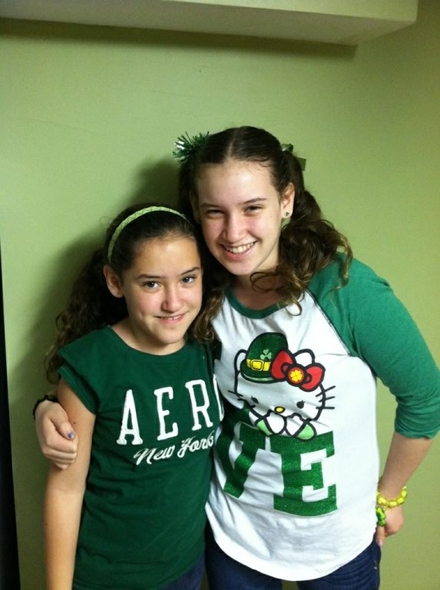 1843 UPDATE ON LEPRECHAUN STAND OFF: It seems a late surge from Bandon has left them a wee bit clear of Glenties in the race to gather the most leprechauns in one place
Bandon recorded 1,263 leprechauns, while Glenties were a little bit short with 1,024.
The pint-sized previous record of 414 was held by a school in South Africa.
Each town now has to submit its evidence to the Guinness Book of World Records for official confirmation.
Bandon: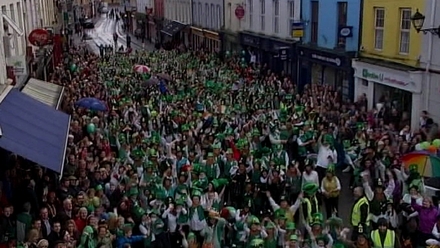 Glenties: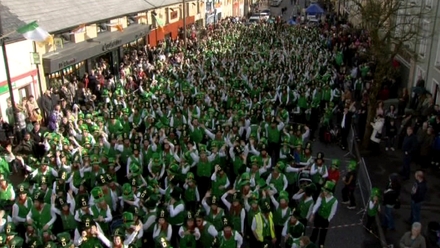 1836 Now this little fella looks like he should be on the pitch at Twickenham already (thanks to Aoife Slacke for the photo of her nephew Rian)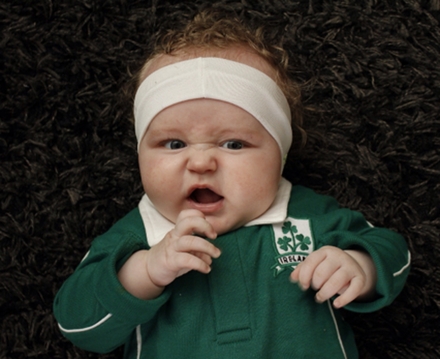 1836 The Harney and McNamara families are listening to the match at Niagra Falls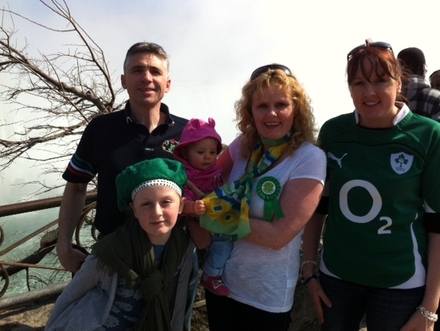 1822 "Thanks for the hats ma!" From Dave and Kjerstin in Oslo...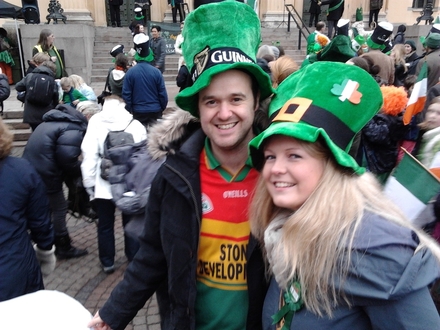 1815 Hello from Charlotte, North Carolina (thanks to Magda Budds for the photo)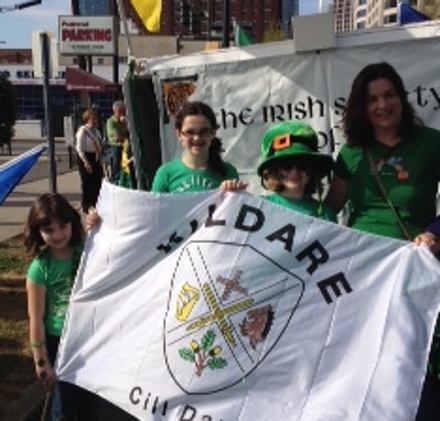 1801 John Lynch tweeted us this photo of the St Patrick's Day parade 'Navan style'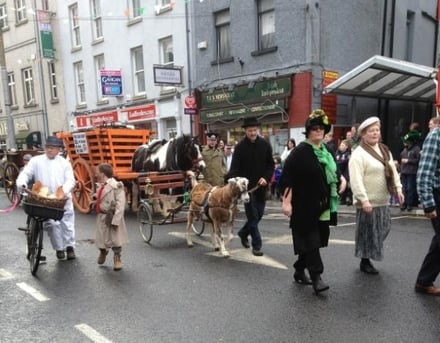 1745 St Patrick's Day greetings going all the way to San Jose (Pic from John Cassidy in California)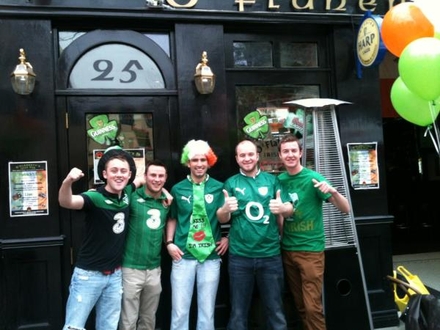 1735 Olivia Horan sent us this picture from the parade in Nenagh: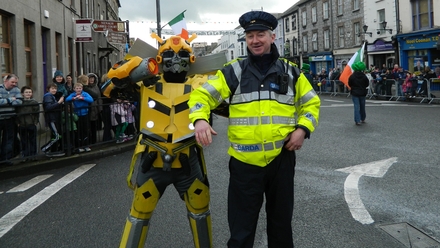 1730 Lisa, Brian and Niamh Meehan in Chicago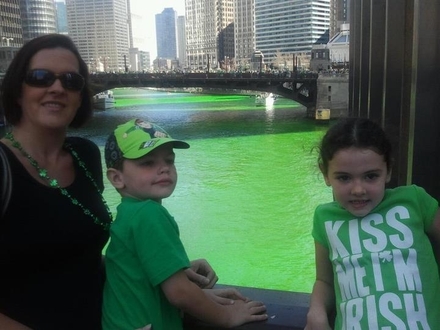 1727 Justine O'Toole sent us this picture of her six-month-old cousin Travis. (I hope it doesn't always rain on him.)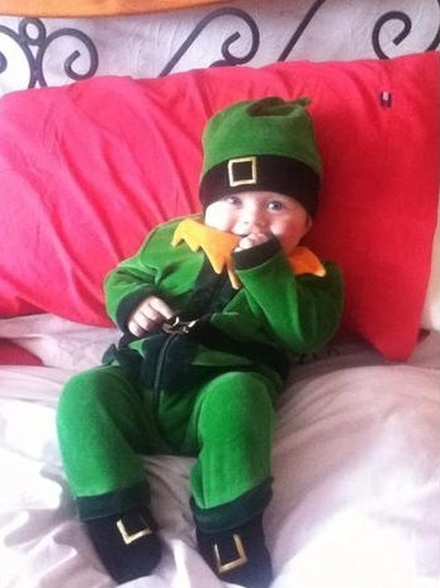 1721 Over on the entertainment site there's a round-up of celebrity tweets on St Patrick's Day.
1715 John Lynch tweeted us this picture from the Navan parade, which I'm sure will fuel some debate...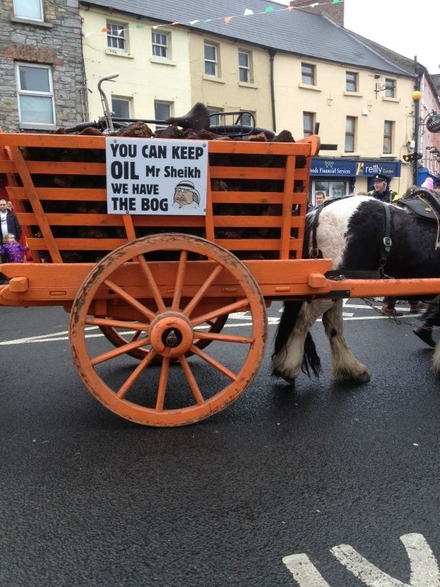 1710 Joe and Samom sent us this picture from Thailand: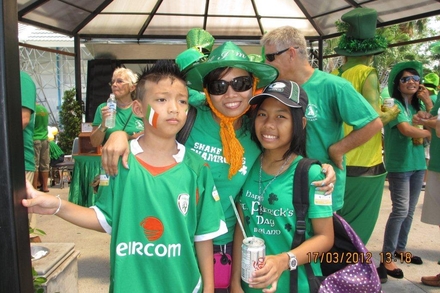 1708 There's some sort of rugby match happening in England today…
Follow Ireland as they take on England at Twickenham on this live blog on our sport site.
1706 Future All-Ireland winning Tipperary captain Ciarán McAvinchey is enjoying his first St Patrick's Day in Chicago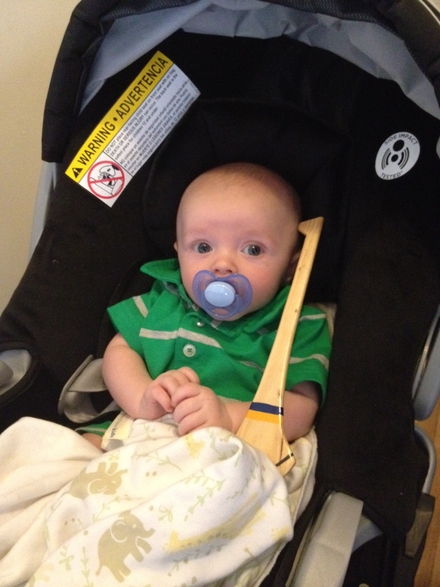 1658 And here's Laoise and Rebecca at the parade in Stradbally in Co Laois - with snow white!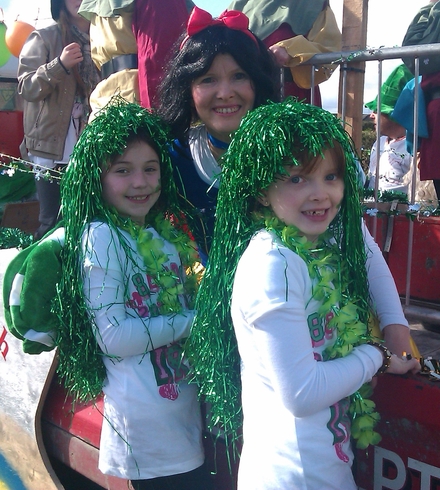 1655 According to Anne Marie Hyland, St Patrick is in a pub in Sydney Australia....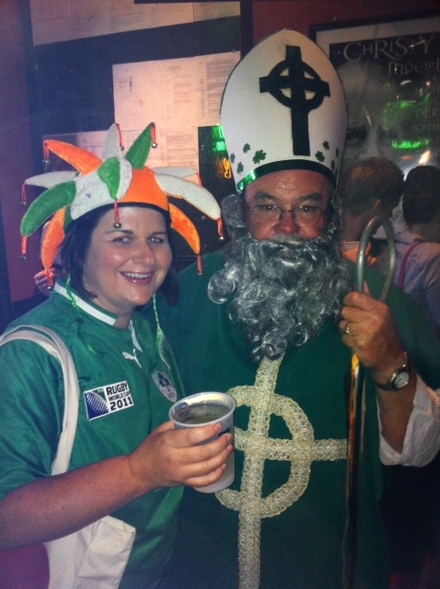 1652 Helen Maria O'Sullivan sent us this photo of the O'Sullivans from Ballincollig enjoying their day at the Killarney parade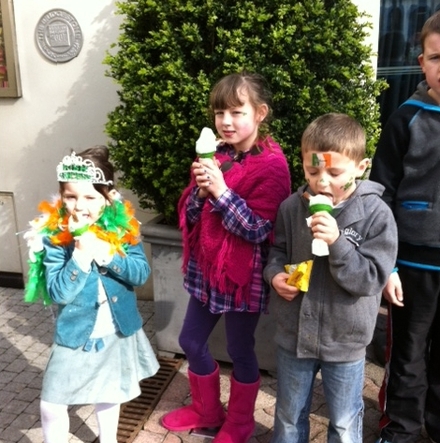 1644 Good news from Des Cahill on Twitter:
"IRELAND THROUGH TO HOCKEY FINAL! Ireland have drawn 1-1 with Malaysia, and play Korea tomorrow for a place in the London Olympics #greenmachine"
1636 David Brennan says they are still waiting to start the parade in Oslo, Norway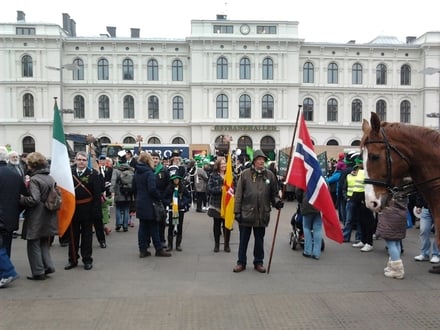 1624 The scene a short time ago in Budapest (thanks to Brendan Moyles)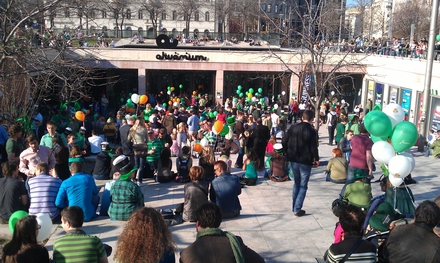 1610 Was St Patrick a runaway tax collector?
Roy Flechner, from the Department of Anglo-Saxon, Norse and Celtic at Cambridge, believes there are reasonable grounds to question the popular version of our patron saint's life story.
1607 Julie Verheggen has emailed this photo of Anna in Holland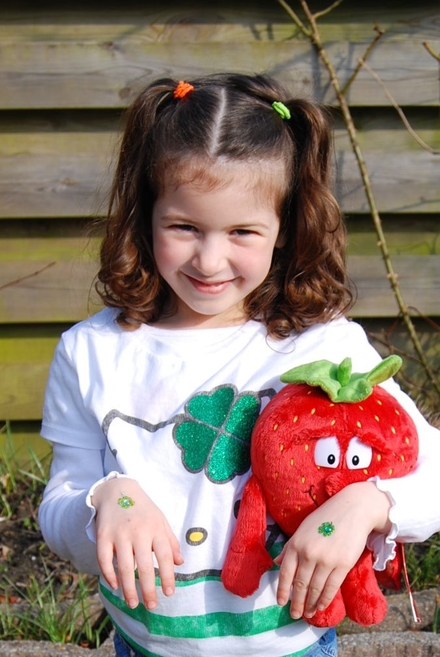 1605 Kate Murphy just sent us this photo of 4th class pupils in Madrid dancing the Walls of Limerick.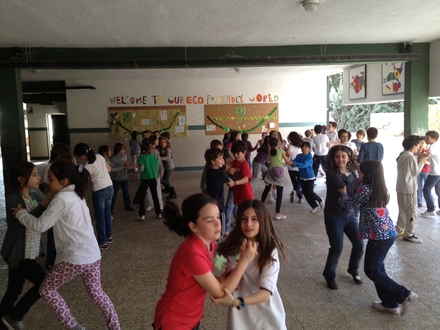 1558 'Pretty in Pink' from Una Hennessy in Stradbally, Co Laois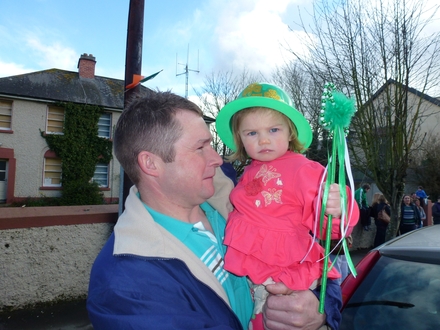 1556 WorldIrish has put together a nice look back at St Patrick's Day parades over the years take a look here
1554 Rian and Finnan Murphy say happy St Patrick's Day from Alberta in Canada!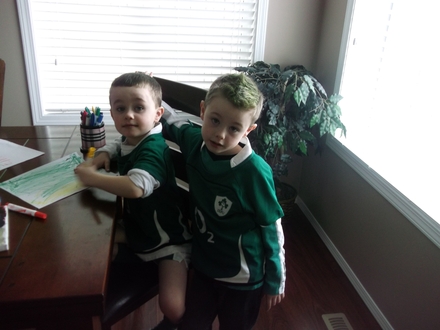 1549 Not had enough of parades? You can watch the New York St Patrick's Day parade live here right now (thanks for NBC 4 New York for the stream!)
1542 Patrick Duffy - better known as Bobby Ewing from Dallas - is also celebrating his birthday today.
Lá fhéile Pádraig/lá breithe sona duit Patrick!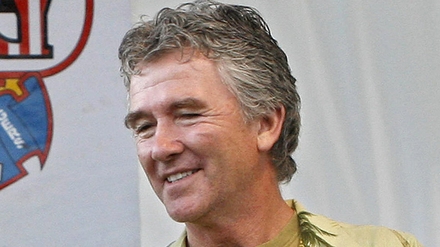 1526 Tomás Ó Mainnín reports from Ennis:
Over 4,000 people lined the streets of Ennis in Co Clare for today's parade. Overall 51 groups from around the county took part in what was a fun and colourful family event with an international flavour. The theme of this year's parade was 'Ennis: a town of many cultures.'
1525 A very stylish cat wears the green for St Patrick's Day (thanks to Valerie Loftus for the pic)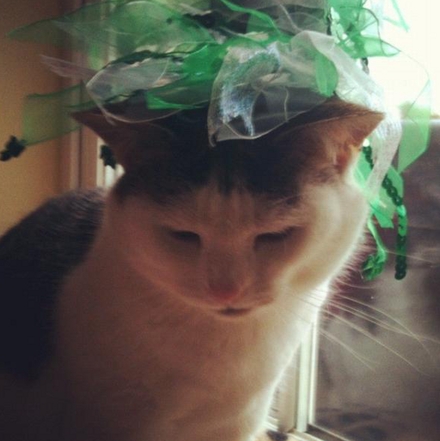 1520 North-West Correspondent Eileen Magnier has the latest on the leprechaun stand-off:
Two towns are trying to beat the Guinness Book of World Records for the biggest number of leprechauns in the one place as part of their St Patrick's Day celebrations today.
Glenties in Co Donegal and Bandon in Co Cork are both trying to beat the record currently held by a school in South Africa of 414 leprechauns.
Hundreds of people dressed as leprechauns are registering this afternoon in both towns and there seems no doubt that one or other will beat the record if their evidence is accepted by Guinness, which attaches strict criteria to the records - all the leprechauns must be wearing a green hat, green waistcoat, white shirt, black or green trousers and shoes with buckles.
The towns have independent judges present today, but have to send detailed visual and documentary evidence to support their claim to the record, and it will be approximately six weeks before they know if they are the new record holders.
1516 Sarah Dorney says hello from the parade in Carrigaline in Cork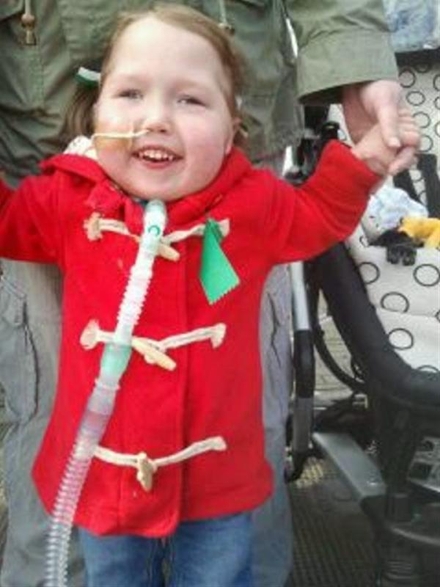 1515 Six-month-old Laoisa enjoying the day (and looking forward to the rugby it seems) in Saltney in North Wales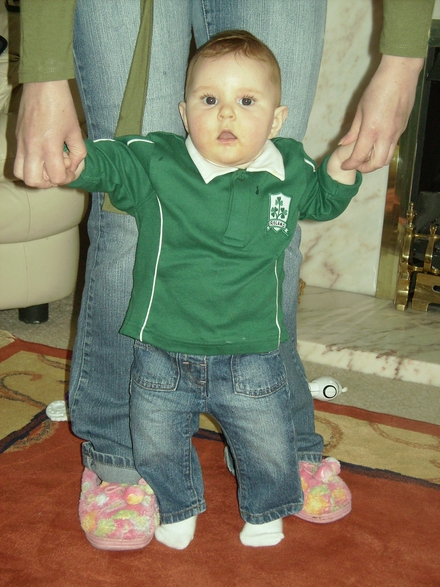 1510 Some updates from around the country:
Jennie O'Sullivan in Cork:
40,000 people turned out to watch the extravaganza led by this year's Grand Marshalls, the county's Senior Ladies football and camogie teams. The people of Cork City were "going for gold" with a sporting theme for this year's parade.
Damien Tiernan in Waterford:
Thousands of people enjoyed glorious sunshine as they lined the parade route.
The theme was Waterford's connections with its Viking past.
Ken McGrath, a former Waterford hurler, was Grand Marshall for the day.
Will Goodbody in Wicklow:
A large crowd turned out in Greystones for this afternoon's parade, which had the largest number of entrants in the parade's history.
Among the highlights was a visiting marching band from Germany and a specialised aviation fire appliance from Dublin airport.
A contingent of sea cadets from Holyhead in Wales, which is twinned with Greystones, also took part.

1508 Matthew Garett in West Chester Pennsylvania set a trap for a leprechaun last night. He didn't tell us if he caught one though...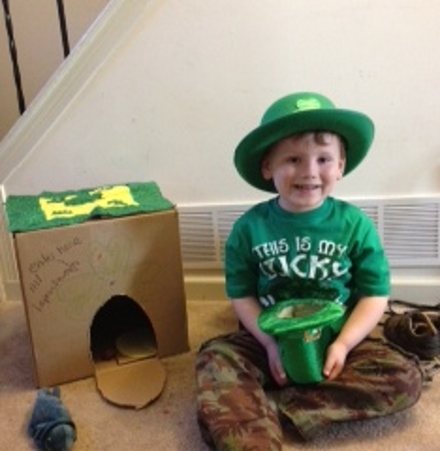 1505 Peter Goff sent in this photo from Chengdu, Sichuan Province, China:
1501 'The Armadillo' in Glasgow joins in the worldwide wearing of the green: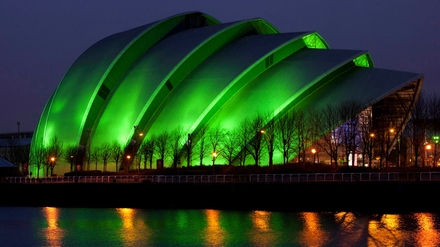 1458 Ryan and Hannah Farrell from Lucan enjoying the parade on O'Connell Bridge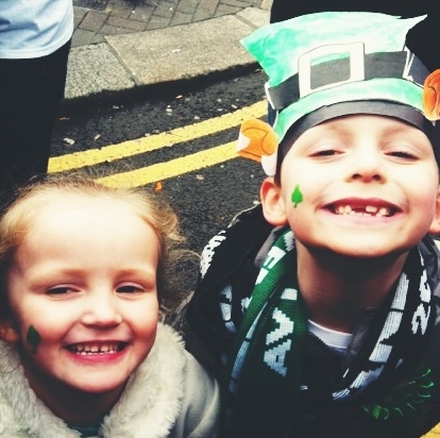 1449 Cliodhna and Seamus Adams are just waking up this St Patrick's Day - though they are near Seattle in America so that's ok...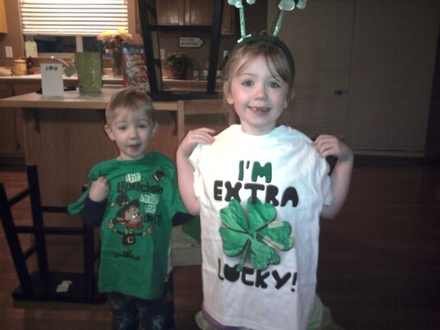 1438 Amie and Ryan Webster say happy St Patrick's Day from Hull in Yorkshire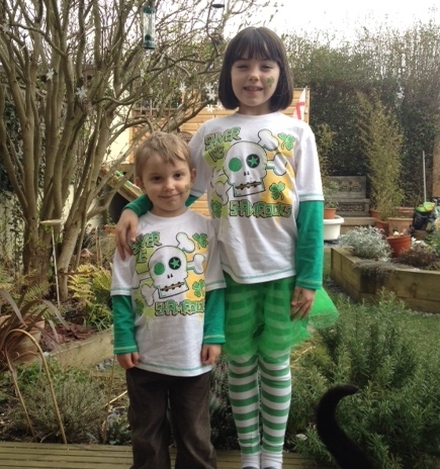 1437 Greetings from Savannah in Georgia - photo from Rachel Jones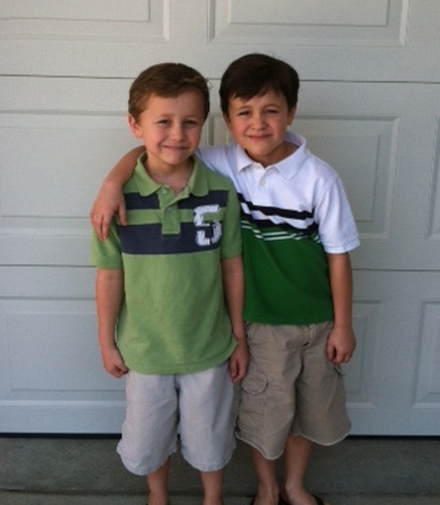 1434 They had ELEPHANTS at the parade in Carrigaline - thanks to Ann Connell for the pic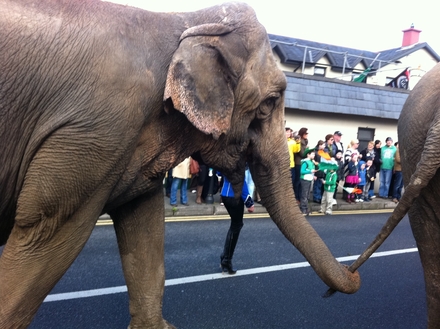 1425 Here is a pic of Ava and Smith the pugs celebrating Paddy's Day. You can follow them on Twitter: @PugsIreland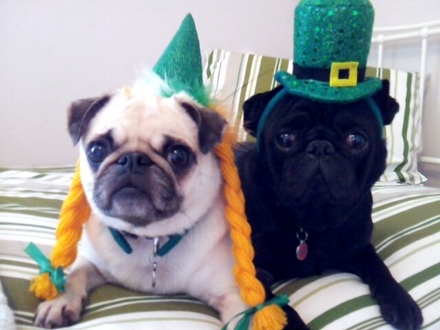 1421 Claire Tadla from Cork and Emma Mulhern from Donegal say their mammies would be delighted if we posted this photo from Zimbabwe. There you go mammies!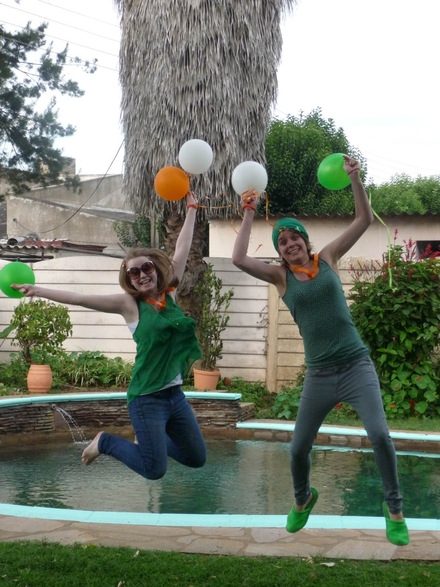 1411 Here's Gerry Salmon from MGM Boats Ireland getting into the spirit of things at the Dubai boat show in UAE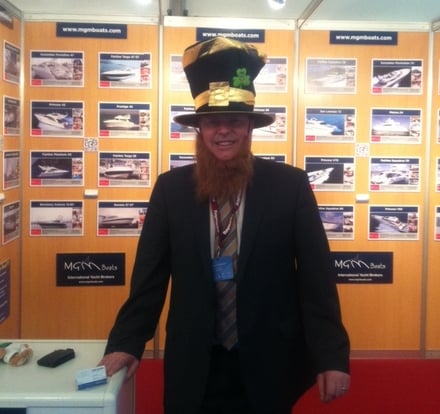 1405 Cathy Halloran reports from Limerick:
An estimated 40,000 people lined the streets of Limerick city centre to view this year's St Patrick's Day parade.
The theme of this year's parade is 'The World in Union', as the city celebrates its huge community base, its diversity and ethnicity, and the fact that St Patrick's Day is now a major celebration across the globe.
Over 4000 participants from almost 130 community, arts, cultural and sporting organisations took part.
There was music from a number of city bands, and plenty of dancing from groups representing countries as far apart as Latvia and the Philippines, as well as plenty of colour from inner city community groups and those involved in education and lifelong learning, as well as from the large number of sporting organisations spread throughout the city.
The Grand Marshall this year was Dr Ed Walsh, the founding President of the University of Limerick, to mark the university's 40th anniversary.
1359 Happy St Patrick's Day from Isaac Kenny in Fort Wayne in Indiana!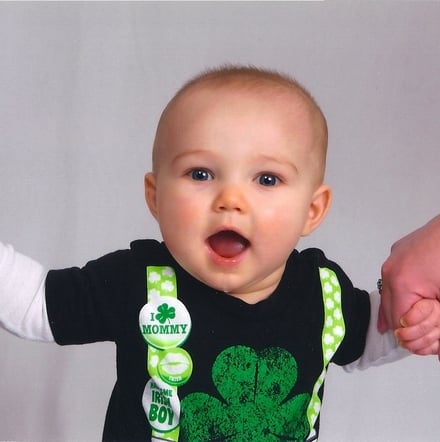 1357 Liam, Sam, Katie and Gary Burke in Bettystown: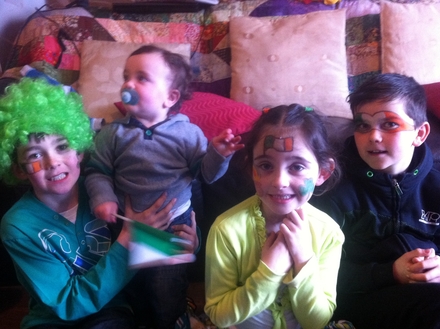 1353 The GAA has tweeted this picture ahead of today's action at Croke Park.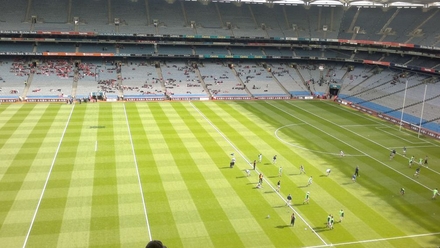 1351 Paul Gogarty tweeted this picture from Galway: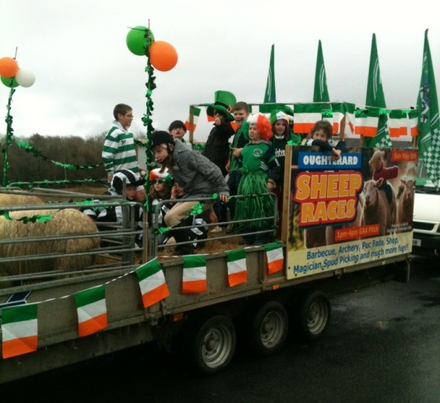 1348 Every dog has his Patrick's Day... George, courtesy of Tanya Toner.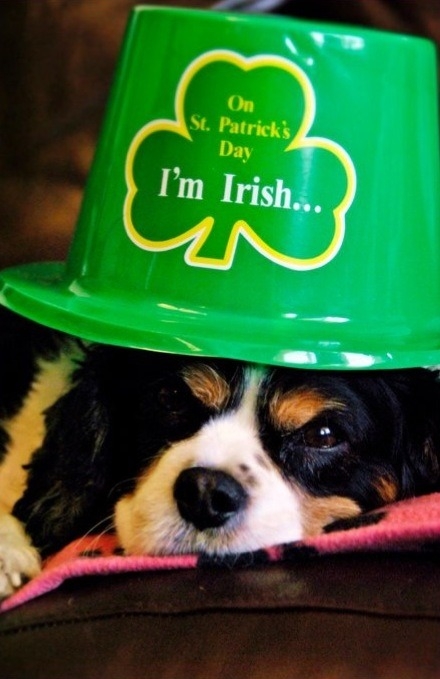 1345 Dylan Haskins tweeted this great picture of the parade in Dublin: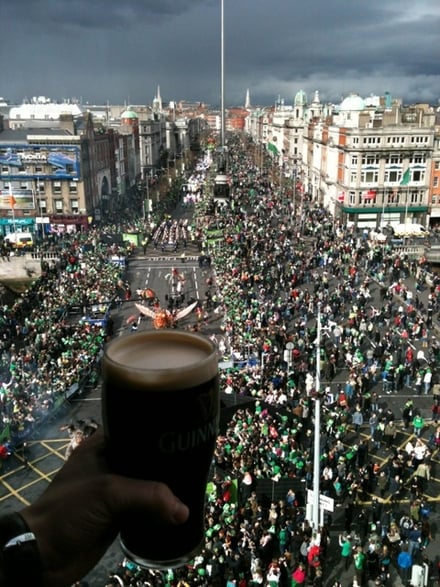 1340 The greening tower of Pisa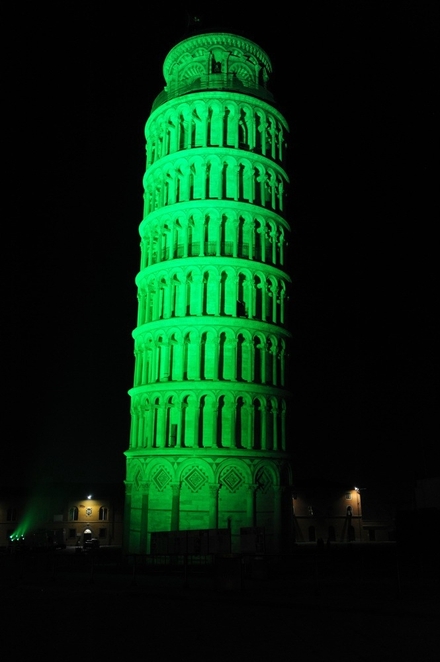 1335 The scene on O'Connell Street: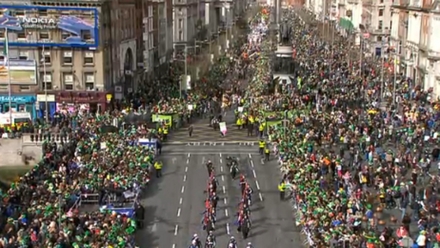 1330 Kate Middleton meets an Irish wolfhound: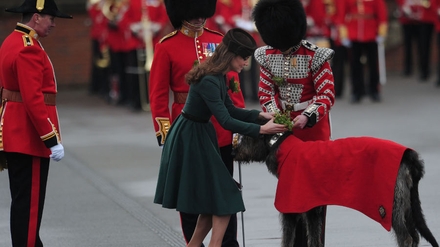 1325 Parade Grand Marshall John Giles, captured on camera by Lisa McLaughlin: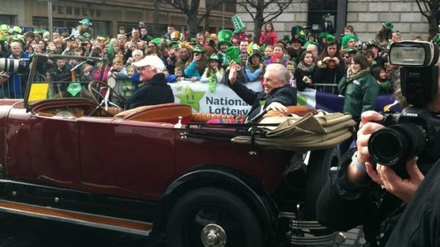 1320 St Baaaatrick's Day? Or just camouflage?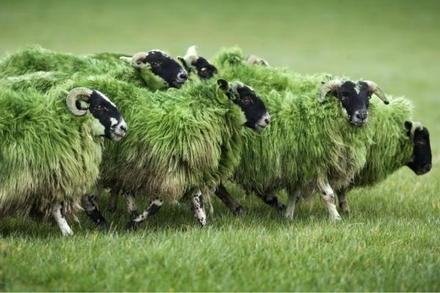 1315 RTÉ's Will Goodbody on Twitter: "Great turn out in Greystones, biggest parade ever. Onward to Arklow!"
1302 Paddy's Day news scoop: Elizabeth Fiennes has sent in a picture of some patriotic ice-cream.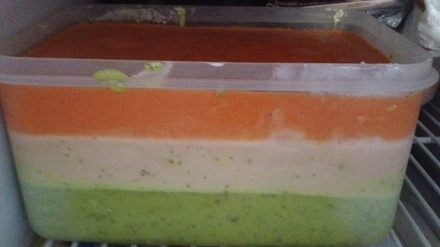 1251 Micheal O'Leidhin reports that rain didn't deter spectators from viewing a very youthful parade in Wexford town this morning.
Up to 10,000 people turned out to view contributions from local youth, sports and dance clubs as well as pipe bands from the surrounding area and abroad.
Organisers say up to 5,000 people were involved in this year's parade.
1249 Mark Hussey tweeted us this pic of the parade in Tralee - "beautiful day here in Co Kerry, happy St Patrick's Day"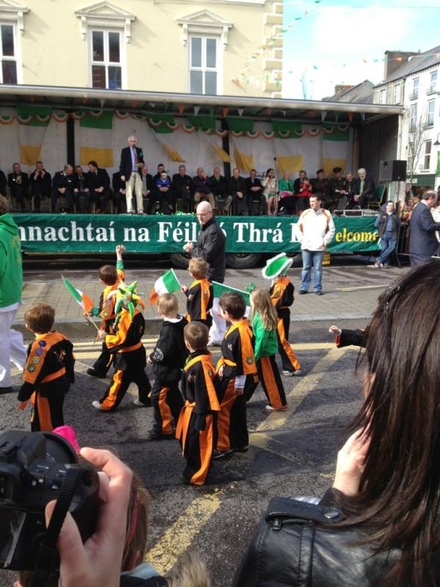 1248 Gardaí estimate that about 550,000 people are attending the parade in Dublin.
1241 Bridge21 students out painting faces for Suas today. 100s of Suas volunteers are giving their time, energy and enthusiasm to paint the town green as face-painters, raising money for vital education projects in India and Kenya.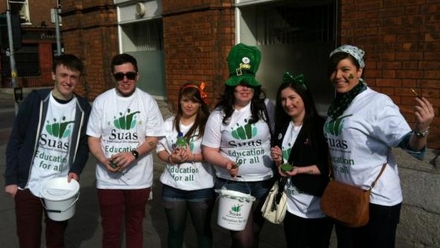 1240 What makes us Irish? Twitter is aflame with different definitions - you can check them out at #HowToBeIrish.
You can also leave your suggestions on the comments tab, or email or tweet them to us: newsonline@rte.ie or @rtenews
1236 In Twickenham, Kitty Minogue (8) gets ready for the big match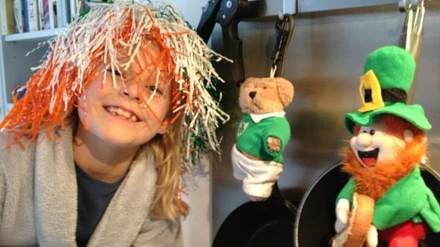 1235 My colleague tells me that a very special honorary Irishman is celebrating something else today - Il Trap is 73 today!
And if he can pull off a miracle of his own this summer he might just get his own national holiday. Lá breithe sona Giovanni!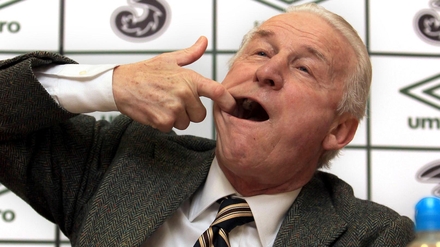 1229 We're waiting anxiously for news of the rival leprechaun record bids. Who will win - Cork, or Donegal?
Both Bandon and Glenties are aiming to break the world record for most leprechauns in one place. More on this as we have it!
1158 Archbishop of Dublin Diarmuid Martin has said that this is a time for Irish men and women around the world to celebrate Irishness and celebrate our identity.
1156 Eamonn Murray was on the beach in Melbourne. "Happy Paddy's Day!!"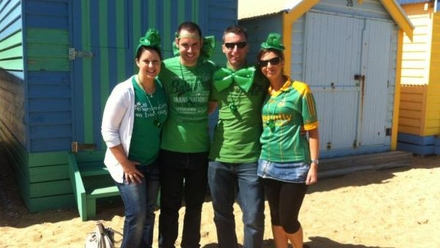 1155 The Sydney Opera House is one of many global landmarks going green this year: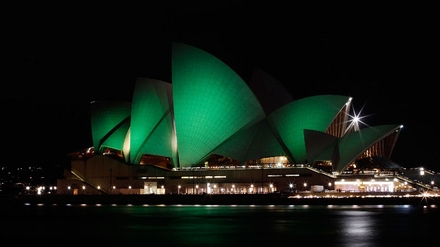 1147 Eoin Mullally tells us that Dubai's parade consisted of... well, the picture speaks for itself: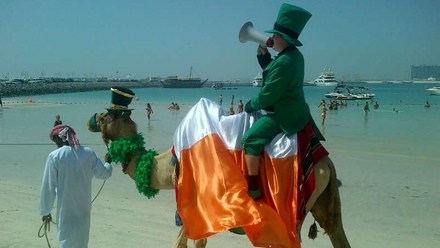 1139 St Patrick's Day is of course Ireland's national holiday – but that doesn't mean nothing happens anywhere else in the world!
Here's a list of significant events from St Patrick's Days past:
1649: Oliver Cromwell abolished the office of King and declared England a Commonwealth.
1776: British troops were forced by George Washington to evacuate Boston.
1845: Elastic bands were patented by Stephen Perry.
1921: The first birth control clinic was set up in London by Dr Marie Stopes.
1938: Rudolf Nureyev, the Russian ballet dancer who defected to the West, was born.
1945: The Americans defeated the Japanese at the Battle of Iwo Jima.
1978: The oil tanker Amoco Cadiz ran aground on the coast of Brittany, broke in half and spilled 220,000 tons of crude oil.
1983: Michael Dickinson, 33, achieved a unique record as trainer of the first five horses home in the Cheltenham Gold Cup.
1989: British Transport Secretary Paul Channon pushed the button which began the machine to bore the Channel Tunnel through chalk beneath the sea at Dover.
1126 Joyce O'Donoghue is celebrating St Patrick's Day in work in France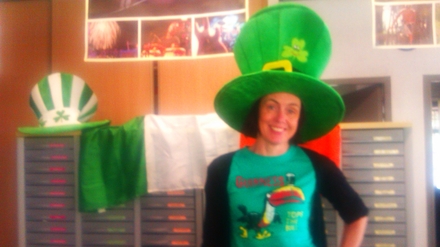 1125 Rory McIlroy, the world's number one golfer, is getting in the spirit of things on Twitter:
"Happy St Patricks day everyone!! Ireland beating England at Twickenham would make it just about perfect!!"
1120 Amanda Cotter has sent in this picture ahead of the parade in Birmingham.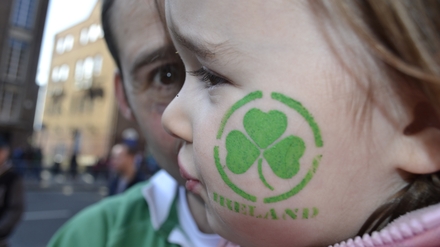 Final preparations are taking place across the country for St Patrick's Day parades and celebrations.
Tens of thousands of people are expected to attend the largest parade in Dublin. At least 3,000 people will be taking part in the parade itself.
Former footballer and RTÉ pundit John Giles will be this year's Grand Marshall.
With dozens of other parades taking place around the country, you can expect a little disruption, as this map from AA Roadwatch shows.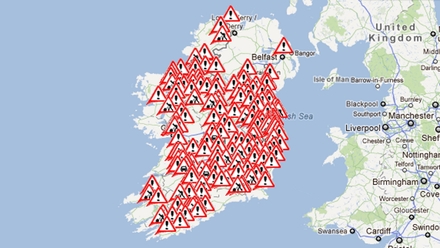 AA Roadwatch has further details of the road closures and diversions:

In Dublin city centre, the parade gets under way at midday and departs from Parnell Square onto O'Connell Street, over O'Connell Bridge and onto Westmoreland Street.

It will make its way down Dame Street and Lord Edward Street and through to Patrick St before finishing up just past St Patrick's Cathedral.
This year the theme of the parade is the wonder and curiosity of science.
The parade will see hundreds of floats as well as bands from Ireland, Britain, the US and Russia.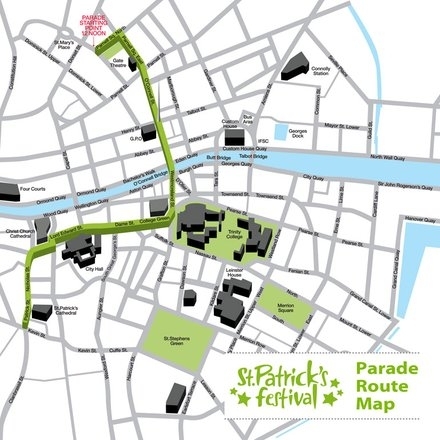 Cork city's St Patrick's Parade takes place from 1pm. The parade will start at Parnell Bridge, before travelling on towards South Mall, Grand Parade and Patrick St before finishing up on Merchants Quay.

The parade route will be closed from 11.45am until after it has finished. Copley Street, Union Quay and Lapps Quay will be closed from 6am.
The Limerick City parade takes place from 12pm to 2pm.
The parade will travel from Sarsfield Barracks onto O'Connell Avenue, The Crescent, O'Connell Street and Patrick Street before finishing at Bank Place. Road closures are in place until 3.30pm.

In Galway, the parade will start on Father Griffin Road before travelling onto Dominic Street, Bridge Street, Shop Street, William Street, Williamgate Street and onto Eyre Square.

The route of the parade will be closed from around 10.30am until 3pm.
The Waterford parade takes place from 1pm. The parade will leave The Glen at 1pm and travel towards Thomas Street, The Quays, and The Mall and onto Parnell Street where they will disperse.
The parade in Kilkenny takes place from 2pm to 5pm. The parade will start at McDonagh Junction, before travelling on towards John Street, John's Bridge, and Rose Inn Street, right at The Parade, onto High Street, Bateman Quay and onto Market Yard.

The route of the parade will be closed from midday until 5pm.
Government Chief Whip Paul Kehoe is visiting Irish peacekeepers at Camp Shamrock in Lebanon today.
The Minister of State for Defence will meet many of the 440 Irish troops who are serving with the 105th Irish Battalion.
The Minister will also present soldiers with their UN Peacekeepers Medal.
There are 524 Irish troops deployed overseas for St Patrick's Day.
As well as Lebanon, they are serving in peace missions in Kosovo, Bosnia, Congo, Afghanistan and Uganda.
Chief of Staff of the Defence Forces Lieutenant General Sean McCann has said the commitment and professionalism of Irish soldiers overseas remain a source of great pride.
The Taoiseach will meet President Barack Obama at the White House in Washington on Tuesday for the traditional St Patrick's Day visit as part of his visit to the US.
Enda Kenny will meet Chicago Mayor Rahm Emanuel at City Hall today before travelling on to the University of Notre Dame.
Government Ministers have travelled to 15 locations abroad, including Canada, the US and China.
Famous buildings and landmarks in Ireland and around the world are being lit up in green.
These include Niagara Falls and South Africa's Table Mountain, as well as the city stadium in Poznan in Poland where the Republic of Ireland will play two of their Euro 2012 matches.
Met Éireann is advising parade-goers to expect a cold day with some heavy rain or hail showers but some sunny spells too.