The winners of this year's BT Young Scientist Exhibition are from Synge Street CBS in Dublin.
17-year-olds Eric Doyle and Mark Kelly won with their project entitled "Simulation accuracy in the gravitational many-body problem".
They pick up the winner's cheque of €5,000, and will represent Ireland at the 24th EU Young Scientist competition in Bratislava in September.
The announcement was made this evening at the RDS exhibition centre by Minister for Education & Skills Ruairi Quinn.
As It Happened - Friday at the Young Scientist Exhibition
Follow: @btyste @dubscience2012 @news2dayrte
Thursday at the Young Scientist Exhibition

2030 That's all from us at the RDS. It's family day at the exhibition tomorrow, so enjoy that if you're heading along!
2025 Mr Kelly explained the project saying: ''Well we simply devised the most severe tests of comparing simulation of algorithms ever made and in the process we actually devised our own – not just one algorithm but a whole family of algorithms and hybrid algorithms in the process.''
In simpler terms, he said: ''If you want to send a satellite to the other side of space you don't have exact formulas for this so you use an algorithm to do so.
''An algorithm is basically a load of mathematical formulas and you give it certain things like position and velocity so we just feed that into our algorithm and it becomes much more effective than other algorithms.''
He said he was shocked and they didn't know they would win the whole thing.
Looking ahead to representing Ireland at the EU leg of the competition, he said they would try to enhance the project even more.
2002 Mark Kelly gives a brief description of the winning project.
1955 Eric Doyle and Mark Kelly are Leaving Cert students. The boys were presented with a cheque for €5,000, tickets to the London 2012 Olympics, the opportunity to represent Ireland at the 24th EU Young Scientist competition and a Waterford crystal crystal trophy.
1950 Best Individual award went to Eoin Farrell from St Eunan's College, Donegal, for his project ''Paediatric resuscitation: How reliable are existing weight estimation methods in Ireland.''
Award for Individual Runner-Up went to Aoife Gregg from Loreto College, St Stephen's Green, Dublin, for her project ''Cryptography: A study of the Irish language.''
The award for Group Runner-Up went to Deirdre Harford and Colleen Kelly from Loreto Secondary School, Balbriggan, for their project - ''A search for genes associated with drought resistance in potatoes.''
1925 Overall winners are Eric Doyle and Mark Kelly from Synge St, Dublin - their project was simulation accuracy in the gravitational many-body problem.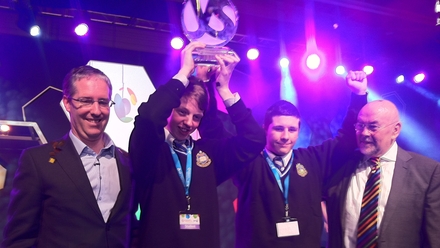 1825 Around 120 awards are being handed out at this year's event - hence the long ceremony. Top awards expected at approx 7.10pm
1815 Watch a report from the exhibition by News2Day's Reporter for a Day Keith Clifford
1725 Tweet from @btyste: Awww, past winners of BTYSTE just came to visit us in the RDS!! #BTYSTE

1720 Nationwide will feature more projects tonight. RTÉ One at 7pm.
1715 The 2012 BT Young Scientist(s) of the Year will be announced towards the end of the ceremony - sometime after 7pm.
1700 Students are queuing to enter the awards ceremony and the project stands are starting to look pretty bare.
1620 News2Day's ''Reporter for a day'' Keith Clifford is coming up on RTÉ Two television at 4.25pm.
1540 Carrigaline Community School student Abdullah Mohammad's project is Cancer virotherapy simulator. He explained what his project is all about
1530 Irish people spend €118m annually on dessert apples and €60m of that goes abroad. But can Irish grown dessert apples substitute imported dessert apples? Students Colin Todd and Killian Lavelle investigated the matter. Audio here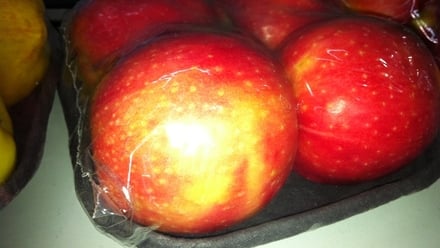 1520 Gairm Scoil Chú Uladh in Donegal looked at the level of pollution in the River Finn. They discuss their findings about their project: Chun imscrúdú a dhéanamh ar leibhéal truaillithe in Abhainn na Finne agus bainc cheannais abhainn. Audio here
1510 Saorview also has a presence in the exhibitors' hall. Brian Geraghty, RTÉ's Digital Reception Manager, says people need to know two key things:
''Saorview is Ireland's digital service to replace analogue television, which is being switched off on 24 October.
''People need an aerial and set top box; or an aerial and an integrated television set.''
1505 Student Conor Begley sought to find a solution to wheelie bins spilling out onto the street after falling over in strong winds, or being knocked over by vandals. He came up with the Automatic Wheelie Bin Lock; A Litter Prevention Aid. Listen to what he had to day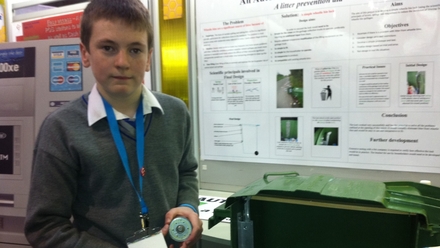 1500 Analog Devices has a very colourful stand here in the exhibitors' hall. They say they aim to promote the fun side of science and technology.
Joe Kiely, Failure Analysis Engineer at Analog Devices, says their stand is all about the fun application of engineering.
''It's about the fun and novel application of electronics and engineering. It's about increasing awareness of electronics in everyday uses.'' Essentially, he said, they hope to instil a love for electronics in children at an early age.
Below is a gold electroplated silicon wafer. Gold plating is one of the necessary steps in the production of microchips.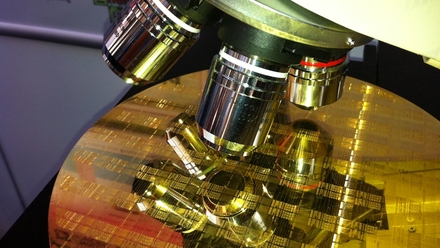 1445 The RDS is packed and very noisy! It's hard to walk through the crowds of students and visitors. Students say they are looking forward to tonight's disco, but there's the matter of the awards ceremony to be dealt with first. That ceremony begins at 5.30pm
1220 A magnetic turbine. Students from Blackwater Community School in Waterford discuss how their magnetic turbine works, its use in the real world and how they hope to develop and improve their device. Audio here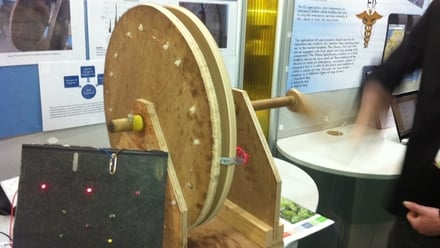 1210 CBS Carlow science teacher Aileen Tennant discusses where the idea for their project on extending the shelf life of milk came from and how they hope to develop it in the future. Audio here
1150 St Mary's Academy, CBS Carlow, looked at extending the shelf life of milk in Africa. They found success by adding honey to the milk. The group hopes to get a school in Tanzania to repeat their project there in order to get realistic results in an African country. Audio here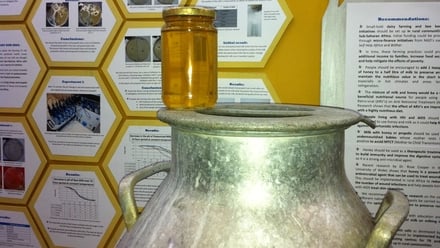 1115 Soft shell eggs are a problem for free range hen growers. Desmond College students from Limerick found that oyster shell feed for hens is one solution. Audio here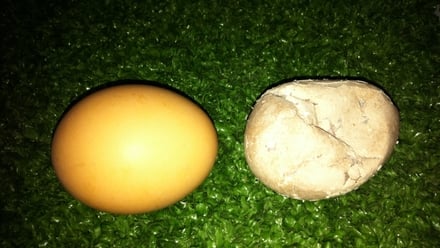 1100 Just spoke to students from Ursuline Secondary School, Thurles. They looked at how magnetised water can affect the growth of the rapeseed plant. Audio here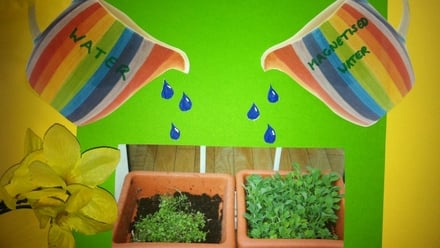 0940 Off to chat to some students now. Talk soon!
0935 Here's the full list of the over 550 projects on display at the RDS today. The biggest category this year is 'Social & Behavioural', followed by 'Biological & Ecological', 'Chemical, Physical & Mathematical' and finally 'Technology'
0930 Word cloud of the 550 project titles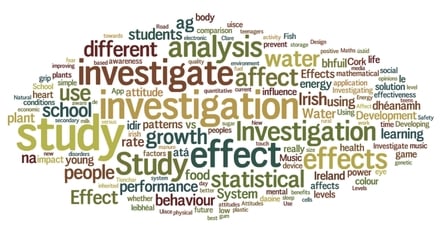 0915 Welcome back to our live blog from the BT Young Scientist Exhibition!
Here's some interesting facts about the exhibition to kick start the day.
The Young Scientist Exhibition was the brainchild of two UCD Physics researchers - Rev Dr Burke and Dr Tony Scott. They discovered "science fairs" in the US in 1963 and tailored the idea for Ireland.
Dr Tony Scott is still involved with the exhibition.
The first competition was held in 1965 in the Round Room of the Mansion House in Dublin. It attracted 230 entries.
The first ever winner, John Monaghan, recently retired as Chief Executive Officer of Avigen, a US Biotech company.
In 1966, the event moved from the Mansion House to the much bigger venue of the RDS, which has remained the home of the exhibition ever since.
Since its beginning, some 750,000 people have visited the Young Scientist Exhibition.

More information at btyoungscientist.ie/