The BT Young Scientist exhibition, which features over 550 projects, opened to the public today. We're covering the event from the RDS over the next few days.
Follow: @btyste @dubscience2012 @news2dayrte
Send us your pictures: yourphotos@rte.ie
1930 That's all from today. Tomorrow will see the 2012 Young Scientist of the Year announced. Talk to you then.
1925 Education Correspondent Emma O'Kelly reports on science in action at the exhibition
1848 News2Day caught up with lots more young scientists - see what they found
1820 The fastest robot to solve a Rubik's cube is in action at the RDS. Invented by Ireland's Peter Redmond, the robot was unveiled at the exhibition in 2009.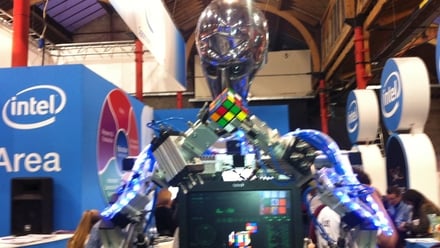 1718 The National History Museum brought some exhibits along to their stand. This brown bear was shot in Canada at the age of seven. Its skin somehow ended up in Russia.
About 15 years ago, it was smuggled into Ireland and was intercepted by Customs, who presented it to the National History Museum.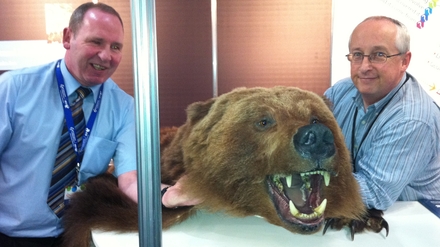 1650 There are 79 judges involved in this year's competition.
Head of BT Young Scientist Exhibition Mari Cahalane says that the panel is a mixture of new judges and those who have been here for decades. They come from a range of backgrounds and give up their time freely.
Each project is visited by a minimum of three judges. At 8am tomorrow morning, judges will begin considering the shortlist.
The winners will be announced tomorrow evening from 5.30pm by Education Minister Ruairi Quinn. Audio here

1610 Some more of the exhibits - Imitation: Trying to suppress instinct by Athboy Community School. Audio here
Is your child left-handed? Then you might be raising a creative genius... Audio here
Narcolepsy: The sleepy student by Orla Kelly-Murtagh and Alex Fagan of St Colmcille's Community School. Audio here
1605 Fianna Fáil leader Micheál Martin poses for a quick photo with students.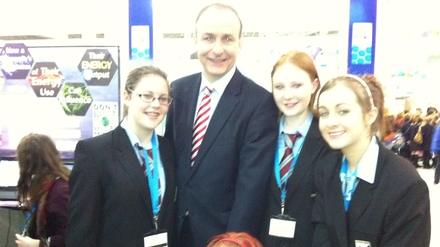 1600 Ireland rugby captain Brian O'Driscoll just popped in to see the exhibition.
1451 Dublin is this year hosting the "City of Science 2012". Its Ambassador, Vince McCarthy, chats on what it's all about.

Dublin won the bid to host this major science conference, he said. Attendees – including international researchers, policy maker and business leaders - will discuss the big questions that "we're looking to answer in society".
To celebrate that, a year-long programme of events will be taking place.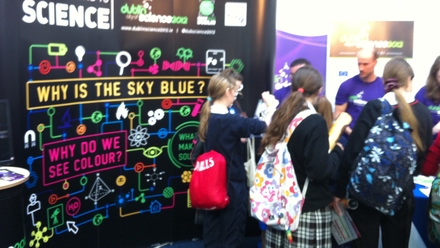 Mr McCarthy said the big benefit of hosting the event is the opportunity to showcase the high-quality science culture we have in Ireland. It brings science to the public, he said, and shows that science is part of their everyday lives.
He said the benefit of the Young Scientist Exhibition is that it taps into, at a young age, people's innate curiosity into the world around.
It helps them understand how science can answer those questions and ultimately improve their lives. Audio here
1432 Science teacher Catriona Mahony, of Davis College Mallow, sees the practical benefits for students of entering the competition.
"The student is the big winner,'' she said. ''It's a fantastic introduction into how to carry out investigations during the Junior Cycle.''
She said students benefit from "independent thinking'', which is part of the process when researching a project.
From a teacher's point of view, she said the competition is a good way of building a good rapport with students, in addition to creating a ''great buzz'' in the school. Audio here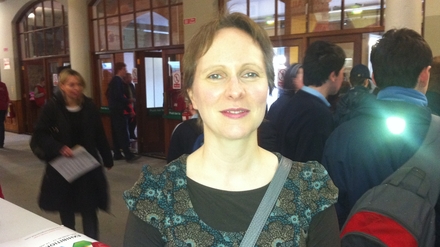 1400 Winning Titles from Previous Years:
2011 - Tennis sensor data analysis
2010 - A biomass fired cooking stove for developing countries
2009 - The Development of a Convenient Test Method for Somatic Cell Count and its Importance in Milk Production
2008 - Research and Development of Emergency Sandbag Shelters
2007 - An Extension of Wiener's Attack on RSA
2006 - The development and evaluation of a biological food spoilage indicator
1325 Does the full moon really trigger strange behaviour in humans? No, according to St Joseph's Secondary School, Clare. Audio here
1320 There has been a lot of discussion around the price of school books, particularly in the current tough economic climate.
Students Alison Kelly and Ciara Griffin ask ''Is that new edition worth it?'' Audio here
1316 RTÉ Radio pictured here broadcasting live from the event.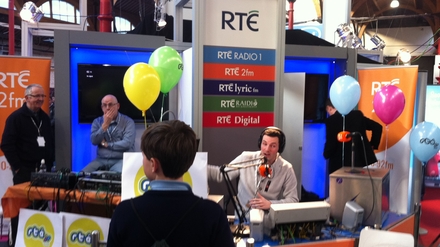 1250 Things are pretty loud and hectic now at the RDS. Students – in their thousands - are walking around meeting new friends and really enjoying the social aspect of the event!
There was tremendous excitement when President Michael D Higgins popped in to speak to students earlier. Ryan Tubridy seems to be a big with hit the young scientists too!

1240 Mercy Secondary School in Kerry are looking at ways of making students happier. Their project is the benefits of positive psychology on the mental health of secondary school students. Audio here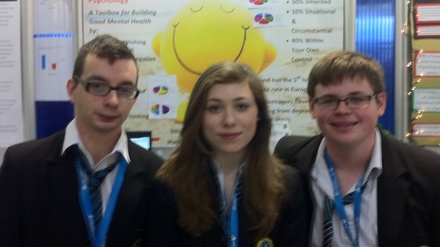 1235 What are the effects of hurling helmets on vision? Ronan O' Toole and Niall Cronin explained what problems they found with current helmets. Audio here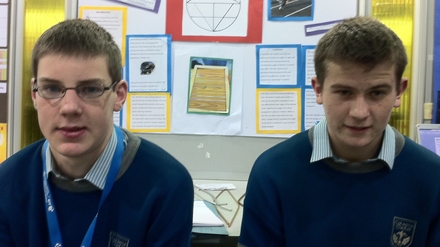 1140 "Yesterday I attended the Young Scientist Exhibition in Dublin. The energy, passion and commitment of those young people … guarantees a strong future for our country'' - Enda Kenny speaking at Reuters event in London this morning.
1120 President Michael D Higgins meets with students on the exhibition floor.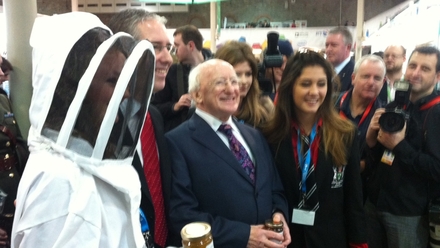 1101 Heading back to chat to more students now. Talk soon...
1052 Young Scientist Exhibition in Numbers
This is the 48th year of the Young Scientist exhibition
550 student projects are on display
The event attracts over 40,000 people
There was a record 1,743 entries to this year's competition
354 schools are participating in the competition
1043 Just spoke to some great students about their projects.
Zorin PC - a laptop meets tablet - is very impressive. Here's what Artyom Zorin and his brother Kyrill had to say about their project. Audio here
1040 Students from Avondale Community College, Wicklow focused on safe driving for motorists - Safe driving with the ice device. While Presentation Secondary School, Cork looked at the difference of learning over a long period of time versus Cramming.
Here's what the two groups had to say about their projects. Audio here
0930 Welcome to our live blog from the BT Young Scientist Exhibition!
So, what's on offer at this year's event? Here are some project titles to whet your appetite.
Self sanitising handles, portable testing kits for nuts in food, water conserving windshields, wheelbarrows with self-tipping skips, and lots more.
More information at btyoungscientist.ie/