Minister for Finance Michael Noonan has announced details of €1.6bn in tax increases and extra charges in the second part of the 2012 Budget.
Budget 2012 - At a glance
No increase in income tax
Increase in motor tax from 1 January
VAT up 2% to 23%
25 cent increase on 20 cigarettes
First-time buyers get mortgage interest relief at 25%
Measures to help those who bought houses between 04-08
Michael Noonan's Budget speech
Full Budget documents

2245 The conclusion of Prime Time brings the conclusion of our own live Budget blog.
Thank you all for reading our coverage yesterday and today, and to all of you who submitted your comments.
There'll be further analysis of Budget 2012 on Morning Ireland from 7am on Wednesday.
Thanks again.
2244 It is expected that cuts to disability benefit for new claimants will be reversed in the Social Welfare Bill, following serious concerns expressed by Labour and Fine Gael backbenchers.
The Minister for Social Protection, Joan Burton, discussed the measures with the Labour Party this evening, and later met a small delegation of Fine Gael backbenchers, who conveyed their concerns.
A move was signalled by Finance Minister Michael Noonan this evening on RTÉ's Prime Time, when he said the issue was "worth looking at again" in the context of the Social Welfare Bill.

2237 Pearse Doherty concludes by saying that he'd like to have seen Fine Gael and Labour live up to their own commitments.
2236 Suzy Byrne says she'd like to have seen radical reform and a budget which respected people's human rights. "Where is the policy reform?"
2235 Richard Curran says the budget is disapppointing in relation to job-creation. He adds that the budget wasn't radical and says it suggests we are still addicted to tax reliefs when it comes to property.
2234 Pearse Doherty says "less money in the tills means less jobs".
2229 Danny McCoy of IBEC: "There were some positive initiatives around the margins but businesses need the capacity to right-size their businesses. It was a budget of necessity."
2227 Pearse Doherty, Sinn Féin: "You can't call [the budget] fair. This budget has attacked everyone. People at the higher end should have been taxed more. People over €100,000."
2224 Political blogger Suzy Byrne: "The Budget is further alienating people with disabilities. The government has cut before it has reformed, and that's not fair."
2223 Richard Curran, Deputy Editor of the Sunday Business Post: "In general, I think the budget is reasonably fair in terms of where money has gone."
2212 Meanwhile, Labour TD Patrick Nulty has voted with the opposition on the increase in the VAT rate.
The vote was passed by 105 votes to 51.
2211 Michael Noonan and Michael McGrath are squabbling about "selective research". It's all tame enough though. No raised voices, bulging necks, or frothing at the mouth. Yet.
2201 "In deciding which cuts to be made, the minister decided to treat all young people in the same way" - Michael Noonan
2157 Finance Minister Michael Noonan and Fianna Fáil Finance Spokesperson Michael McGrath are on Prime Time.
Mr McGrath says Mr Noonan's budget is "socially regressive".
When pressed on what exactly his party will vote against, he says his party disagrees with many of the cuts in the social-welfare area.
2140 A Prime Time Budget Special is next up, so stay with us for more analysis and reaction to Budget 2012.
2135 Age Action Ireland has called the postponement of the imposition of carbon tax increases on home heating oil and gas "a stay of execution for people who are already struggling to afford to heat their homes to a safe level".

The charity said the Budget's upshot is that older people on low incomes, who last winter had to choose between food and fuel, would face the same stark challenges next winter, except the cost of fuel will have been inflated by the Carbon Tax and their fuel allowance will have been cut.

It cautiously welcomed the taxation elements noting that they will result in a small increase in the income of some low-income pensioners, but added that it would leave most pensioners paying more for essential household items such as energy.

2121 Fianna Fáil's Sean Fleming says the VAT figures are inaccurate, as they take no account of the impact on businesses. "You have cancelled the January Sales."
2117 "VAT is economically illiterate and socially regressive" – Willie O'Dea.
It will hit poorer people harder as they spend a greater proportion of their income on VAT.
2114 Gardaí out in force around Leinster House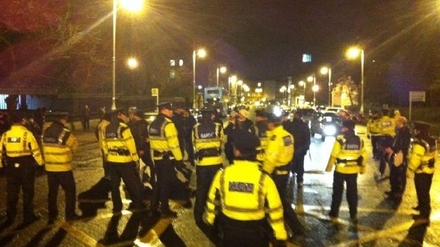 2109 Gardaí have physically removed protestors from the street outside the back of Leinster House to allow TDs and staff members leave the building.
There was some pushing and shoving between gardaí and protesters but cars successfully left the building and no one was injured. A minor stand-off between staff and protesters continues.
2108 Vote on third resolution was passed by 127 votes to 23.
Independent Séamus Healy described the increase in carbon tax as an obscene attack on the elderly.
Fianna Fáil's Timmy Dooley asked why the increase on home heating fuel had been suspended until the summer. He asked what information the government had on the forecast for next winter.

2107 David McCullagh: Patrick Nulty has voted with the Government in the first three votes on Budget 2012. The next vote, on VAT, will be taken around 9.45pm.

2104 David McCullagh: Nulty heading towards the Tà lobby. This vote is on carbon tax. Next one is VAT.
2100 "We are very disappointed at the decision to implement the VAT increase on the 1st of January … It is hugely important that the environmental incentive to buy a new car still remains in place." Alan Nolan, Director General of SIMI.
2055 "I am concerned about the effects of indirect taxes on less well off older people. Coupled with the measures announced in yesterday's Budget, this places a heavy burden on a vulnerable group." - Older & Bolder Director Patricia Conboy.
2050 Tánaiste Eamon Gilmore says he will look at Sinn Fein's concerns about illegally-laundered diesel.
2045 Workers on the national minimum wage will continue to pay the same percentage of Universal Social Charge as those earning €100,000 a year, says children's charity Barnardos.
Barnardos Chief Executive Fergus Finlay said the Budget failed to "do more to protect the Republic's most vulnerable families".
2040 "All of these cuts will hit the worst off disproportionately." Richard Boyd Barrett.
2038 "The price of petrol and diesel is double what it should." - Michael Healy Rae.
2034 Sinn Féin's Caoimhghín Ó Caoláin said his party vehemently opposes the carbon tax rise, saying it will have a very serious impact, particularly in border communities.
2031 The Dáil is now discussing the third resolution - the carbon tax on petrol and diesel.
2030 The Government is hoping to save €13m next year by reforming a tax exemption for illness and occupational injury benefit.
Last year, there were 181,000 illness and occupational injury benefit claims of less than six weeks duration.

2028 Patrick Nulty voted with the Government on the second vote, on motor tax, while Tommy Broughan voted against.
The voted was passed by 108 votes to 52.
The Taoiseach said the measures would generate €47m providing additional funding for the maintenance of national routes.
Independent Thomas Pringle said as a debt reduction measure it was a waste of time as it would hardly make a dent in it. Fianna Fáil's Niall Collins said it made no environmental sense.
2018 "The only measure introduced by this government to help low income workers today was a partial adoption of Fianna Fáil's proposal to amend the Universal Social Charge." Willie O'Dea
"However, this small saving will be easily wiped out by cuts to social welfare payments announced yesterday."
2008 "Reductions in child benefit, pensions, one parent family and rent allowance mean that mothers will bear a disproportionate burden in this budget." - Fianna Fáil's Dara Calleary.

2003 Joe Mag Raollaigh: A handful of protesters have now walked around to Merrion Street and are conducting a drum protest at the gate of Government Buildings.
The protest is hindering traffic but the street remains open. Extra gardaí are now deployed at entrances to Government Buildings and at the back gate of Leinster House.
2000 "Anti-rural, anti-green environment and anti-business." – Mattie McGrath on raising of motor taxes based on emissions.
1955 The Budget's reform of the Disability Allowance will not affect anybody between 16 and 24 who is receiving it at the end of this month, according to the Minister for Social Protection Joan Burton.
1950 The Dáil has begun voting on 12 Budget resolutions that are to be introduced at midnight.
First up was the 25 cent increase on a packet of 20 cigarettes.
Fianna Fáil's Seán Fleming said his party would support the measure. Sinn Féin's Pearse Doherty expressed his disappointment that the Government did nothing to tackle the black market trade in cigarettes.
Socialist Party leader Joe Higgins condemned what he said was the ritual hypocrisy of successive governments who taxed cigarettes pretending it was for health when it was a revenue raising measure.
The vote was passed by 136 votes to 23.
1940 Minister Noonan said that €3.8bn is a robust target for 2012.
"There is no reason for me to feel I need to adjust the budgetary targets I announced a few years ago, so on that basis this years' adjustment is the biggest."
Minister Noonan has finished his press conference.

1936 A protestor outside Leinster House.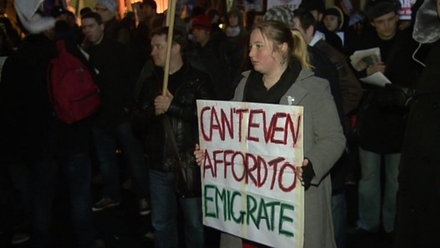 1930 Well-developed commercial property, he said, drives the whole IT sector and problems in the area must be addressed.
1928 Explaining the turnaround in attitude towards upward only rent reviews, Minister Noonan said that overseas investors had told him that Ireland lacks certainty.
1925 Finance Minister Michael Noonan said the Government is doing small targeted things to increase employment and grow the economy.
Speaking at a press conference after outlining the details of Budget 2012, the Minister said they might not all work, but that the Government cannot tax it way out of the current problems.
1908 Watch a press conference by Finance Minister Michael Noonan on Budget 2012.
1848 "The Minister for Justice's decision to not proceed with the legislation to abolish upward only rent review clauses in existing business leases is a disappointment for a significant number of businesses." Gina Quin, Chief Executive of Dublin Chamber
1845 "We are extremely critical of the 2% VAT increase, in addition to the abolition of the remaining employer PRSI relief on employees' pensions." - Cork Chamber President John Mullins
1838 A look at the impact of the changes to Carbon Tax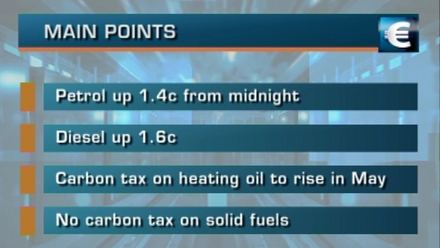 1835 "The two days of budget announcements taken together will increase inequality and poverty in this country. Austerity measures have failed us since the crisis began and will continue to fail us." - Socialist Party leader Joe Higgins.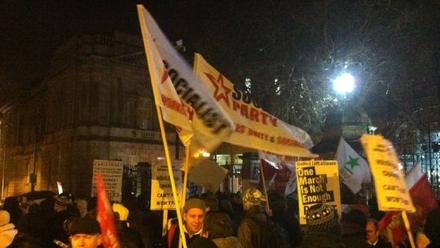 1834 Traffic is being diverted outside of Leinster House due to a noisy protest (above).
Around 300 people are taking part. Some of those taking part have drums and are carrying Sinn Féin, ULA and Socialist Party banners.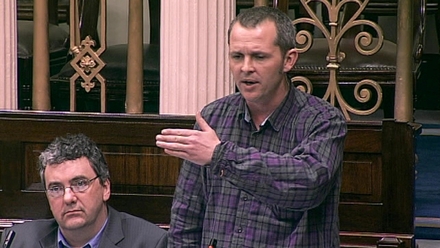 1833 Richard Boyd Barrett said the Government has tried to be clever with the Budget by announcing tokens. He said the truth is that the budget is ''cruel and stupid''.
He said it has made ''a cold and calculated'' decision to attack children, schools, young people, the disabled and families dependent on rent.
Mr Boyd Barrett asked had the Government not noticed that Europe was 'in bits'. He said austerity was crippling growth in the Europe economy. He said there were alternatives and it is simple. "Tax the wealth".
1828 Shane Ross said the Government should have addressed the budget deficit in a more radical way.
1826 "(The Government) do appear to have taken on the mantle of the conservative economic policies of Fianna Fáil and have taken it on with relish" - Independent TD Shane Ross
1821 Examples of the impact of Budget changes on different income earners from the Department of Finance
1820 Measures announced today will encourage land transfer to younger farmers, says Minister for Agriculture Simon Coveney.
He said they will foster inter farm and inter-generational partnerships and encourage farmers to invest in wind energy through a VAT rebate on turbines, which could lead to a multi-million euro micro generation industry.

1819 "Budget part two seems to have adopted a balanced approach with incentives directed towards both the Multinational and indigenous sectors." - Eamonn Siggins, Institute of Certified Public Accountants
1816 The Irish Cattle and Sheep Farmers' Association has said that most farmers will not be significantly impacted by the Budget but several of its measures would be important to parts of the sector.
The group welcomed relief to farm partnerships and the reduction in stamp duty but said it was disappointed by an increases in capital gains tax and the carbon tax.
1814 "These decisions ... will stimulate activity in the market and encourage foreign investment." - Roland O'Connell, Society of Chartered Surveyors Ireland.
1811 "It is immoral in the extreme that any Government would choose to attack children" - Richard Boyd Barrett
1810 Mick Wallace has retaken his seat and Richard Boyd Barrett is now speaking for the Technical Group.
1806 Watch Michael Noonan's Budget speech, accompanied by the text of the speech.
1805 Measures aimed at helping the property sector and measures targeted at helping indigenous small and medium-sized companies were among the plans announced today. Find out more at www.rte.ie/business
1802 You can watch the RTÉ Six-One News live in the embedded player above or by visiting our live news page.
1801 Irish businesses group IBEC has said the Budget relies too heavily on increasing tax rather than reducing current expenditure.
The group welcomed measures aimed at supporting R&D and financial services but said the scale of these measures was small when compared to the €90m increase in employer PRSI charges and the major reduction in the redundancy rebate.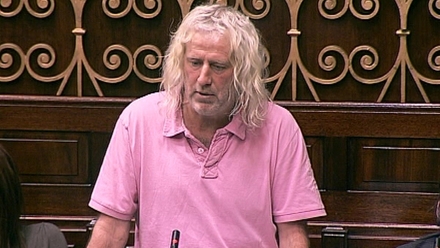 1759 Pearse Doherty has finished his speech. Mick Wallace is now speaking on behalf of the Technical Group.

1758 Joe Mag Raollaigh: Minister Simon Coveney says the Budget shows Government is mainstreaming agriculture as part of the national recovery.
1754 Age Action has cautiously welcomed today's Budget announcements.

It said it will result in a small increase in the income of some pensioners but will leave most pensioners paying more for essential household items such as energy.
1753 "In these difficult economic times it is encouraging that the Department of Finance is showing foresight and introducing initiatives which will aid future job creation." - Anna Scally, Chair of the American Chamber Tax Group.
1751 Via TheJournal.ie, Labour TD Patrick Nulty swiftly explains why he will vote against Budget 2012.
1749 We warmly welcome the commitment ... that legislation will be introduced in 2012 to address the issue of very cheap alcohol. Overall, this was a mixed budget for the pub trade." Vintners' Federation of Ireland.
1747 Fianna Fáil's Barry Cowen has criticised the Government for cutting income supports for young people with disabilities and called on them to reverse their decision.
1745 Patrick Nulty tells the media why he will be voting against the Budget.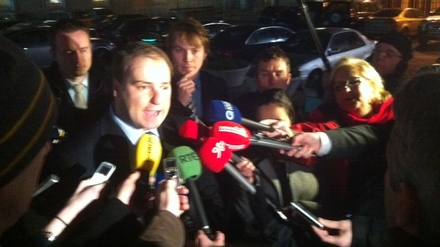 1741 "This is a cruel Budget that targets the vulnerable, the low paid and families with children." Sinn Féin's Caoimhghín Ó Caoláin.
1738 If you are struggling to take in all the details of Minister Noonan's speech, then try our summary of Budget 2012.
1737 "Everyone knows savings have to be made but it is difficult to see how these measures will be anything other than counter-productive." - Coach Tourism & Transport Council of Ireland Chief Executive of Gerry Mullins.
1735 "Budget 2012 is jobs negative as it stands. The Government must incentivise investment by the private pension funds through exemptions from the levy." - SIPTU President Jack O'Connor.
1733 The Society of Saint Vincent de Paul has welcomed the decision to exempt earnings below €10,036 from the Universal Social Charge.
Its spokesman said this would help part-time, low-paid workers and lone parents and would help to address yesterday's "negative measures".

1732 "The Government has successfully spun a line that the Budget does not contain social welfare cuts, but nothing could be further from the truth." - Fianna Fáil Leader Micheál Martin.
1730 "The Government has listened to the vested interest of the tobacco lobby and missed a genuine opportunity to put the health of our nation first and raise significant revenue to benefit our struggling economy." - Michael O'Shea, Irish Heart Foundation Chief Executive.
1729 "This is one of the most export promotional budgets we have seen for decades and will go a long way to assisting exporters develop new products." - John Whelan of the Irish Exporters Association.
1727 Pearse Doherty said the Government was getting its required €1bn from stealth taxes that will hurt ordinary people and that the money will not go towards public services.
"Be honest and tell people where their money is going."

1721 People wanted change, they wanted fairness and they wanted equality, most of all they wanted hope that tomorrow would be better than yesterday - Pearse Doherty

In the last nine months, Fine Gael and Labour have broken promise after promise. Never has a Government promised so much and delivered so little.

The Taoiseach can no longer stand up and say it was all Fianna Fáil's fault or that they had no choice.

1719 Very disappointed the Minister for Finance did not deal with existing upward only rents - Retail Ireland chairman Frank Gleeson.
1718 IFA president John Bryan has welcomed the budgetary changes that will encourage the transfer of land to younger farmers.

1717 Michael McGrath has finished his speech. Sinn Féin's Pearse Doherty is now giving his response.
1716 Motor tax on electric vehicles will rise from €146 to €157.
Motor tax rates based on engine size will also increase across the board, for example: Engines with 1,001 to 1,100cc will go from €259 to €278; 1,601 to 1,700cc engines will go from €471 to €506; 2,001 to 2,100cc engines will go from €784 to €843.
1714 "It damages our prospects of economic recovery. Instead of creating jobs it will lead to higher levels of unemployment. It attacks the marginalised, the sick, the elderly and young people with disabilities." - Patrick Nulty.
1713 "It is unjust. It hits people on low and average incomes disproportionately" - Patrick Nulty.
1712 Labour TD Patrick Nulty is to vote against the Budget, he announced in the last few minutes.
1712 More on motor tax - Band C will rise from €302 to €330, Band D - €447 to €481, Band E - €630 to €677, Band F - €1,050 to €1,129, Band G - €2,100 to €2,258.
1711 There will be a loss to the Exchequer with people crossing the border to do their shopping. – Michael McGrath
1706 Figures released with the Budget show that motor tax for cars in band A will rise from €104 to €160, while band B goes up from €156 to €225. These are the two biggest categories of cars for motor tax.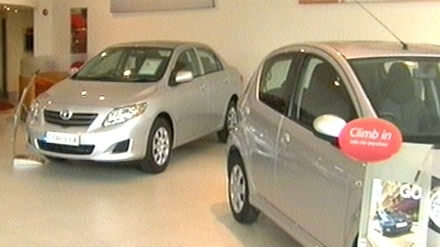 1703 The Government has downgraded its growth forecast from 1.6% to 1.3%. This forecast does not inspire confidence. - Michael McGrath
1652 "We would like to advise all our customers that M&S will not be passing on today's 2% VAT increase to our Irish shoppers" - Marks and Spencer.
1652 The EU and IMF didn't ask the Government to cut child benefit, to cut the fuel allowance, to breach pay cap to advisers.
1647 There are some measures that should be re-considered. Cuts on young people with disability are truly unfair - Michael McGrath

1642 Watch continuing coverage of Opposition reaction in the Dáil
1640 Ash Ireland said it regrets the failure of the Minister for Finance to place a significant increase on the price of tobacco products.
1639 "The Government can no longer hide behind the actions of the previous Government" - Michael McGrath.
"From now on you will be judged on your actions and your political choices.
"While in opposition and during the election Fine Gael and Labour gave the Irish people the distinct impression that there would be an easier and softer way of tackling our problems."
1637 In response, Fianna Fáil Finance Spokesman Michael McGrath thanks Michael Noonan for his comments about Brian Lenihan.
On Budget matters, he said the Government had options despite the difficult economic conditions.
1635 Michael Noonan finishes with praise for his predecessor Brian Lenihan who died earlier this year.
1634 This Budget changes the economic strategy of the previous Government to put a much greater focus on growth and employment.
It balances the need to restore confidence in Ireland's fiscal position with a key objective of supporting economic growth that delivers jobs.

1633 Conclusion: This Government will not repeat the mistakes of the past. We are changing how politics works to make it more transparent, more accountable and designed to secure the best outcome for the Irish people.
1632 Excise Duty: Excise on a packet of 20 cigarettes will be increased by 25c from midnight tonight. This will be applied to other tobacco products on a pro-rata basis at the same time.
The VAT increase will apply to alcohol but Excise Duty will not be increased here.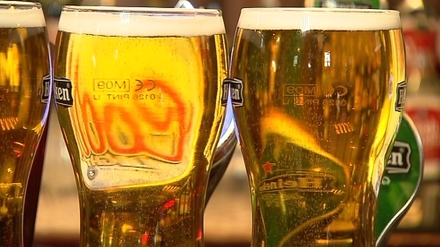 Will introduce legislation to facilitate the extension of betting duty to remote betting and the introduction of betting intermediaries duty to cover betting exchanges.
1630 Absenteeism: Removing the existing tax exemption for the first 36 days of Illness Benefit and Occupational Injury Benefit so that this incentive to absenteeism is removed.
Minister Joan Burton will bring forward proposals to deal with absenteeism in public and private sectors in 2012.
1629: Export Refund Scheme: Department to engage in a consultation process with the motor industry with a view to putting in place an export refund scheme that would allow for a refund of VRT contained in a vehicle on the permanent export of the vehicle to another Member State.

1628 Household Charge and Motor Tax: Introduction of a €100 household charge, as announced by Minister Phil Hogan.
Waiver proposed for those in mortgage interest supplement and those residing in certain categories of unfinished housing estates.
Provisions will also be made to allow payment of the charge in instalments.
Initiating consultation process with the motor industry and other parties to commence in early 2012 to review options for the improvement in VRT and motor Tax revenues in future years.
In the meantime, Minister Hogan will make provisions for an increase in Motor Tax effective from 1 January 2012. This will generate additional income of some €47m in 2012.
1627 Pensions: EU/IMF programme commits a move to a standard rate relief on pension contributions but this will not be done at this time.
"However, the incentive regime for supplementary pension provision will have to be reformed to make the system sustainable and more equitable over the long term."
1625 Carbon Tax: Increase in Carbon Tax on fossil fuels from €15 per tonne to €20 per tonne. Applied to petrol and auto-diesel from midnight.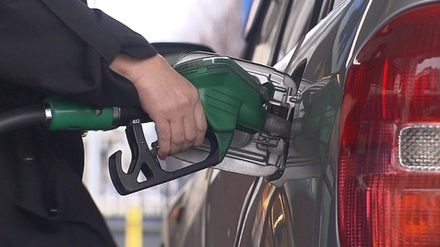 Increase on home heating fuels will not be applied until May 2012.
No increase of Carbon Tax to solid fuels, so no increase for coal or peat.
Allowing farmers a double income tax deduction for increased costs arising from the change in carbon tax.
"Farmers will also be significant beneficiaries of the reduction in the USC that I am making today."
Reduction in the VAT rate on district heating from 21% to 13.5%, which will benefit businesses.
Farmers able to claim a VAT refund on wind turbines purchased from 1 January 2012.
1623 Broadening the base for PRSI through removal of the remaining 50% employer PRSI relief on employee pensions.
Broadening PRSI base to cover rental, investment and other forms of income from 2013.
Increasing the rate of notional distribution on the highest value Approved Retirement Funds and similar products to 6%.
Increase the rate of tax on the transfer of an ARF on death to a child over 21 from 20% to 30%.
Abolishing the "citizenship" condition for payment of the Domicile Levy so as to ensure that "tax exiles" cannot avoid it by renouncing their citizenship.
Intends to keep the contentious issue of the tax treatment of tax exiles under constant review.
1622 Increasing the current rate of Capital Acquisitions Tax from 25% to 30% after today.
Increasing Capital Gains Tax from 25% to 30% after today.
Reducing the Group A Tax-free threshold for Capital Acquisitions Tax from €332,084 to €250,000.
Increasing DIRT from 27% to 30%.
1620 VAT to be increased by 2%. Government commits to not raise the standard rate of VAT beyond 23% during its lifetime.
1617 Universal Social Charge: From 1 January, exemption level will be raised from €4,004 to €10,036.
Revenue will collect USC on a cumulative basis next year.

1616 As direct taxes such as Income tax and PRSI have an impact on jobs, the bulk of adjustments being made in this Budget will be through increases in VAT and in capital taxes.
Marginal rate of taxation on income is now 53% for PAYE workers and 55% for the self-employed.
The top 5% of earners pay 44% of income tax according to Revenue records.
1614 Taxation The Programme for Government states that there will be no increase in income tax. This is the key issue for this Budget.
I want to make clear that there will be no increase in income taxes in this Budget – no increases in rates, no narrowing of bands and no reductions in personal tax credits.
Wages and salaries in January will be no less than wages and salaries in December, so people will continue to have discretion on how they spend their income.
1612 Public finances: Department now estimates the General Government Deficit for 2011 will be 10.1% of GDP, less than the 10.6% required by the EU/IMF. Target for 2102 is 8.6% of GDP.
Full measures already announced account for €600m; Announcing additional new tax measures today worth €1bn approximately.
1611 Banking: Two pillar banks have SME lending targets of €3bn each this year, €3.5bn each next year and €4bn each in 2013.
1610 Legacy property tax reliefs: Property relief surcharge of 5% will be imposed on investors with an annual gross income of over €100,000.
Reliefs in Section 23-type investments will not be terminated or otherwise restricted for investors with annual income under €100,000.
Investors in Accelerated Capital Allowance shchemes will no longer be able to use any capital allowance beyond the tax life of the scheme where that ends after 1 January 2015.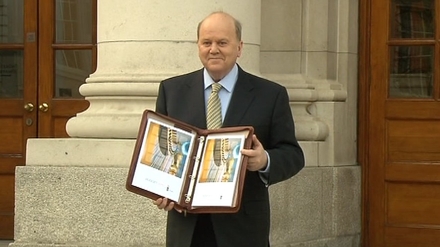 1609: Role of NAMA: Report of Michael Geoghegan into NAMA was largely positive but arising from it the Government is establishing an Advisory Group to advise on NAMA's strategy and its capacity to delivery.
1608 Mortgage Arrears: Government progressing with the implementation of recommendations made by a review group recently.
1606 For those who wish to buy a home in 2012: First time buyers will get mortgage interest relief at a rate of 25% rather than the 15% proposed by the previous Government.
Non-first time buyers will benefit from relief at 15% instead of the reduced rate of 10% proposed by the last Government.
1604 Mortgage Interest Relief: I am going to fulfil the commitment in the Programme for Government to increase the rate of mortgage interest relief to 30% for first time buyers who took out their first mortgage between 2004 and 2008.
1603 Rent reviews: NAMA has policy guidance where it can approve rent reductions when they are shown to be in excess of current market levels and viability is threatened.
It allows for the appointment of an independent valuation of market rent where necessary. If a tenant is not getting satisfaction in negotiations he can contact NAMA directly.
1601 Property: Stamp Duty for commercial property transfers will be reduced from the current top rate of 6% to a flat rate of 2% on all amounts from midnight.
Current arrangements for residential property will continue.
Introduction of a Capital Gains Tax incentive for property purchased between midnight and the end of 2013.
If a property is bought during this period and held for at least seven years the gain attributable to that holding period will be relieved from Capital Gains Tax.

1559: Tourism: The Government was disappointed earlier this year when Aer Lingus and Ryanair were unwilling to provide additional flights to Ireland in exchange for the abolition of the Air Travel Tax.
A special allocation will be made in the Revisited Estimates Volume early in the new year in relation to The Gathering in 2013 and it will be launched on St Patrick's Day.
1558 Tourism: The tourism and hospitality industry believe that the Jobs Initiative has been very effective in generating additional business.
1556 Agri-foods: "Significant reductions" in the rate of Stamp Duty on the transfer of commercial property, which will also apply to farmland.
Modifying retirement relief from Capital Gains Tax so it better incentivises the timely transfers of farms and businesses before the current owners reach the age of 66.
50% stock relief for all registered farm partnerships and 100% stock releif for certain young trained farmers forming such partnerships.
1555 The first €100,000 of R&D expenditure of all companies will be allowed on a volume basis for the purpose of the R&D Tax Credit.
The corporate tax exemption for new start-up companies is being extended for the next three years and will be available for companies that commence trading in 2012, 2013 and 2014.
Smaller companies will be able to avail of the planned foreign earnings deduction where they plan to expand their export markets into the BRICS countries.

1554 I am also introducing a Foreign Earnings Deduction to further support our export drive by aiding companies seeking to expand into emerging markets - Brazil, Russia, India, China and South Africa.
1553 I will introduce a "Special Assignee Relief Programme".
This will allow multinational and indigenous companies to attract key people to Ireland so as to create more jobs and to facilitate the development and expansion of businesses in Ireland.
1552 Much of Ireland's growth at present can be attributed to the attractiveness of Ireland for inward investment.
1551 We are committed to playing a full part in resolving this crisis, so that the benefit of the common currency will continue for Ireland.
1550 The primary purpose of this Budget is to support the creation of jobs in the short term, the medium term and the long term.
1547 The task of this Government is to gain control of Ireland's fiscal and economic policies.
1546 Noonan opens speech with reference to 1921 Treaty and Ireland gaining economic sovereignty.
1545 Minister for Finance Michael Noonan has begun making his Budget speech …

1529 Joe Mag Raollaigh: Shell to Sea mingle with Occupy Dame Street, drummers, gardaí and a soup kitchen outside the Dáil.
1524 Protesters have gathered outside Leinster House for a second day.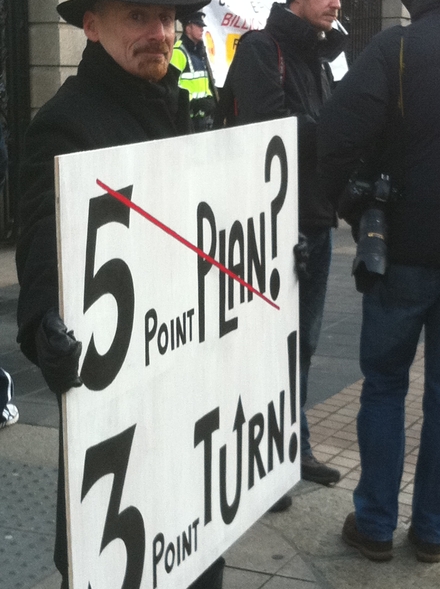 1522 Minister Noonan spoke to RTÉ's Joe Mag Raollaigh before he went into Government Buildings.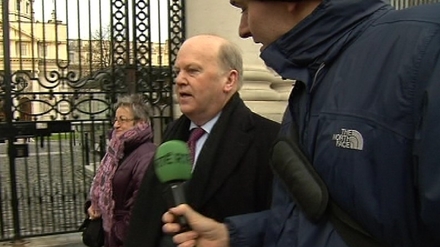 1520 Michael Noonan poses for photographers on the steps of Government Buildings this afternoon.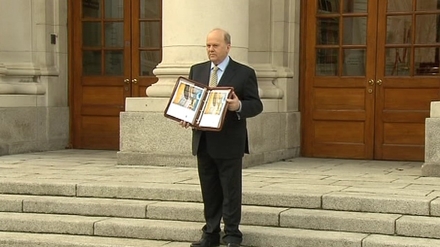 1502 RTÉ Reporter Samantha Libreri is looking to speak to any first-time buyers who bought between 2004 and 2008 and who are struggling with their mortgages - @SamanthaLibreri
1500 The Taoiseach has defended the salary increase to an adviser to the Minister for Jobs and Innovation Richard Bruton.
Enda Kenny confirmed that he did send an e-mail sanctioning the position in question. He said his job was to sanction advisers but he did not negotiate on salaries.
1455: Bryan Dobson: Political guests on RTE TV Budget 2012 from 3.05 - Leo Varadkar, Willie O'Dea & Mary Lou McDonald.

1451 Bryan Dobson: On air on RTE 1 TV in 10 minutes with Budget 2012 Part 2 - Brian Dowling & Sean Whelan will have some advance details.
1434 During Leaders' Questions, Fianna Fáil's Micheál Martin has called on the Government to reverse the cuts to young people on disability allowance.
"A smash and grab on the most vulnerable" is how he described it.

1431 Bryan Dobson: We're live on RTE 1 TV at 3.05 with Noonan budget speech - includes increase in USC threshold to €10,000 to remove 330,000 from tax net.
1425 Leaders' Questions in under way in the Dáil - watch in the player above
1352 Listen now to Liveline, which is discussing the impact of Budget 2012.
1344 Take a trip down memory lane with a look at some memorable Budgets from the RTÉ archives.
In 1980, Jim Fahy hit the streets to gauge the reaction to the 5% rise in duty on golf balls..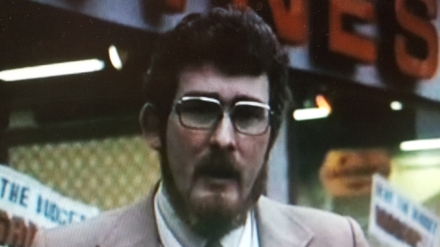 And Brendan O'Brien outlined just how much extra we'd have to pay for pints and whiskey...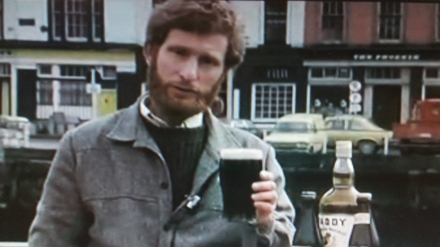 1327 "Child benefit is an absolute necessity … It is an existence to us." - Father-of-11 Paul Maher from Monaghan explains how the cuts in child benefit will affect his family.
1320 "This is a move towards taxing consumption" – Mark Redmond, Irish Taxation Institute.
1313 Brian Dowling: Capital Gains Tax rising 25% to 30%. For Capital Acquisitions Tax there will be a lower limit and bigger rate. DIRT is going up to 30%.
The car tax scale based on emissions will go up, incl €104 to €160 and €156 to €225. This should bring in around €50m.
PRSI extended to income from rental to about 4%. Household charge has been well flagged. Carbon Tax rising €5 per tonne. Pensions will remain relatively untouched.
There will be a tax break for companies who try to invest in BRICS (Brazil, Russia, India, China and South Africa).


1308 Brian Dowling: The big one is going to be the Universal Social Charge. The big change is the raising of exemption limit to €10,000, with 4% on everything after that.
1303 Ministers Michael Noonan and Brendan Howlin will be live in studio with Pat Kenny from 10am tomorrow.
Listeners are invited to submit their questions to the programme via email, telephone or text. Email todaypk@rte.ie at any time.

Phone lines will be open from 8am on Wednesday 7 December. From Republic of Ireland: 1850 715 900. From Great Britain & Northern Ireland: 0845 7857777.
Text from 10–12. From Republic of Ireland: 51551. From Great Britain & Northern Ireland: 80889.

1300 Listen to Budget coverage now on the News At One.
1211 Sinn Féin's Transport Spokesperson Dessie Ellis has criticised the impending rise in public transport fares due to a cut in State support for services.
Deputy Ellis said: "Even in the boom times the State gave public transport companies like Dublin Bus, CIÉ and Bus Éireann a very low State subvention by international standards yet they worked very hard to provide the best service possible.
"This meant that we saw every year fares rising due to increasing costs. Now, with cuts as high as 8%, these companies will seriously struggle to provide a good service which is affordable.
"We need public transport to get people to work, keep down congestion and pollution and encourage a tourist and business-friendly environment."
1205 RTÉ.ie Sport's Rory Houston snapped this as he passed by the Oireachtas this morning.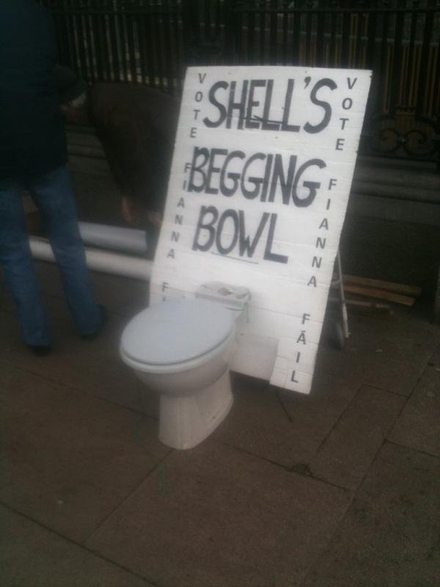 1150 Did you miss The Frontline last night? You can watch back as Pat Kenny and guests debate and discuss Brendan Howlin's speech.
1059 Also on Morning Ireland, Sinn Féin's Pearse Doherty said the coalition had taken the wrong options.
1050 What have you made of Budget 2012 so far? Read and post comments here.
1044 The debate on Pat Kenny may be over, but you can listen back to Morning Ireland's coverage. Eamon Gilmore said there was no easy way to reduce public expenditure.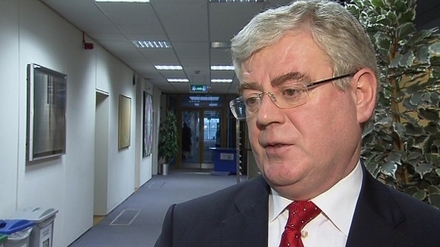 1037 The Croke Park Agreement is not a "stroke" pulled off by public sector workers - Higgins.
1035 We need some form of third-level graduate contribution, says Hayes. Third-level students will have to find ways to help their parents subsidise their educations, says Kirby.
1030 Able-bodied young people "should not be incentivised to sit on their asses", says Kirby. Higgins says that generalisation is "demeaning".
1028 Wealthy pensioners are still entitled to a free medical card, says Kirby. The Govt are not tackling the benefits drawn down by well-off families.
1027 It is inevitable that the highest earners will pay the highest amounts of tax, says Higgins. That doesn't mean, however, that they are paying their fair share, he adds.
1025 The system does not give the Govt capability to means test the likes of child benefit, says Gerard Howlin.
1024 "People on big salaries are paying huge amounts of tax" - Hayes.
1022 The Government has refused to touch at the huge assets of the wealthy, says Higgins.
1021 Joe Higgins says the idea that we should penalise low to middle-ranking civil servants by freezing increments is wrong.
1020 The only way forward for this economy is to get back to a balanced budget - Hayes.
1017 Arriving at the Department of Finance, Minister Noonan said everything is finalised for his Budget to be delivered at 3.45pm.
He said there was no great difficulty in agreeing a lot of measures as they stem from the Programme for Government agreed with the Labour Party.
Mr Noonan declined to answer any questions about the Budget contents, stating he will say what he has to say in the Dáil later.
1015 People will be driven back into the public health system, says Jill Kirby, and it will end up costing the State in the long run.
1014 Gerard Howlin says he agrees with the increase in private health premiums in principle, but is concerned the timeframe will be too short in practice.
1013 Health Minister James Reilly has made it "abundantly clear" that the days of "runaway budgets" in the health system are over, Hayes adds.
1012 The whole objective of the Budget was not to hike income tax, according to the minister.
1009 Hayes says getting to a universal health care system will take time and the increase in private health insurance premiums is a necessary measure on the way to that aim.
1006 Brian Hayes, Minister of State for Public Service Reform and the OPW, is also in studio with Pat.
Hayes asks why should the private health system be subsidised by the public sector. He says the Government wants to "maximise the spend we have".
1004 Today with Pat Kenny has just begun. Listen to the show here.
Jill Kirby, Personal Finance Journalist, Joe Higgins, Socialist Party & United Left Alliance TD, and Gerard Howlin, former Fianna Fáil Adviser and Public Affairs Consultant, take stock of the Budget so far.

0953 Taoiseach Enda Kenny has said it would be lovely to say our economic problems were sorted out but that is not the case.
Arriving at Government Buildings for this morning's Cabinet meeting, Mr Kenny said all measures to be announced in the second part of the Budget today have been decided and there is no tweaking left to be done.
Mr Kenny said the Budget is part of a four-year strategy that has to be delivered.
0950 Minister for Public Expenditure and Reform Brendan Howlin has said no-one could be happy with the cuts they had to make yesterday.
He rejected Fianna Fáil leader Micheál Martin's assertion that the cuts were unfair, saying they made the adjustments in the fairest possible way, while meeting the requirements of those who fund us.
The minister said we have to knuckle down to the task of national recovery but there are no simple options or choices that will not impact on people.
0940 Minister for Finance Michael Noonan will this afternoon announce details of €1.6bn in tax increases and extra charges.
Mr Noonan's Budget announcement follows yesterday's publication of plans to cut Government spending by €1.45bn next year.
His speech will only deal with the revenue raising side of the Government accounts.
However, his task is made easier by a carryover from last year's Budget of €600m, leaving him with €1bn to find.
Income tax rates will be left untouched, but he will announce a 2% rise in the top rate of VAT from 21% to 23%.
The Government estimates this will bring in €670m, although some observers feel that is optimistic.
Other measures could include changes to capital taxes, the carbon tax, motor tax, and property-related tax reliefs.
Yesterday's spending cuts were received with little enthusiasm on the Government backbenches, especially among Labour TDs.
This evening will see the first votes on Budget 2012 and the first opportunity for any dissent to express itself.
0830 Speaking on RTÉ's Morning Ireland, Tánaiste Eamon Gilmore said the Government had achieved the reduction in public expenditure that was required, while not increasing tax and protecting social welfare payments.
He also defended the cut in the disability allowance to people in the 16-18 age group.

0730 There will be extensive coverage of Budget 2012 on RTÉ Television, Radio and on the RTÉ website.
Bryan Dobson and Keelin Shanley present live coverage from the Dáil on RTÉ One from 3.05pm with studio analysis and reaction. Live coverage of Opposition parties' responses will continue on RTÉ Two between 4.30pm and 7.00pm.
RTÉ Six One News will provide a comprehensive look at the Budget and following the Nine News, there will be a Prime Time Budget Special at 9.35pm.
Drivetime begins at the earlier time of 3pm on RTÉ Radio 1.
Coverage on RTÉ.ie News and Business will include a live blog, embedded live video player and the key points of Budget 2012.
Users will also get a live stream from RTÉ Radio 1, on-demand video and text of the Minister Noonan's Budget speech, plus on-demand interviews, analysis and reaction. There will also be updates available on Twitter (@rtenews).
Budget coverage will be available on RTÉ News Now – available on Saorview, online and on mobile – as well as on the RTÉ Player.
All text content will also be available on RTÉ's mobile platforms (m.rte.ie/news, RTÉ News Now app on iPhone, iPad, and Android), while the main Budget content will be available on RTÉ Aertel.