The latest presidential opinion poll shows Michael D Higgins leading in the race for the Áras, with Séan Gallagher and Martin McGuinness also polling strongly.
The Ipsos MRBI poll for tomorrow's Irish Times also shows a big drop in support for David Norris and Gay Mitchell.
This poll was carried out on Monday and Tuesday among 1,000 voters in every constitutency in the State and followed the first debates between the candidates on RTÉ's News at One and the Late Late Show, but not last night's encounter on TV3.
It is the first poll for the Irish Times since July when Martin McGuinness and Dana Rosemary Scallon were not in the race.
Since then the proportion of undecided voters has fallen nine points to 18%.
Michael D Higgins leads the poll on 23%, five points higher than he was in the last Irish Times poll in July.
Séan Gallagher is on 20%, seven points higher than in July, while Martin McGuinness is on 19%.
Mary Davis is on 12%, unchanged since July.
David Norris has seen his support drop by 14 points to 11%,
while Gay Mitchell is behind him on 9%, a 12 point drop. Dana Rosemary Scallon is on 6%.
Norris confirms 16 years of disability claims
Presidential candidate David Norris has confirmed he was in receipt of disability payments from Trinity College for 16 years while a sitting Senator.

Mr Norris said the payments began in 1994 after he contracted hepatitis from drinking water in central Europe.

He said the money he was paid came from Trinity College who had him examined by a medical consultant to confirm his illness.

Asked if he thought it was wrong to be in receipt of disability payments while working as a full-time Senator, Mr Norris said Senators may have other income outside of the Seanad.

He also said that despite drawing disability for 16 years he is fit enough to be President.

Mr Norris said his pension at the moment was approximately €2,500 per month, but he could not give an exact figure.
However, he said he had no problem with Trinity giving the details if journalists wished to ask.
Mr Norris was speaking as he formally launched his campaign for the Presidency this morning in the Dublin Writers' Museum.
The Senator said the Irish people deserve better and called for a fair, open and transparent contest for the highest office in the land.
Letters will not be published
Asked about his legal advice about his clemency letters, he said his legal advisors were Michael O'Higgins SC, instructed by Beauchamp Solicitors, and a firm of solicitors in Haifa, Israel.
He said he wrote a number of letters to his partner's lawyers, giving advice and making suggestions which he felt might be helpful.
His Israeli solicitors had advised that any attempt to publish letters between lawyers and a person acting on behalf of the accused would leave him open to recourse in the Israeli courts by any person affected.
Mr Norris said he also wrote a number of letters to public representatives and to the Israeli Embassy, and these would not be published either.
He said the defendant and other people connected with the case had rights.
Earlier, Mr Norris and five of the other Presidential candidates attended a breakfast in Dublin organised by 'The Wheel' - an umbrella group representing more than 800 charities and not-for-profit organisations.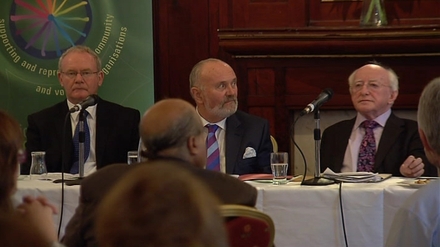 People 'bored' with IRA issue - McGuinness
Martin McGuinness said people on the streets are getting bored by questions about his IRA past.
Mr McGuinness made the comments as he arrived at the breakfast event in Dublin.
On last night's Presidential election television debate on TV3, Presenter Vincent Browne questioned Mr McGuinness repeatedly about his membership of the IRA after 1974.
Mr McGuinness said he is happy to answer any questions but thinks people will judge him on his record.
Yesterday, Mr McGuinness published his monthly bank statements.

The statements show Sinn Féin pays £1,605 into the account of Mr McGuinness and his wife, Bernadette.

With the exception of other occasional expense refunds this is the only money paid into the account on a regular basis.
Dana reiterates Europe stance
Presidential candidate Dana Rosemary Scallon has said, if elected, she would address the nation and the houses of the Oireachtas if she felt the Irish constitution was being interfered with by European institutions.
She said that while she had always been in favour of the concept of European co-operation, she did not want to be controlled by Europe and this had never been explained to the Irish people.
Asked if she was pitching for a Eurosceptic vote, she said she was not anti-Europe, but she did not believe control by Europe over Irish affairs was good for Irish people.
If she felt there was European interference in the Irish constitution, she said, she would use her presidential power, if elected, to address the nation and the houses of the Oireachtas on the issue.
Canvassing in Cork, Ms Scallon said as president she would act as an ambassador, as she had been for this country for the past 41 years.
She said she would harness Ireland's ambassadors in music, business and sport to tell a good news story that there is confidence, trust and ability in Ireland and that it was a place to do work.