US President Barack Obama has released his long-form birth certificate to quash conspiracy theories that he was not born in the US.
Mr Obama called the controversy over his birth certificate a 'side show' that distracted from important issues such as the federal budget.
'We don't have time for this kind of silliness,' Mr Obama said.
'We've got big problems to solve. We can solve them, but we're going to have to focus on them - not on this.'
A shorter regular birth certificate was issued by Hawaii authorities during Mr Obama's 2008 presidential campaign after conservative critics claimed that he was not US born.

The version released today is a copy of a long-form, original document made at the time of his birth and kept in official records in Hawaii.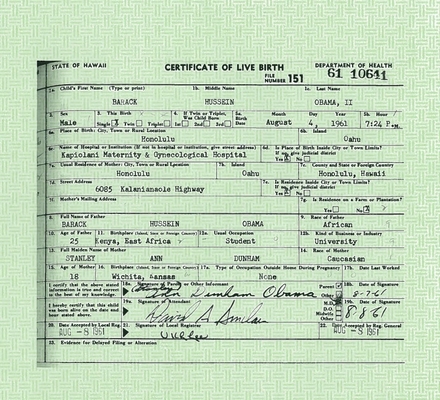 The document lists Mr Obama's birthplace and birth date as 'Honolulu, Oahu, Hawaii' on August 4, 1961 at 7.24pm.

According to the US Constitution, presidents and vice presidents must be natural born citizens of the US.

The issue of Mr Obama's birthplace has been a hot topic for conservative talk show hosts and pundits for years.
It has recently been brought up by billionaire Donald Trump, who is considering a Republican presidential bid.

The short-form birth certificate issued by the Obama campaign represented a computerised abstract issued to any Hawaiian when they ask for a copy of their birth certificate.

The long-form document requires a special waiver to be granted by authorities in order to be released.