Police investigating the murder of PSNI Constable Ronan Kerr have said a five-year-old girl was watching a road race yards from where the bomb exploded a short time later.
Police released a photo taken two hours before the explosion, saying it was evidence they say that the attack was potentially indiscriminate.
As police revisited the scene of the murder this afternoon to interview local people, two men are in custody in connection with the murder investigation.
The 25-year-old PSNI constable was killed when a booby-trap bomb exploded under his car in Omagh, Co Tyrone, on Saturday.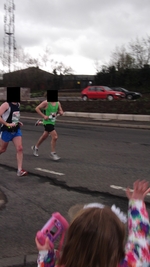 The second suspect, a 40-year-old man, was detained after he was stopped in a car travelling between Omagh and Ballygawley at 8.20am this morning.
He is also being questioned about the arms haul seized in Coalisland on Tuesday night. A car has also been seized.
Rifles, explosives, detonators and component parts for rocket launchers were among the weapons and munitions recovered.
Meanwhile, the 26-year-old man detained in Scotland in connection with an arms haul in Co Tyrone has been re-arrested in connection with the murder.
Both suspects are being questioned at Antrim Police Station.
Gardaí carried out a search at an apartment complex at Clarehall in Dublin today, as part of the Garda-PSNI investigation into the murder. No arrests were made.
The funeral of PC Kerr took place yesterday in the Tyrone village of Beragh.