Follow on Twitter: RTE Elections | RTENews
Live Updates:
1658 Turn out at 4pm on the Aran Islands and Inishbofin said to be in the mid 20s.
1322 Sinn Féin's Pearse Doherty has said that his party is a 'fair tax party'.
Doherty described as 'nonsense' claims made by Fianna Fáil that Sinn Féin was a high tax party.
1308 Independent candidate in Dún Laoghaire, Richard Boyd Barrett got some help canvassing from his mother, actor Sinéad Cusack.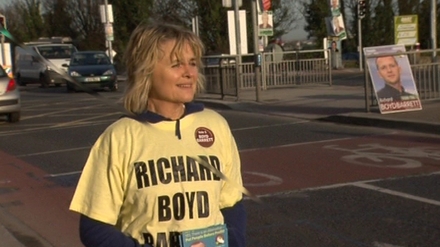 1256 Kerry County Council has made an online map of polling stations in Kerry.
Dublin City Council has also made an online map of its polling stations.
1253 Watch the video of John Gormley and Dylan Haskins in Dublin city centre
1233 The Green Party's Ciarán Cuffe has said that green policies are needed in Government to protect against further oil price increases.
Cuffe was responding to the price of a barrel of oil reaching $119.

1230 Jenny O'Sullivan sent in this photograph of graffiti spotted in Cork: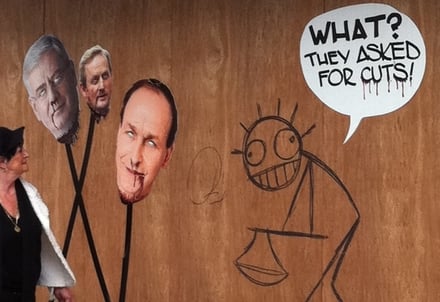 1155 Voting is continuing today on four islands off the Co Galway coast.
1,100 who live on the three Aran Islands - Inishmore. Inishmean and Inisheer - and on Inishboffin have been going to the polls since early morning.
Islanders off the Donegal and Mayo coasts cast their votes yesterday.

1151 Labour leader Eamon Gilmore has said that if people end up with one party rule after the weekend they will very quickly discover that there are more than five points to Fine Gael's plan.
Speaking in Dublin this morning, he said some of the additional points to five point plan will include cuts to child benefit, a graduate tax and lots of stealth taxes that they were never told about or had explained during the election campaign.
He also rejected claims that Fine Gael and Labour were home and dry, saying the election was still in the balance and is about balance.

1144 Canvassing on Dublin's St Stephen's Green, Green Party leader John Gormley bumped into Independent candidate Dylan Haskins, and a young voter.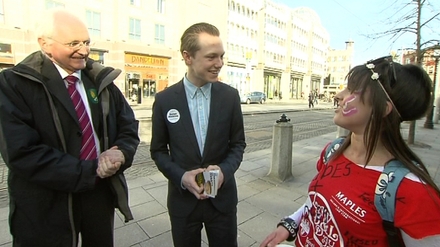 1139 Fine Gael leader Enda Kenny says people should turn their anger into action and vote for Fine Gael's plan to revive the country in tomorrow's election.
In what he called a direct address to the Irish people, Kenny told a gathering in Donegal this morning: 'We're living with national heartbreak. Reeling from the national confidence trick pulled on us by the Government and those they ceded power to -developers and banks".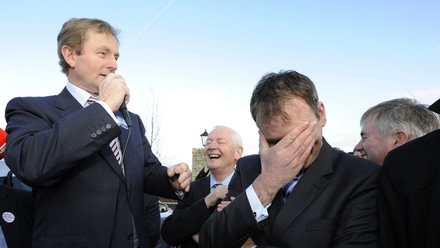 Speaking on the return of emigration he said: 'Today, another generation of Irish is building the future of another country. But tomorrow all of that can start to change.'

1114 RTÉ has created Twitter accounts for every single constituency for the count on Saturday. Find yours at our list, here.
1110 Green Party leader John Gormley has said that the party is fighting for the last seat in five Dublin constituencies and in Louth, Carlow-Kilkenny, Galway West and Cork South Central.
In a statement Mr Gormley said that Labour and Fine Gael were 'home and dry'.
1102 On the idea of a referendum on default, Burton says Ireland is a modern trading country and can't default at all.
Lenihan says default would close down overseas investment, which we rely on for job creation.
Noonan agrees that default is not an option, saying Ireland will 'pay its way' as a country.
1057 Fine Gael leader Enda Kenny has said 'we are witnessing a national heartbreak' where the people are 'reeling from a confidence trick played on them by the previous Government'.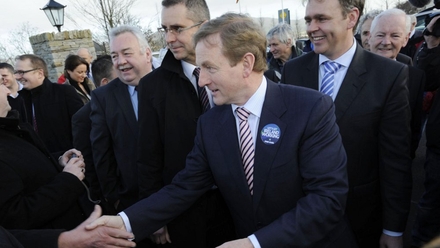 Mr Kenny said he wanted the Irish people 'to turn your anger into action' and use the power of their vote to back Fine Gael and their plan for Government.
1056 Amid spirited exchanges on Today with Pat Kenny, Burton says to Noonan: 'You sound like you're shouting from Limerick.' 'Well, you're very far away,' replies Noonan.
1054 Meanwhile, back on Today with Pat Kenny, Fianna Fáil's Brian Lenihan says 'I cry in my department when I see the number of contracts leaving the State… to countries with a cheaper minimum wage.'
1050 RTÉ Morning Ireland's Cathal Mac Coille has blogged about the polite tone of exchanges between politicians on today's programme. Well worth a read, here.
1044 Noonan, Lenihan and Burton agree on some form of work-for-welfare scheme, but have different opinions on level of punitive measures.
1043 Fine Gael's Michael Noonan says Joan Burton is dealing in 'magic beans economics', is 'spoofing' and 'has no clue about anything' on Today With Pat Kenny.
1025 Fianna Fail leader Micheal Martin has said the high number of retirements from the party has made this election more difficult.
When 'premier team players come off the team it makes it far more challenging and you do very quickly adopt the role of underdog in an election campaign,' he said.
21 sitting Fianna Fail TDs are not contesting tomorrow's election.
Mr Martin also appealed to former party supporters thinking of voting independent to reflect on it and give their vote to Fianna Fáil candidates because the party can more effectively contribute to national policy and to implementing ideas than independents.

1021 Burton calls Fine Gael's €21 per month reduction in child benefit and 0.5% levy on pension funds 'stealth taxes'.
1020 Noonan says Fine Gael will let local authorities make their own decisions, including charging for services and introducing Capital Gains Tax.
1019 Lenihan says Labour made a mistake in the campaign saying they would increase taxes over €100k, while Fine Gael claimed to be 'low tax'.
1016 Fine Gael's Michael Noonan, Labour's Joan Burton, and Fianna Fáil's Brian Lenihan are discussing their respective parties' finance plans on Today with Pat Kenny. Listen live here.
0905 Fine Gael leader Enda Kenny has clarified Fine Gael's policy on the Irish language in an interview this morning on Adhmhaidin on RTÉ Raidió na Gaeltachta.
Kenny said that he would not be changing the status of Irish as a compulsory subject for the Leaving Cert until a full review of the curriculum had been completed.
Kenny said that this review of the curriculum and the current teaching of Irish would be carried out by language experts, and would be based on scientific research.
Mr Kenny said that the review would include an assessment of the relevance of the curriculum content to life today, and the effectiveness of current investment in language teaching training for teachers.
He said that 50% of the marks in the Leaving Cert would be allocated to oral Irish, and that there would be extra points allocated for Irish at ordinary and higher level at Leaving Cert.
0902 Labour's Alex White has told RTÉ's Morning Ireland that that the election is far more personal for the public than the media have portrayed.
0900 The Green Party's Eamon Ryan has told RTÉ's Morning Ireland that the Greens would offer a 'united front' on EU negotiations even if not in Government, as it is what the country needs.
0855 Sinn Féin's Caoimhghín Ó Caoláin has said that voters face a choice on polling between 'real change', represented by Sinn Féin, or 'more of the same' from Fine Gael, Labour and Fianna Fáil.
In a statement, Ó Caoláin said: 'Sinn Féin has presented a real alternative plan for economic recovery. That plan puts people before banks, and is based on the needs of Ireland and not on the interests of international bank bondholders'
0832 Andrews accuses politicians from other parties of being 'presumptuous' about the outcome of the election.
0828 Brian Hayes says the next 24 hours are about hammering home the message that Fine Gael have the plans to renew the country.
0827 Barry Andrews says that the Fianna Fáil campaign is 'very upbeat' and that polls underestimate the performance of individual candidates.
0814 Fine Gael's Brian Hayes and Fianna Fáil's Barry Andrews coming up on RTÉ's Morning Ireland.
0730 Speaking on Morning Ireland, Sinn Féin's Caoimhghín Ó Caoláin also says he expects Sinn Féin to be 'transfer-friendly' in this election, which has not traditionally been the case.