Follow on Twitter: RTE Elections | RTENews
Live Updates:
2031 The National Digital Research Centre based Start Up 'Hit the Road' have made sure any newly-registered voters in Dublin can find their way to polling stations this Friday.
The young digital entrepreneurs have launched an election version of their journey planner that shows users how to get to any polling station in Dublin using only public transport.

1945 Watch Fine Gael leader Enda Kenny's interview on tonight's Six One News here
Watch Fianna Fáil leader Micheál Martin's interview on tonight's Six One News here
1920 Voting has finished on the four smallest Donegal islands and will finish on Arranmore at 7.30pm.
There was a turnout of around 50% on Tory Island, but only 15 people out of 67 registered on Innishboffin cast a vote.
Many of them had travelled two the island from the mainland where they spend the winter months.
1839 Michael Martin said that with two days to go to the election, other parties needed to be honest about where saving would be made and to stop trying to hide them.
'This should be about policies, this should be about issues'
The Fianna Fáil leader claimed his proposals for reform were 'much deeper' than other parties.

Martin denied that the Fianna Fáil record had been abysmal and defended his personal record at the Department of Enterprise, particularly over accusations of loss of competitiveness during his period in charge.
'If you had the growth we had over the past 15 years it is of course going to impact competitiveness.'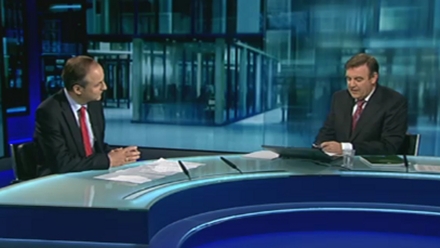 1825 Enda Kenny is outlining the Fine Gael plans for public services cuts. 'We have to downsize' says Kenny, although he again insists that his plan will not affect 'frontline staff'
He says where those redundancies come from 'depends on the definition of frontline staff.'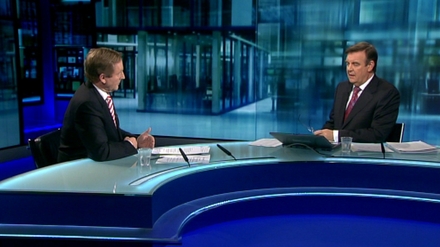 Kenny says he will have to wait and see what way people vote on friday before he decides if Fine Gael would take the support of like minded independents to form a new government.
He also said that Fine Gael would not put any further money into the banks unless there was burden sharing by unguaranteed bondholders.

1754 An average of 800,000 people watched the final Leaders' Debate of Election 2011 on RTÉ's Prime Time last night.

It had a peak figure of 887,000 people and a reach figure of just under 1,400,000 as viewers tuned in to watch Enda Kenny, Micheál Martin and Eamon Gilmore in a 90-minute debate moderated by presenter Miriam O'Callaghan.
The programme was broadcast live by the EBU (European Broadcasting Union) which has a membership of 74 broadcasting organisations from 56 countries and a further 36 associate broadcasters.

It was also broadcast live by the American public affairs cable television network, C-SPAN.
1733 Labour Leader Eamon Gilmore has drawn attention to what he says is a threat to Irish neutrality in the Fine Gael policy programme.
Mr Gilmore pointed to pages 31 and 32 in the FG manifesto which he said seeks the establishment of a new European Security Force and standing down the triple lock arrangement, which requires a mandate from the UN before Irish troops are deployed in any operation.

1730 Bryan Dobson: On Six One News - final two leaders interviews; Enda Kenny and Micheal Martin live in studio (separately)
1724 Just under 49,000 extra voters have been added to the Supplementary Register, giving them the right to vote in Friday's election.
The figure is considerably higher than for the 2007 election, when around 36,000 names were on the Supplementary Register.
1709 Eamon Gilmore has said the only way to prevent a monopoly of power going to one party is to vote Labour this Friday.
Speaking in Waterford, Mr Gilmore appealed to people intending to vote for small parties or Independents to vote for Labour in order to ensure that the country is not 'turned over to one party rule'.
1702 Voting on Donegal's five offshore islands where over 750 people are registered to vote in the General Election has been described as steady.
Turnout on Tory island is about 50%.

1501 Last night's debate between the leaders of the three main parties was 'leadránach', tedious and boring, says John Gormley
Speaking at the party's last press conference before Friday's election the Green Party leader said the three leaders had been 'going through the motions' and speaking in clichés.
Mr Gormley said his party was approaching the election in good spirits.
He said the Green Party had called for this election to give people an opportunity to make a decision as to the future of the country.

1428 Voting is reported to be steady on Donegal's five offshore islands where over 750 people are registered to vote.

1346 Joe Mag Raollaigh sent in this photo of an RTÉ cameraman filming Fianna Fáil leader Micheál Martin through the window of a constituency office in Drogheda: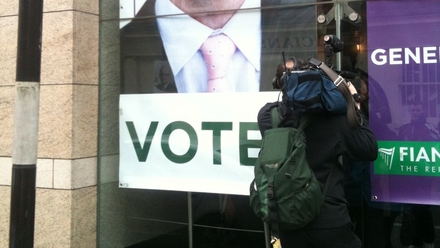 1329 Sinn Féin president Gerry Adams has reiterated his call for a referendum on the bank bailout.
Speaking in Dublin today at the final Sinn Féin press conference, Adams said the party offered a radical alternative to the main parties.
Sinn Féin were, he said, a party of change with a proven record.
Whatever the outcome of the election, Mr Adams said there was a need for a strong Sinn Féin element in any Government or opposition 'to put backbone into the political system.'
A short time earlier, the United Left Alliance had held their last press conference at the same venue as Sinn Fein - the monument to Jim Larkin on Dublin's O'Connell Street.
Richard Boyd Barrett of the People Before Profit group said there had been a false debate about whether there would be a single party of two party coalition government.
The real issue, he insisted, is whether the banks continue to be bailed out or whether people, jobs and public services are bailed out.
He also insisted that the United Left Alliance would form a 'significant' block in the new Dáil.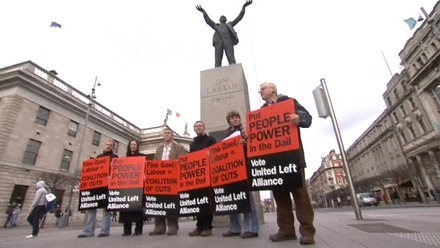 1324 Brian Dowling is reporting that there has been an overall increase of approximately 50,000 in the supplementary register.
1237 Donnelly says that even if Fianna Fáil gets over 20%, it will still be a poor performance. A lot of its core vote has moved to Fine Gael, he says.
1234 Flannery says Enda Kenny is a Championship player and the best comes out of him when the pressure is on.
1232 Donnelly says the campaign has been lacklustre and people are fatigued by it.
1230 Flannery says that there is a willing ally ready to do business with Fine Gael.
1229 Donnelly says that if Fine Gael is tantalisingly close to an overall majority, it will have to look at Independents.
1228 Frank Flannery, Fine Gael strategist, says that the party's campaign strategy has gone well and that hitting 40% in a poll is an important number.
1227 Political Analyst Seán Donnelly says that a 40% vote share would give Fine Gael 77 seats, but 81 seats may be on the cards. A bigger share of the undecided than unexpected would give them more than 81 seats, he adds.
1214 The Fianna Fáil and Fine Gael press conferences have both ended.
1212 Asked about same sex unions, Kenny said the matter is not a priority for Fine Gael. He said the party will give effect to taxation equality when implementing the Finance Bill.
The Fine Gael leader said he would much prefer to say the party decided to give recognition to the civil union partnership regime.

1211 Pat Leahy says Kenny was assured during first half of the debate but got lost in the second half.
1210 Kenny said he would not give advice to people on how to vote, other than to ask them to vote for Fine Gael.
1209 Brian Dowling tells Campaign Daily that Enda Kenny is not a good TV debater but he did not make any mistakes.
1208 Enda Kenny says borrowing for investment and job creation and withdrawal of the IMF would be key measures of government success.
1207 Gerry Adams, Sinn Féin President, has called on voters to make a stand this Friday and vote Sinn Féin.
'Sinn Féin has made a stand against the bad political choices of the last Government - choices that bankrupted the state, undermined sovereignty and forced ordinary working families to pay the price,' he said.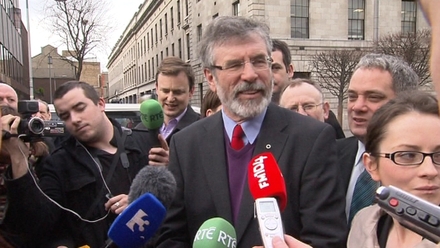 1206 Pat Leahy, Political Editor of the Sunday Business Post, says that it is worth bearing in mind that in recent elections there have been last minute swings.
1159 Fianna Fáil believes in an export led recovery and growth in Europe will mean growth for Irish exports – Martin.
1158 Martin says that the reason to underpin the banking system is to support people in employment. He says badly thought out policy on burning bondholders could damage Irish credit unions and pension funds.
1157 Fine Gael is already rowing back on issues such as the time frame for abolishing the Senate, says Martin. Fianna Fáil's representation in the Seanad and local authorities will need to be addressed, he adds.
1156 Mary Hanafin tells David McCullagh that Martin's leadership has made a big difference. Martin denies that he was aggressive in last night's debate, but says firmness was required.
1155 Richard Bruton says Fine Gael would focus in on jobs, which would involve a change to the tax mix and get small business moving. He adds his party would move to see change within the public service in the first 100 days.
1154 Fine Gael's policy on public expenditure is nothing more than 'we will eliminate waste' and goes no further – Martin.
1151 Phil Hogan says Fine Gael would prioritise electoral reform agenda and would establish a citizens assembly in first 100 days.
1150 Martin says that there should have been more debates and one-on-ones in the campaign and Fine Gael have avoided detailed scrutiny. Fianna Fáil has put down significant markers in terms of policy issues during the campaign, he adds. The Fianna Fáil leader says that Kenny was only forced last night to admit about his plans for the sale of State assets.
1149 Kenny says all ambassadors and State body representatives will be recalled and briefed on the urgency of Ireland's situation. Government priorities will also be outlined. The Fine Gael leader says a clear message will be sent to Europe and the world that a strong and stable government is in charge in Ireland.
1148 A prosperous, forward-looking Ireland and a vibrant Fianna Fáil will be our future if we make the right choices, says Martin. Asked about FF's poor poll showings, he answers that the only really poll that matters is on Friday.
1147 New ministers would concentrate completely on their portfolios - Kenny.
1146 Martin says Fine Gael saying it will cut €6.5bn but not showing how is not good enough.
1145 Micheál Martin has attacked Fine Gael's five-point plan, saying it 'full of blackholes, ill-thought out ideas and poll tested policies that are designed to win votes and not solve the problems we face today.'
1144 There is no time to waste, not an hour to be lost. Ireland needs to get back to work – Kenny.
1143 Martin says Enda Kenny could not back up his proposed Dutch model health system. Martin adds that 150,000 jobs can be achieved with Fianna Fáil's plan.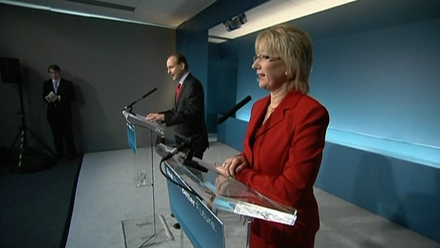 1142 Enda Kenny says, if elected, Fine Gael intends to put in place a first 100 day strategy.
1141 Micheál Martin says he is committed to renewing Fianna Fáil and that the campaign was about more than the General Election.
1140 The Fine Gael press conference is also being streamed live.
1139 The Fianna Fáil press conference has begun.
1115 The Home Care Association wants commitments from parties for statutory regulation of the home care sector by the end of this year.
1101 Deaglan de Breadun, Political Correspondent with The Irish Times, says Ireland has a very good quality of leader when compared to what is going on elsewhere in the world.
1100 Today with Pat Kenny hears there could be as many as 80 new TDs in the new Dáil.
1050 Reacting to the latest opinion poll for Paddy Power, Enda Kenny said trends in polls are important but the real poll is on Friday.
He said it was the first time he could recall that Fine Gael had been at that level.
But he said his message to his candidates and canvassers was that he didn't want any sense of complacency and he expected them to work until 10pm on Friday night, as he would be doing.
He said there was encouragement around the country based on the fact that Fine Gael had set out a costed credible plan for the way forward.
1040 A new poll has given a boost to Fine Gael. The Paddy Power-commissioned Red C poll shows Fine Gael's support at 40% share of the first preference vote.
Labour secures an 18% share, and Fianna Fáil is on 15%.
Sinn Féin attracted 10% of the first preference vote; the Green Party is on 3%, and support for Independents & Other Parties, remains very high at 14%.
The poll was conducted before last night's leaders' debate.

1037 Asked about Fine Gael's promise to reverse the ban on stag hunting, Kenny says he supports animal welfare but not some issues raised by animal rights activists.
He says his understanding is that the Ward Union hunt does not look to kill the stag and is part of rural life.
He says he has no intention of presiding over the slaughter of Irish red deer.
1034 Kenny says his colleague James Reilly has raised the issue of cystic fibrosis (CF) regularly in the Dáil. He says it is not a problem that can sorted overnight.
Kenny says there needs to be a strategy on CF on a regional basis.
1029 Kenny says he loves the Irish language and that it is something that should be loved.
He says says there has been 60 years of compulsion of the Irish language and that this has failed.
1025 Kenny says that Fine Gael wants to get as many people as possible off social welfare and into jobs. He said that Fine Gael would offer retraining opportunities.
Those refusing retraining would be cut back by €10 a week if Fine Gael were in government.
1022 Asked about Fine Gael's proposals to sell off 'non-strategic' State infrastructure, Kenny says that he is not talking about a fire sale.
1014 Kenny says he cannot change joint labour agreements on weekend work, etc, without renegotiation.
1011 Kenny says he is committed to reversing the minimum wage cut.
1011 Kenny says his party has a specific programme for the hotel sector.
1009 Kenny says there was no conscious arrangement between himself and Eamon Gilmore in last night's Primetime Leaders' debate
1007 Fine Gael leader Enda Kenny is on Today with Pat Kenny at the moment. Listen live here.
0933 Labour's press conference ends.
0932 Gilmore was unwilling to discuss the possible contents of a Programme for Government, saying that the people's choice comes first.
0931 Politics has changed, and Labour has been part of that change, says Gilmore. Labour's solutions are the best solutions for the country, he insists, but if people don't vote for that then 'so be it'.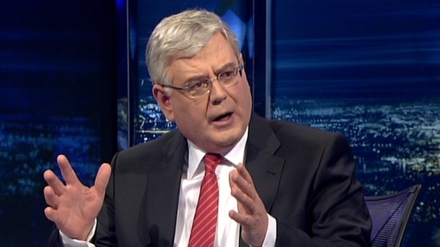 0930 Last night was the first time in the 40-year history of leaders' debates that the Labour party was included. Gilmore says Labour is flattered to be in second place, but adds that its ambition is to be in first place.
0929 The Labour leader says there is agreement with Fine Gael that the interest rate and the bank rescue plan would be renegotiated.
0928 Gilmore says there has been a degree of 'economic machismo' in some of the statements by FF and FG on the deficit. He says that he does not believe the deficit can be reduced to 3% by 2015, and that his target would be 2016.
0927 Gilmore says that the EU/IMF know perfectly well that Ireland can't get the deficit down to 3% by 2014.
0926 Under Labour, no family will lose a home. However Gilmore clarifies that this is for those making a genuine effort to repay mortgages.
0925 On the latest poll, Mr Gilmore says he expects the outcome of election will be different to what polls are saying and that Labour will do better. He believes a lot of seats will go right down to the wire.
0923 The Labour leader says that he has drawn attention to the policies that FG would pursue if it is in government by itself. He says there is broad agreement in many areas between FG and Labour, as well as differences.
0922 Gilmore says that it is inevitable that parties will dispute policies. He adds that the Fianna Fáil campaign has been very negative and was based on attacking Fine Gael and Labour.
0921 Eamon Gilmore says that a vote for Independents may produce a single-party Fine Gael government and to avoid this people should vote Labour.
0920 Watch the Labour press conference live.
0916 Labour Leader Eamon Gilmore has expressed his sympathies to the families of the two Irish people known to have died in the earthquake in New Zealand.
Speaking at his party's election headquarters this morning, he expressed his sympathies for all those who have died.
0854 Hegarty believes that Gilmore did enough to cement his place in Government. She says that the conciliation between Kenny and Gilmore was interesting to watch.
0853 Noirín Hegarty says the first 40 minutes was turgid and the leaders all showed signs of tiredness by the end. Rafter says Martin is a good debater, but did not want to engage with his record.
0852 Kevin Rafter says that the television debates have been broad brush and have not got into specifics.
0850 DCU Politics Lecturer Kevin Rafter says the opinion polls show people have made their minds up and the leaders would all have been happy. Rafter says that Enda Kenny's strategy was not to debate.
0849 Sunday Tribune Editor Noirín Hegarty says that there were no major slip-ups by Enda Kenny in last night's debate, but no inspiration either. Hegarty, who is about to be made redundant, says that she found the debate quite depressing.
0840 Micheál Martin also told Morning Ireland that a vote for Fianna Fáil is not a waste, despite what the opinion polls are saying.
0829 Micheál Martin's interview on Morning Ireland has ended.
0828 If Fianna Fáil focuses on its core principles it can recover as it did in the 1920s, says Martin. He will not give a prediction on the number of seats FF will win, but he will not resign regardless of the outcome.
0827 Martin claims that over the next two or three years there will be a remoulding of the European Stability Fund.
0826 Martin says he does not accept that Ireland is heading for default, and adds that the EU/IMF allows Ireland the opportunity to get its house in order.
0825 There have been second thoughts on the eurozone facility in Europe, but that it is not specific to Ireland – Martin.
0824 Martin says there are no easy solutions and there is no point in pretending to people. However he insists FF's 'Harvest 2020' will create jobs.
0822 On emigration, Martin says that his motivation in staying in politics is to devise politics to generate jobs. He says the best way to do this is through an export-led recovery.
0821 Martin says that you have to consult on issues such as severance pay and FG have talked the talk but not walked the walk on this.
0820 Ireland cannot walk away from the IMF/EU loan, says Martin. On ministers' severance pay, he says he was only leader for two-and-a-half weeks and had not looked at the issue when it came up.
0819 Martin says people want to know about the future, job prospects and the prospects of recovery.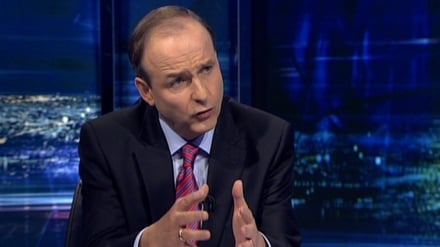 0818 A vote for Fianna Fáil is a vote for policies and the party will be a vital force in the next Dáil, claims Martin.
0814 Mr Martin says politics is about issues and policies and having a credible and honest plan for the way forward. He argues that Fianna Fáil has this. He believes we need to change the way we do politics and the campaign has been conducted in a fair and honest way.
0813 Fianna Fáil leader Micheál Martin is being interviewed on Morning Ireland.
0749 Mr Sargent says that the Green Party has always attracted transfers, while O'Broin says that Sinn Féin is in contention for the last seat in his Dublin Mid West constituency.
0747 There is a job to be done in opposition to hold the next government to account, says O'Broin. He also says that Sinn Féin's policies are gaining public support.
0746 Green Party candidate Trevor Sargent says there needs to be a focus on the inconvenient issue of a less oil dependent economy. He says there needs to be a level of understanding towards Ireland from other EU member states if the eurozone is to survive.
0743 Sinn Féin's Eoin O'Broin says there was very little difference on the substantive issues between the three leaders during last night's debate. He adds that the public sector needs real reform and taking large numbers of jobs out of the sector will damage services.
0731 David McCullagh says that the undecided voters in today's opinion poll in the Irish Independent are down to 11% and there was a huge jump in Micheál Martin's rating. However Mr Martin's good rating is not having a huge impact on Fianna Fáil's overall rating.
0730 David McCullagh believes that, in terms of debating, Micheál Martin won last night's Leaders' Debate, but says voters may have seen him as 'a bit narky'. Eamon Gilmore was the political winner, while Enda Kenny started well but faded.