Follow on Twitter: RTE Elections | RTENews
Live Updates:
1844 A spokesperson for Fine Gael has said that Labour had given up on engaging with the electorate on their own high tax strategy and have resorted to attacking Fine Gael.
1807 Sunday Business Post/Red C choice for Taoiseach ratings suggest Enda Kenny has 31%, Micheal Martin has 26%, Eamon Gilmore has 21%.
1805 Sunday Business Post's Red C poll indicates that Fine Gael is on 39% (+1), Labour on 17% (-3), Fianna Fáil on 16% (+1), SF: 12% (+2), Greens: 2% (-1), Independents: 14% no change.
1800 Sunday Independent Millward Brown poll suggests that Fine Gael is on 37% (-1), Labour: 20% (-3), Fianna Fáil : 16% (+4), Sinn Féin: 12% (+2), Green: 1% (n/c), Independents: 14% (-2).
1746 Sinn Féin President Gerry Adams has commenting on the statement by the family of Jean McConville saying:

'I have expressed on many occasions my very deep regret at the injustice that was inflicted on the McConville family by republicans. The IRA has apologized for the grief it has caused and accepted full responsibility for its actions.'
He continued 'Let me reject as forcefully as I can any suggestion that I played any part in the death of Jean McConville. I did not.'

1550 Northern Ireland's deputy first minister Sinn Féin's Martin McGuinness has said that the McConville campaign in Louth would not have a negative impact on the party leader Gerry Adams, who is running in that constituency.
1523 Fine Gael leader Enda Kenny has described the Labour Party's plans for third level funding as 'preposterous'.
Enda Kenny has said that tentirely free third level only means one thing and one thing only, 'exorbitant higher taxes.'
1441 Sinn Féin Dublin Mid West candidate Eoin Ó Broin said that strong measures are required to ensure that Irish natural resources are used for the benefit of the people.
Among proposals announced today is a commitment to renegotiate existing oil and gas contracts including that held by Shell for the Corrib Gas field, to give the State a 51% shareholding while increasing the levies to 48% and royalties to 7.5%.

1439 Members of the family of Jean McConville have described the decision by Gerry Adams to stand for a Dáil seat in the Louth constituency as 'a slap in the face'.
1407 Fine Gael Education Spokesman Fergus O'Dowd has challenged the Labour Party to explain why it is still refusing to campaign on its own policies.
He said Labour's assertion that the total €500 million shortfall for third level education should be borne entirely by taxpayers is unrealistic and dishonest, and yet another example of how their policies will lead to higher taxes.
1402 Campaigning in West Cork, Fianna Fáil leader Micheál Martin said he is picking up renwed energy and vitality within the party.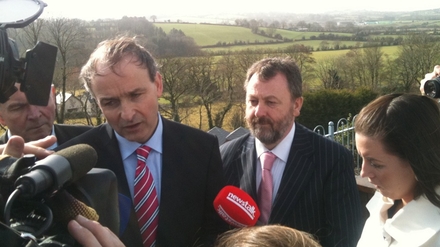 He said the continuing rows between Labour and Fine Gael shows that Labour have woken up to FG's cynical campaign of avoiding giving details of their policies.
1330 Watch the One O'Clock news for the latest on the campaign trail
1231 Green Party Education spokesperson Paul Gogarty said the party will put in place a comprehensive review of the teaching of Irish at primary and second level.
There will be greater emphasis placed on general competence in spoken Irish.
1230 Eamon Gilmore has said one precondition to Labour entering government with Fine Gael would be that child benefit is not cut further.
1048 Sinn Féin President Gerry Adams has described a statement by Eamon Gilmore that in government he has no plans to cut TDs' salaries as 'unbelievable' when TDs have more security than most and are better paid than most.
1037 Fine Gael Enterprise Spokesman Richard Bruton said a core objective of Fine Gael's Five Point Plan to Get Ireland Working is to create a smaller, more efficient and better public sector.
Speaking at the launch of Fine Gael's welfare fraud crackdown he said that in the same way 'that Fine Gael has declared 'all-out' war on white collar crime and rogue bankers, we will target welfare fraud and secure savings of €1 billion by year three of a new government'.
0745 The General Election campaign continues with the Fine Gael leader Enda Kenny in his native Mayo.
Fianna Fail leader Micheál Martin is canvassing in Cork.
Labour leader Eamon Gilmore will be in Dublin.