The leaders of Fine Gael, Labour and Fianna Fáil clashed strongly in the first three-way debate of the election campaign.
The debate broadcast on TG4 tonight focused on the banking crisis, the EU/IMF deal, redundancies in the public service, tourism, fishing, farming and the Irish language.
Enda Kenny and Eamon Gilmore both strongly criticised Micheál Martin for the Government's handling of the banking crisis.
Mr Gilmore said that the country was ruined and that the economy was ruined because of Fianna Fáil. He said the worst decision the Government took was to bailout Anglo Irish Bank.
Mr Kenny said that €35bn had to be put into Anglo Irish Bank because of the stupidity of Fianna Fáil. He also said that the EU/IMF deal should be changed.
Mr Martin said that the bank guarantee had been put in place to protect the 1.8m people still working in the country and that if the Labour policy had been implemented at the time that the situation would be ten times worse.
There would be a lot more unemployed, there would be nothing in the ATMs and the banks would have shut, he said.
Mr Martin also said that neither Mr Gilmore nor Mr Kenny would reverse any of the cuts brought in by the Government.
Mr Kenny said that the numbers in the public service could be reduced by 30,000 and that this could be done voluntarily. Mr Gilmore said that this would not be possible.
Martin questions Fine Gael's Irish language policy
There was strong disagreement over Fine Gael's policy of removing Irish as a compulsory subject for Leaving Certificate.
Mr Martin said that the gradual death of the Irish language would be the result if Fine Gael's policy was implemented.
Mr Kenny said this was nonsense and the Fine Gael would consult with stakeholders before implementing the policy.

All the leaders reaffirmed their commitment to Údarás na Gaeltachta. Mr Gilmore and Mr Martin both said that Údarás would keep its enterprise functions.
Mr Kenny said that he too was in favour of retaining the Údarás and that is would have to be properly funded.
There was disagreement between Mr Gilmore and Mr Kenny regarding the Government announcement last month that financial subsidies (Public Service Obligations) on services between Dublin and four regional airports from July would be cut.
Mr Gilmore gave a commitment that a Labour government would retain the PSO's. Mr Kenny refused to do likewise, saying the only promise he was willing to make was to implement his five-point plan.

Greens publish political reform plans
The Green Party has published its policy on political reform, which includes reducing the number of TDs to 120 and drafting a new Constitution through a citizens' assembly.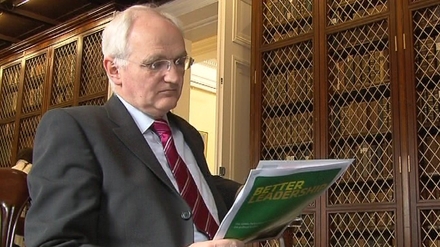 Green Party leader John Gormley criticised the Fianna Fáil proposals to have ministers who do not serve as TDs.
Mr Gormley said that the Fianna Fáil proposal really does not make that much sense to him.

Sinn Féin outlined jobs proposals for Dublin, while leader Gerry Adams once again denied that he was a member of the IRA.
Mr Adams said raising the issue of whether he was ever a member of the IRA was an attempt by the other parties to distract from the real issues.
He said his record was clear and he would leave it up to the electorate in Louth to decide if they want him to represent them.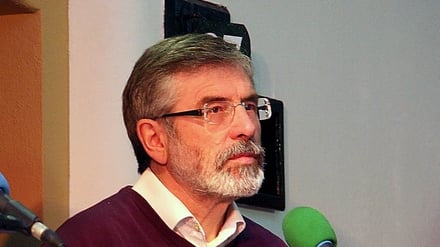 Poll suggests Fine Gael support rising
A poll in tomorrow's Irish Daily Star shows the rise in support for Fine Gael increasing and a small recovery in Fianna Fail's fortunes.
The telephone poll was carried out by OI Research using a sample of more than 1,000 people last Saturday and Monday.
It shows Fine Gael at 39%, which is up one point, Labour is down two points at 18%, while Fianna Fáil is up two points to 17%.
Sinn Féin is unchanged at 10%, the Green Party at 2% is down one point, while Independents and others are unchanged at 14%.
The figures compare with a previous Red C poll published on Sunday.

Elsewhere, a Red C poll for the Irish Farmers Journal has indicated that 60% of farmers support Fine Gael, which is 16% more than in a similar poll before the last election.
Support for Fianna Fáil has dropped from 40% four years ago to 19%.
The survey shows Independents getting 10%, Labour and Sinn Féin on 5%, and the Green Party on less than 1%.
Red C interviewed a random sample of farmers of 507 IFA members by telephone between last Thursday and Saturday.
Despite the overwhelming support for Fine Gael, the preference among farmers is for a coalition of Fine Gael and Labour, with only 15% supporting Fine Gael in an overall majority.
However, Mr Martin is running neck-and-neck with Mr Kenny as choice for Taoiseach - both on 39% - with Mr Gilmore on 11% and Mr Adams on 3%.