Follow on Twitter: RTE Elections | RTENews
Live Updates:
1957 Reacting to the latest opinion poll Fianna Fáil's Mary Hanafin said: 'On the second weekend of the 2007 campaign Enda Kenny was so confident about the polls he brought the media to see him buying the shoes he intended wearing for his appointment as Taoiseach.'
1726 Fine Gael could be on course to form a government on its own, according to the latest Red C poll in tomorrow's Sunday Business Post.
1635 Sinn Féin President Gerry Adams has said the current row between Fianna Fáil, Fine Gael and Labour is a phoney debate.
He said any disagreements on economic matters between the main parties can only be on minor details as they are all in cahoots on the consensus for cuts, all signed up to the four year plan and they all agree with the EU/IMF loan.
1350 Speaking on RTÉ's Saturday View, Fine Gael's Brian Hayes accused has accused Senator Shane Ross of populism with his suggestion of Ireland defaulting on its debt.
1310 Fianna Fáil leader Micheál Martin says they do not support the holding of a referendum on gay marriage.
He said the issue would need far greater debate across society and a divisive approach is not needed.
Mr Martin said Fianna Fáil in coalition brought in civil partnership which already gives legal protection to gay relationships. He described that as a significant step.

1235 Fine Gael leader Enda Kenny has given a commitment to the Heart Children Ireland group that if in government he will give priority to the construction of a new children's hospital.
He said while there were issues which needed to be clarified in regard to the Mater Hospital site, a new national children's hospital will not be delayed by issues surrounding its location.
He made the comments after meeting representatives of the group while canvassing in Santry in Dublin today.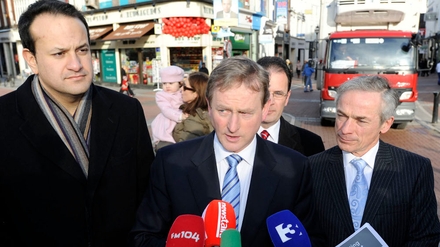 1227 Speaking on the campaign trail in Swords in Dublin North this morning, Eamon Gilmore said what the electorate now want to know is how the next government intends to solve the issues facing the country and give them some hope in doing so.
And he said that is the approach that the Labour party is taking, both in the television debates and in the conduct of their campaign.
He said the TV3 debate was 'a great success' for his party.
On Fine Gael, he said criticism of the Labour Party's economic proposals was a case of 'Fine Gael siding with the bankers again rather than siding with the taxpayers'.

1148 Fianna Fáil leader Micheál Martin has said that promises being made by other parties undermines their commitment to tackling the deficit.
'In relation to health alone Fine Gael promise a massively expensive list of new benefits which are uncosted and double count savings that will never materialise. In contrast, no party has raised even one credible question about our plan to bring down the deficit,' Mr Martin said.
'The people deserve an election that is as serious as the issues which must be tackled, and so far what they're getting is more of the old political games of empty promises and delayed action.'

1136 Fine Gael has outlined its plans to abolish or rationalise 145 State agencies, boards, committees, taskforces & public bodies.
Leo Varadkar said the plans would 'help us hit the deficit reduction target without affecting frontline services'.
Proposals include the merging of the Competition Authority, National Consumer Agency & three utility regulators into a single regulator; the abolition of the Dublin Docklands Development Authority and a reduction in the number of Vocational Education Committees.
1048 Joe Mag Raollaigh has sent in this picture of Micheál Martin and John O'Donoghue addressing the Fianna Fáil faithful in Killorglin, Co Kerry.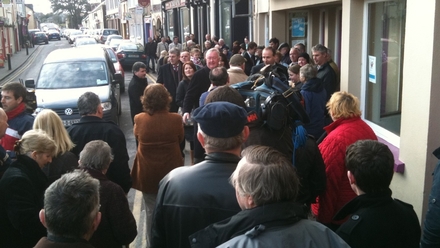 0953 Education Spokespersons from Fine Gael, the Green Party and the Labour Party will take part in