Main Points:
• Read the main points of Budget 2011
• Budget Speech by chapter (text + video)
• Budget 2011 documents
• Follow us on Twitter at twitter.com/rtenews
2305 Thanks for all your comments; our Budget 2011 live tracker has now concluded!
2255 The Dáil has passed Budget resolutions 19-22 on capital allowances and the Artists' Exemption, without a vote.
2247 The Dáil will begin considering the Social Welfare Bill, which reduces benefits apart from pensions by 4%, or around €8, tomorrow.

That Bill is due to pass all stages by Thursday evening.

2218 Watch the latest Budget revelations on the Nine News.
2214 The Dáil has passed without vote, Budget votes 15 to 18 on Stamp Duty and DIRT.
2139 The Dáil has passed the changes to the Income Tax code and the PRSI system by 82 votes to 79.
2107 A large contingent of protestors have broken away from the crowd at the front of the Dáil and are now protesting outside the gates of Government Buildings on Merrion Street.

A large number of gardaí are in place at the gates of the building.

2100 Taoiseach Brian Cowen has said he said he is proud of the Government's achievements and that the Budget is one that can be built on to grow the economy.

Asked about his own wage cut, which still leaves his salary above that of British Prime Minister David Cameron, Mr Cowen said that since he took office his take home pay had been reduced by 45%.

He said this is how it should be.

And in his clearest statement yet of his intentions, he said as far as he is concerned, he will lead Fianna Fáil into the next election.
2039 Two men remain in garda custody after being arrested outside the Dáil this evening at a Budget protest.

One man has been released without charge.

All three were arrested on public order offences, and the remaining two in custody are being held at Pearse Street Garda Station.

2035 President Mary McAleese 'has informed the Government of her intention to voluntarily reduce her salary in 2011 to the maximum rate of pay of €250,000 per annum'.
2023 Watch all the reports on today's Budget on Six One News.
2015 MEP Joe Higgins has called for a 24-hour general strike.

'It's a shame and a scandal that the Irish Government is acting like an agent for the financial markets,' he said. 'The medium and low-paid workers and the poor are all being targeted.'
2005 The Government has won a Dáil vote on the first of the financial resolutions by 82 votes to 77.

The vote was taken by a walkthrough of members of the House rather than by the electronic voting mechanism.
1955 The Government has no plans to replace the Gulfstream jet, which it says is at the end of its operational lifespan.

The smaller remaining Learjet will continue to be used by ministers travelling to Europe on Government business.

1947 Independent TD (and former Fianna Fáil Deputy) Joe Behan has said he will be voting with the Government on all votes relating to the Budget.

Deputy Behan said he was doing this because there was no other option and that it was in the national interest.
1944 A couple of hundred more protesters who marched from Parnell Square at 7pm have now arrived at Leinster House as well.

This march was organised by the Socialist Workers' Party and People Before Profit.

More gardaí accompanied the march as they arrived into Kildare Street and joined the over 200 protesters already there.
1935 Speaking at the press conference, Minister Lenihan said that all Government Departments will have to live within their 'cash limits', and they will no longer be able to approach the Department of Finance with 'begging bowls'.

He said this policy should lead to the abolition of many quangos, as there will no funding to maintain them.
1930 Speakers are addressing the crowd at the moment but there is no serious disruption on the streets outside Leinster House.
1924 The Government has won the first Dáil vote on the Budget by 82-78. It was first vote of 34 on Budget night. Independent Joe Behan voted with the Government.

TDs used the Dáil's electronic voting system - the rest of the votes this evening will be by the traditional method of physically walking through the lobbies.
1923 The reforms to the Ministerial car fleet are a 'farce', said Fine Gael Transport Spokesman Simon Coveney.
1920 Still no sign of the Government press conference starting. We will offer a link to our stream as soon as it does.

1910 SF's Caoimhghín Ó Caoláin said that it was a cruel budget that had brought greater social misery.

Green Party Senator Dan Boyle said that the cut in salary of the Taoiseach was a step in the right direction and said the cuts to pay scales meant the political system would cost a lot less.
1902 Labour's Finance Spokeswoman Joan Burton has said the adjustment announced in today's Budget was far too big.

She said this was the sixth Budget adjustment since July 2008 and that a total of €21bn had been taken out of the economy over a three-year period.

Ms Burton said that no economy in the world has recovered based on that kind of deflation and that the IMF had acknowledged that in their talks with her party.

Deputy Bruton also said the Government did not go enough to get rid of tax shelters.

1900 Homeless charity Focus Ireland warned the cuts will force more people to live on the streets.

Norah Gibbons of Barnardos claimed cuts on the poorest who survive on low incomes and social welfare will result in many children going without one full meal every week.

John Monaghan of the St Vincent de Paul said the Budget will cause real hardship for the families on its books.
1857 Three people have been arrested outside the Dáil for public order offences.

A large force of gardaí is also now present at Leinster House and he front gates and entrances to the building have been shut.

1846 Fine Gael's Finance Spokesman Michael Noonan said there is an absence of a specific plan to drive economic growth in the Budget.

He said he approves of the reduction in the Air Travel Tax, and added that the tourism industry must be promoted.

Mr Noonan said his party will be unable to 'unpick' much of this Budget, if they are voted into Government after the next General Election.

He said they will not be able to change the everything but that they would attempt to reform areas such as the minimum wage.

However, he said he would not know which areas they could change until they went to negotiate.

He said it was 'ridiculous' that Fianna Fáil backbenchers lobbied for the maintenance of the Old Age State Pension, but opted not to seek to protect the pension of other vulnerable sections of society.

He said politicians need to show moral courage by taking a pay cut themselves.

Deputy Noonan welcomed the changes to Stamp Duty, saying there was very little activity in the housing market.

1844 Speaking on RTÉ's Six-One, Finance Minister Brian Lenihan said this Budget brings Social Welfare levels to just above those of 2007 - in line with cost of living at that time.

Minister Lenihan said there is a reduction of €8 on the basic welfare payment.

He said it was 'regrettable' that there has to be any contribution from those on welfare, but insisted that no-one can be exempted in the current climate. He said matters are 'too serious'.

Mr Lenihan said the Budget would ensure that that the basic State Pension escapes unscathed, a move he believes would draw broad support.

He called it a 'highly progressive' Budget in terms of taxation.

He said there is clear growth in exports that is not limited to multinationals, and that this was the only sustainable way of ensuring a recovery.

1837 Legislation to bring in the new minimum wage rate will be brought forward before the end of the week.

Minister Batt O'Keeffe rejected suggestions that lowering the minimum wage more than social welfare would 'disincentivise' workers.
1829 Minister for Social Protection Eamon Ó Cuív said that families on unemployment and similar welfare benefits have fallen back to 2008 levels of support.
1827 A large force of gardaí is also now present at Leinster House.

The front gates and entrances to the building have been shut.

Kildare Street and Molesworth Street remain closed to traffic.

1824 Speaking on RTÉ's Drivetime, Finance Minister Brian Lenihan claimed that it would not be correct to say that pensioners are the winners in Budget 2011.

He added that we are not in a position to afford to pay child benefit at the level we were paying it.

Minister Lenihan said you cannot have a system where income is earned and no tax is paid.

He said everyone must make a contribution, and added that those who can pay the most will pay the most.

1820 A protest march organised by the 1% Network has arrived at the Dáil.

Among the marchers are members of Éirígí and other socialist groups. They have now joined with the protestors already at the gates of Leinster House.
1818 Deputy Mattie McGrath, who has lost the Fianna Fáil whip, has confirmed he will vote in favour of the Budget.
In a statement, Mr McGrath said: 'I will vote for the Budget today because I believe it to be in the best interest of this State.
'I don't want to play politics with this decision, possibly the political thing to do would be reject the Budget but I don't believe the interest of the people I represent would be served by putting politics before conscience.'

1816 The Department has issued the Tax Tables.
1813 The Minister for Enterprise Trade and Innovation says the IDA and Enterprise Ireland will create almost 30,000 jobs in 2011.
Minister Batt O'Keeffe said the spend on science and research is increasing by €42m, showing the Government's commitment to the smart economy.
He also said the revamped Business Expansion Scheme will focus on companies with export potential and those that will be hiring more people.

1811 Funding for the Irish Sports Council has been cut by 5% to €46.9m, with €33m allocated to the Sports Capital Programme.

Minister for Sport Mary Hanafin said the funding will be enough to continue to support High Performance athletes as they prepare for the Olympics in 2012.
1807 Stay logged on to RTÉ.ie as we will be streaming a Government press conference from around 7pm.
1804 The IFA has said the changes to the tax and PRSI regime will impact negatively on every household in the country, and will be particularly harsh on low-income families, many of whom are in the farming sector.

However, the IFA says the Budget recognised the vital role that farming, forestry and the wider agri-food sector plays in driving exports and maintaining jobs, which are critical to assist in economic recovery.
1802 Among the tax reliefs which are to be abolished from 1 January 2011, are the relief on trade union subscriptions (saving €26m in a full year), on subscriptions to professional bodies (€5m), on benefit-in-kind on employer-provided childcare (€6m), and on loans to acquire an interest in certain companies (€49m).

In addition, the phasing out of Rent Relief over eight years will save €97m in a full year, while the abolition of Patent Royalty Exemption will save an estimated €50m for a full year.

1801 139,500 people who were exempt from income tax in 2010 have now been brought into the tax net.
1800 Pearse Doherty criticised the fact that the salaries of TDs had not been touched.

He asked how the Government had 'the neck' to come in and introduce the Budget after giving our sovereignty away.
1754 Finance Minister Brian Lenihan has said there is no vacancy for the leadership of Fianna Fáil and he does not see any vacancy arising.

The minister said he had always said every member of a political party had a legitimate aspiration to lead it, but he didn't anticipate a vacancy.

He said he had been devoting his energies to securing an international agreement with the IMF and the EU, and to preparing the Budget.
1753 RTÉ is to get a reduction of €10m in licence fee revenue in 2011, a reduction of 5% on the 2010 figure.

According to the Department of Communications, this is to replace some central funding to TG4 with licence fee funding.

€3m is to be provided for Digital Terrestrial Television, to include an information campaign and possibly a set top box grant.

1747 Sinn Fein's Finance Spokesperson Pearse Doherty said that the Budget amounted to 'economic treason'.

Michael Noonan said that the Budget was one from a puppet Government doing what they were told to do by the International Monetary Fund and the European Central Bank.

1744 Up to 150 people are protesting outside Leinster House.

So far protests have been peaceful and without trouble. Gardaí are maintaining a presence in the area.
1743 Jobseekers' Allowance will drop by €8 per week.
1740 Ryanair has condemned what it called the 'half measure' by the Government to cut the air travel tax from €10 to €3.

However, the Irish Hotels Federation says the move to reduce the air travel tax and the no change to VAT for 2011 will boost the Irish tourism sector.
1739 The Irish Auctioneers and Valuers Institute has welcomed the news that the level of stamp duty will be reduced to 1% on properties valued up to €1m and 2% on sums in excess of this figure.
1738 SIMI has welcomed the extension of the car scrappage scheme until the end of June and said it will 'safeguard the increased level of employment in the sector'.

1735 Joan Burton said the winners in this Budget were the bankers - both foreign and Irish - who were 'hoovering up our money'.

Ms Burton said responsibility was not being borne by reckless lenders or those who lent to them. She said this budget would leave society more divided than ever.
1732 Child benefit payments for a third child will be reduced by €20.

1730 A review will be undertaken of the excise duty payable for licences for on-trade and off-licence sales of alcohol products.
1720 The construction sector has been at the vortex of the downturn, Mr Lenihan said. 'It will be some time before the sector returns to a sustainable level of output'.
1719 Mr Lenihan said the Air Travel Tax on passengers departing Irish airports introduced in March 2009 had been expected to yield €105m in 2010, despite the impact of the volcanic ash on air travel.
He said similar taxes apply in the UK, France, Australia, New Zealand and the US, and from January 2011 will apply in Germany and Austria.

1717 Minister Mary Hanafin said funding for the Arts Council will help sustain its major arts organisations, keep regional venues open and programmed and support festivals and touring.
1715 'The biggest sting in today's budget will be felt by women with children', said Labour Party Finance Spokesperson Joan Burton.

She said of the €2.1bn in cuts, €1.6bn would be borne by the areas of health, children and social protection. She said working people would do the heavy lifting in this Budget.
1711 The base for Capital Acquisitions Tax is being broadened by reducing the tax-free thresholds by 20%.

The rate of DIRT on ordinary deposit accounts will rise by 2% to 27% and on longer-term deposit accounts by 2% to 30%.

1708 The Tenant Purchase Scheme will be improved by the introduction of a higher discount for existing tenants.
1707 Reduction of 4% in the Defence Forces budget.
1705 There will be a fundamental reform of Stamp Duty on residential property transactions with immediate effect.
1704 Day-to-day funding for all schools, colleges and other education providers is to be cut by 5%.

Rural families will see a rise in school transport costs, up by €50 for second level students, with a new €50 fee introduced for primary school children. Those with Medical Cards are exempt.

Third-level student charges are to rise by €500 to €2,000. But the higher charge will be limited to one child per family.

Student grants are to be cut by 4% with cuts also for FÁS training allowances and similar supports.

There's a 9% cut for school building at primary level, a 20% cut at second level, and a 51% cut at third level.

There is also a big cut to funding for certain projects in disadvantaged areas. Drugs Task Force funding is to be cut by 63%. The department's Educational Disadvantage Fund is to be cut by 60%. Both these streams fund grassroots initiatives in disadvantaged areas.

1702 Michael Noonan has accused the Government of being socially blind and said the Budget was 'soft on the rich and hard on the poor'.

Referring to cuts to Child Benefit, Mr Noonan asked what the Taoiseach had against third children and asked had he been beaten up by a third child at some stage.

1657 Minister Mary Hanafin has said there is an allocation of €150m to culture and film in the Budget.

The Arts Council has been allocated €65.2m, a reduction of 5% on the 2010 figure.

The Film Board has been allocated €18.4m.

The National Museum allocation of €14.2m includes €2m capital funding for renovations at the Treasury in the Museum on Kildare Street and the fitting out of the Collections Resource Centre.

Almost €21m is allocated to the National Library, IMMA, National Concert Hall, Chester Beatty Library and Crawford Gallery.

An allocation of €9.85m for the National Gallery is a reduction of 3% on 2010.

Over €4m is provided to support regional and smaller museums, as well as to fund events such as Culture Night 2011 and the major new contemporary art event, Dublin Contemporary 2011.

A carry-over of €3m from 2010 will be used towards the funding of Culture Ireland's major year-long season of contemporary Irish culture - Imagine Ireland - across the United States in 2011.

The Artists' Exemption will have a new threshold of €40,000.

The Section 481 investment tax relief for the film and television production sector will remain in place.

1654 Budget is a 'substantial down payment on the journey back to economic health', Mr Lenihan said.

Savings will have to be delivered under the Croke Park Agreement, Mr Lenihan warned. He said under his proposals everybody pays and those who can pay most will pay most.
1653 Minister Lenihan told the Dáil that the banks' loan losses are 'unforgivable'.
He said they reflect the recklessness of lending decisions during the bubble years and the weakness of the previous regulatory framework.
'We must ensure they never happen again', he stated.
He denied that the taxpayer will end up bearing most of all of the cost of the banks' bad loans.
He said that from 2008 to 2012, the total loan losses of the Irish banks are expected to reach €70-80bn, equivalent to about half of this year's GDP.
But he said that tens of billions of these losses have been absorbed by the private shareholders of the banks.
'It is clear there has been no taxpayer bailout for bank shareholders,' the Minister claimed.

1650 Those on the reduced minimum wage will not be brought into the tax net.

The top marginal tax rate will be kept at 52% for all taxpayers.

The portion of retirement lump sums above €200,000 will be subject to tax and the maximum allowable tax-relieved pension fund will be reduced.

The rates on the new universal social charge will be 0% below €4,004 a year, 2% up to €10,036, 4% from €10,036 to €16,016 and 7% above this level.

1647 Fine Gael's Finance Spokesperson Michael Noonan has criticised the Finance Minister for lack of detail in presenting his budget to the House.
1645 Some of you have been reporting buffering problems with our live video feed. Our technical colleagues have given us the following update:
'We have been putting out record numbers of live video streams. Some of you are reporting problems with buffering. We have a number of systems in place to monitor our streams and use dedicated content delivery networks. We have monitoring ISP connections as well here so we can see how the streams are looking to you all outside, and are satisfied that our delivery networks are performing fine. Problems with buffering could be down to issues with your ISP, or even if there are a lot of people in your office all trying to watch the same stream etc. While that experience is regrettable, it is beyond our control.'
1639 There will be no change to the country's 12.5% corporate tax rate.

Minister Lenihan said that the Business Expansion Scheme, which helps companies to gain access to capital investments, is to be revamped and renamed as the Employment and Investment Incentive.

The new scheme needs approval from the European Commission, and the existing scheme will continue until this has been received.

Under the new scheme, Mr Lenihan said that the limit that can be raised by companies will be increased from €2m to €10m. The amount that can be raised in any 12-month period will be increased from €1.5m to €2.5m. Certification requirements will also be simplified.

The minister said the three-year corporation tax exemption for start-up companies starting a new trade in 2011 will be extended and amended so that the relief will be linked to the amount of employers' PRSI paid by the company.

1637 There will be a 'fundamental reform' of stamp duty on residential property deals.

There will be a flat rate of 1% on all residential property deals up to €1m, with 2% on deals above €2m.

The car scrappage scheme is to be extended for another six months to 30 June. VRT relief for hybrid and flexible fuel vehicles are being extended.

Mr Lenihan also said he was ensuring that internet betting was subject to the same level of betting duty as that which takes place in high street betting shops.

He also announced changes in the relevant contracts withholding tax, with a new rate of 20% applying to sub-contractors registered for tax. The existing 35% rate stays for sub-contractors not registered for tax.

There is to be a new incentive for improving energy efficiency in homes, with standard-rated tax relief available on spending of up to €10,000 on a list of approved works.

The total available in a year will be €30m. Full details are to be provided in the Finance Bill.
1632 The State car fleet will be reduced by a third over the next two years.
Former Taoisigh and Presidents and 'other users' will pool their use of the cars.

The engine sizes of the cars used will also be reduced to two litres or less as the cars in the fleet are replaced.
One of the two Government aircraft will not be replaced when it reaches the end of its operational lifespan.

Long service increments and Ministerial pensions will not be paid to TDs after the next election.

A number of Secretaries General, whose pay would have been higher than the Taoiseach's as a result of his pay reduction, have volunteered to adjust their salaries to bring them in line with the Taoiseach.

1626 Petrol up 4c, diesel up 2c from midnight.
1624 Air Travel Tax will be cut to €3 from March 2011.
1618 Income and health levies to be replaced by single universal social charge. It will have 'one set of rules on a broad base'.
The employee PRSI contribution ceiling will also be scrapped while the PRSI rate for the self-employed, higher earning public servants and office holders will be increased.
Mr Lenihan said he will reduce the value of bands and credits by 10% in line with overall reductions in income while he also wants to tackle the 'excessive' reliefs associated with private pension provision.
Mr Lenihan said those on the new reduced minimum wage will not be brought into the tax net.

1615 In an effort to help the unemployed, an extra 15,000 activation places and supports will be allocated at a cost of €200m.
The National Employment Action Plan will be refocused to establish clearer pathways to employment by ensuring that State agencies interact early and often with those to have lost their jobs.
The Skills Development and Internship Programme will provide up to 5,000 places in the private sector with a contribution from that sector of an additional €38m or so to pay some of the costs of internships.
The Work Placement Programme will provide up to 5,000 places in the public service.
A New Community Work Placement Scheme will provide up to 5,000 additional places in the community and voluntary sector.
1611 Public service pensions above €12,000 a year will be cut by an average of 4%.
The Minister said a grace period, under which previous salary levels were used to calculate pensions, had been due to expire at the end of 2011.
This is being extended by two months, but those retiring during the grace period will still face the reductions announced today.
A new single pension scheme for new public service entrants will come into effect in 2011, with pensions based on career average earnings rather than final pay. Post-retirement rises will be based on inflation rather than pay.
1607 The Taoiseach's salary will be cut by €14,000, ministers lose €10,000 while judges will have their pay capped at €250,000.
1603 €200m provided for training and work placement supports for the unemployed.
1602 An additional €14m has been allocated to the fuel allowance scheme, which works out at about €40 for each recipient, in light of the recent cold weather.

1600 There will be a €10 reduction in child benefit.
1557 The underlying budget deficit has stabilised at 11.6% of GDP and our tax revenues are ahead of target despite a weak start to the year and our spending has been brought under control.
The minister said without the support of the IMF and EU there would have been serious doubts about the ability of the State to raise funds at reasonable cost to pay for key public services and to provide a functioning banking system to support economic activity.

1556 As expected, there will be no reduction in the State Pension.
1555 The Finance Minister said we need the support of the IMF and the EU to break the vicious cycle that has threatened our national finances and our banking system since the second quarter of this year.
He said the Joint Programme of Assistance, involving stand-by resources of up to €85bn, provides us with the firepower we need to restore market confidence, strengthen the financial sector and press ahead with our plans to reduce the budget deficit and facilitate the economy's return to sustainable growth.

1554 In his opening speech on Budget 2011, the Minister for Finance, Brian Lenihan has told the Dail that this has been a traumatic and worrying time for the citizens of this country.
He said there were clear signs of hope even in this time of crisis.
He said that amid the turmoil in the financial sector, it is easy to lose sight of the fact that economic activity has stabilised.
Mr Lenihan said domestic demand remains weak as households and businesses continue to work off the excesses of the boom.
There are signs that conditions in the labour market are beginning to stabilise. The Live Register has fallen for the third month in a row, the first since 2007.
Redundancies in the last three months were over 30% lower than in the same period last year.
1553 Kildare Street has now been closed to traffic and up to 40 gardaí are in position behind barriers along the front of Leinster House.
1550 Mr Lenihan said the balance of payments is expected to record a small surplus next year, meaning the economy as a whole will be paying its way in the world.
'Public spending has been brought under control. Our actions to stabilise the public finances have made progress,' he said.
1546 Finance Minister Brian Lenihan has begun delivering Budget 2011.
1537 The Taoiseach has told the Dáil that he has no objection to the House returning from the Christmas break a week earlier than expected.
Eamon Gilmore said that Dail was scheduled to rise on 19 January and asked the Taoiseach to confirm that it would now return on 12 January.
Brian Cowen said that he could not clarify the exact day, but that it would be earlier than usual.
1519 In the last few minutes, a flare was lit outside the Dáil by a group of Sinn Féin protestors objecting to the Government's Budget plan.
At the same time, another group of protestors were beating pots and pans in front of the gates of Leinster House.
Gardaí are continuing to maintain a low key presence at this time.
1514 Taoiseach Brian Cowen has told the Dáil that the Labour Party's Budget proposals would result in double the imposition on families because of heavy tax measures.
Mr Cowen said of Labour's suggested €4.5bn in cuts, €2.5bn would come from tax hikes.
The Taoiseach said if the Government had followed Labour's banking policy, there would not be an economy to discuss today.
Labour leader Eamon Gilmore asked the Taoiseach how he expected any growth in the economy next year with €6bn of cuts. Mr Gilmore said mismanagement, mistakes and bad judgement meant the Government were introducing the worst Budget seen in the House.
Earlier, the Taoiseach said the decision on guaranteeing bank deposits was taken following an incorporeal Cabinet meeting on the Monday night before the decision was announced in September 2008 and not at a cabinet meeting on the Sunday.
Fine Gael leader Enda Kenny said comments by the Green Party leader John Gormley in a radio interview over the weekend suggested that the decision had been taken on the Sunday.
Mr Cowen said there had been a Cabinet meeting on the Sunday to discuss the Supplementary Budget that was being introduced in October 2008, but said a decision on the guarantee was not taken until the Monday night/Tuesday morning.
He said the Minister for Finance, Brian Lenihan, gave an update on liquidity issues in the banking system at the Sunday meeting and said things had deteriorated, but there was no detailed discussion about options.
He denied that this version of events was at odds with Minister Gormley's.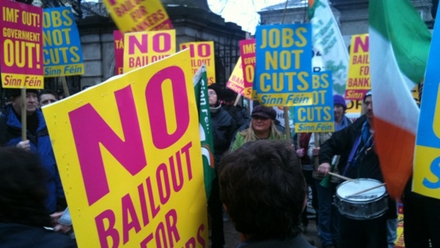 1509 Brian Dowling reports that TD Mattie McGrath, who was due to meet Finance Minister Brian Lenihan today, is likely to back the Budget.
1505 RTÉ's Joe Mag Raollaigh reports that there is a crowd of noisy protestors outside Leinster House this afternoon.
1500 Brian Dowling says cigarettes and alcohol will not be touched but there could be a 4c increase in petrol. Expect long queues at filling stations tonight.
He also said that there will be a car pooling scheme for Ministers.
1435 Among the other measures expected are a cap on public sector pay, a reduction in the salaries of the Taoiseach and Ministers, as well as reductions in welfare payments.
1425 RTÉ's Brian Dowling gave a comprehensive overview of what he expects in this afternoon's Budget. Listen to what he had to say.
1420 It is expected that third-level registration fees will be increased to €2,000 annually, but that families with more than one child in college will pay a reduced fee of €1500 for the second and subsequent children.
1415 There is increasing confidence in Government circles that this afternoon's Budget will be passed by the Dáil. Minister for Finance Brian Lenihan is due to begin his Budget speech in the Dáil at about 3.45pm.
13.25 Barnardos Chief Executive Fergus Finlay has told News At One that any cuts to child benefits will drive more children into poverty and hunger and force parents to make difficult choices.

13.00 TDs have begun arriving at Leinster House ahead of today's Budget.
12.17 Minister for Finance Brian Lenihan and Fine Gael's Michael Noonan will be live in studio on tonight's Prime Time at 2140.
1214 A 40ft low-loader lorry has arrived at the front gates of Leinster House to remove the cherry picker used in this morning's protest.
1156 TDs have begun arriving at Leinster House ahead of today's Budget.
1138 Tipperary South TD Mattie McGrath said he had a conversation with the Finance Minister last night and again this morning - but claimed he was still undecided about whether he would support the Budget.
He said he hoped to meet Brian Lenihan this lunchtime to discuss the matter further.
1127 Independent Galway West TD Noel Grealish said that it is looking likely that he will be voting against the Budget.
He said that he will make up his mind for certain when the budget is published.

1040 EU finance ministers have formally approved the €85bn rescue package for Ireland along with its terms and conditions.
1020 The Press Association has a timeline charting how Ireland went from boom to bust:
June 24, 2008: The ESRI sounds alarm bells with stark warnings of the first recession in Ireland since 1983 and a return to high unemployment.
September 30: A €440 billion bank deposit guarantee is unveiled to quell rumours on the streets and airwaves of a so-called 'run on the banks'.
October 14: In Budget 2009, brought forward two months, the Government introduces a 1% income levy for all workers and scraps free healthcare for the over-70s. The health cut was later overturned after pressure from angry pensioners.
January 15, 2009: Anglo-Irish Bank is nationalised amid scandals over lending and fears over a failing loan book.
February 11: A €7 billion bank recapitalisation programme is announced, with the Government taking preference shares in Allied Irish Bank and Bank of Ireland.
February 24: The Government vows to bring to justice those who risked the country's economic security after the fraud squad raided the headquarters of Anglo.
March 3: Taoiseach Brian Cowen announces a supplementary Budget to raise more revenue and cut spending.
April 7: The Government unveils an emergency Budget, doubling income and health levies and announcing the National Asset Management Agency (Nama).
December 9: Finance Minister Brian Lenihan unveils €4 billion in cuts and tax hikes in Budget 2010, with the minister claiming the economy had turned a corner.
January 29, 2010: Ireland's Central Bank predicts the country's economy will turn the corner by the summer.
June 9: A damning report by Central Bank Governor Professor Patrick Honohan and experts Klaus Regling and Max Watson states the banking meltdown was a result of 'home-made' decisions rather than the global economic crisis.
September 20: Prof Honohan warns that more than the expected €3 billion of cuts maybe needed in the Budget.
November 4: The Government reveals it will impose a €6 billion cost-cutting Budget for 2011 - twice the initial estimate.
November 12: Mr Cowen denies Ireland has approached Europe for emergency funds amid reports of behind-the-scenes talks.
November 14: Two senior Cabinet ministers dismiss suggestions of a bail-out, with one branding them fiction.
November 18: Prof Honohan says he expects the country to get a loan worth tens of billions through an International Monetary Fund-European Union rescue deal.
November 21: The Government confirms it will seek an IMF/EU bail-out.
November 22: The Greens, junior partner in the coalition, call for a General Election. The Taoiseach says he will dissolve the Dáil after laws are passed to enact Budget 2011.
November 24: A four-year €15 billion plan to restore the crippled finances is unveiled.
November 28: The Government announces an €85 billion IMF/EU bailout.

1010 Very few Budget-related updates to bring you at the moment. None, in fact. In the meantime watch a Budget report from last night's 9 News on RTÉ.
1000 Today's Morning Ireland had a series of reports ahead of today's budget.
0905 A man has been arrested after parking a small crane covered in protest hoarding on Kildare Street.
0900 Welcome to our live text updates on Budget Day. Everybody knows that the country is frozen and broke, but today we will find out just exactly how the Government intends to address the latter problem.

As for the former, you can follow yet another day of our live weather and transport updates here.
The Minister for Finance, Brian Lenihan, is due to deliver his Budget 2011 speech from approximately 3.45pm in Dáíl Eireann.
RTÉ will bring you coverage of the Budget across all platforms throughout the day. And we'll be concentrating on bringing you as many relevant updates here as quickly as we can.
In the meantime, we'll bring you some build-up and reaction and don't forget that you can get involved too over on our comments section.