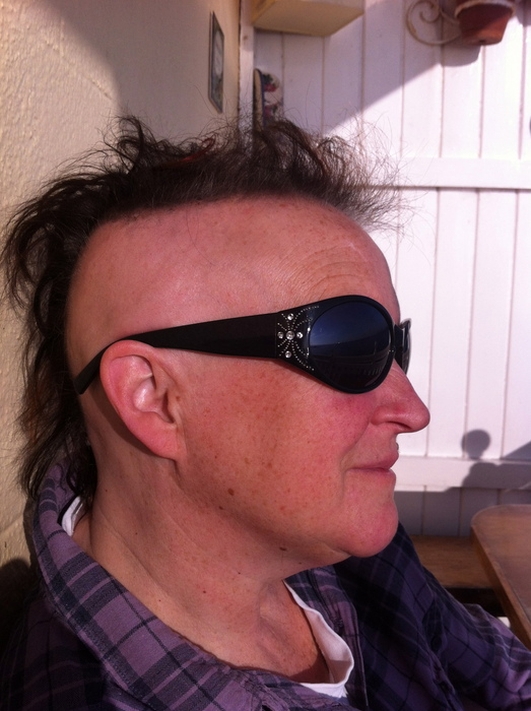 The Lyric Feature Friday 14th June 2013
Bespoke
The first of three programmes celebrating poetry.
"Voice helps to carry words farther and deeper than eye." Seamus Heaney
A miscellany of poetry and music including archive gems from the RTE Spoken Word Vinyl Archive and beyond. From Shakespeare to Laurie Anderson, Kipling to Leonard Cohen and Roger Moore to Paula Meehan.
Presented and produced by Eithne Hand

BESPOKE ONE – Words and Music Played
When in Disgrace... Shakespeare (Published by RADA) Rufus Wainwright From the CD When Love Speaks EMI label
Last Stand Dennis O'Driscoll (From RTE Radio Archive) Recorded 2011 From Dear Life ( Anvil Press Poetry 2011)
Dear John Julie Feeney From CD Clocks Mitten Music
Recuerdo From A Few Figs for Thistles - Edna StVincentMillay Library of Congress Recordings On POETRY ON RECORD CD Shout Label
The Waking Theodore Roethke - Kurt Elling From CD Nightmoves (Concord)
Night Feed Eavan Boland From RTE Radio Archive, From Collected Poems. Carcanet Press. April 1994
Those Dancing days are gone. W.B.Yeats -Carla Bruni, From CD No Promises
Epic Patrick Kavanagh Collected Poems 2004 Claddagh Records - From CD Almost Everything
Neansin Bhán Joe Heaney - Roisin Chambers-RTE CD 10 Years of Ceili House
High Summer Seamus Heaney RTE Lannan Collection CD From Collected Poems Faber
Take this Waltz Cohen/Lorca Leonard Cohen Greatest Hits

Because I could not stop for Death - Emily Dickinson - Juliet Stevenson From Catching Life byThroat.Virago Press/Hachette CD
On coming from a broken home - Gil Scott Heron- CD I'm New Here. 2010 XL Label
Sailing to Byzantium - W.B.Yeats- Victor C Clinton Baddeley-Vinyl: Jupiter Records
The Lark in the Clear Air - Trad Air - Cathy Jordon / CD.All the Way Home.Blix St.
Danny Deever - Rudyard Kipling - Roger Moore - From Catching Life by the Throat- Virago Press/Hachette CD
Villanelle – Berlioz - Veronique Gens - CD Berlioz. Virgin Classics
as freedom is a breakfast food.. - e.e.cummings - Library of Congress US 1958 - From POETRY ON RECORD - Shout Records
My Love is like a red red Rose - Robert Burns - Andreas Scholl - On CD Wayfaring Stranger
Embers - Samuel Beckett - Jack McGowran - Claddagh Records CCT03CC
Keywords
The Lyric Feature is RTÉ lyric fm's weekly documentary and music feature programme. Programmes are produced in house by RTÉ lyric fm staff or in collaboration with independent production companies. Subject matter varies from week to week but most of the programmes aim to provide insight into music and music making.
The Lyric Feature is currently accepting proposals from independent producers and production companies for the BAI's Sound and Vision III Round 24. See here for details
---
MUSIC PLAYED ON THE SHOW
FRIDAY 29th JANUARY - THE SOUNDS OF GRIEF
Title: THE IRIS GARDEN
Composer: GLEN AUSTIN
Performer: CONTEMPO QUARTET
Album: THE MOUNTAIN ASH IN CONNEMARA
Record Label: JOAN MCBREEN
Record Number: JMCB 1402
Title: CAOINEADH
Composer: TRAD
Performer: SARAH GREALISH
Title: LAMENT FROM BANGLADESH
Composer: TRAD
Performer: LATIFA
Title: FUNERARY SUNG-WEEPING BY HANE
Composer: TRAD
Performer: HANE
Album: BOSAVI: RAINFOREST MUSIC FROM PAPUA NEW GUINEA
Record Label: SMITHSONIAN FOLKWAYS RECORDINGS
Record Number: SFW40487
Title: LAMENT FOR DEAD MOTHER/BOCET
Composer: TRAD
Performer: UNKNOWN
Album: FOLK MUSIC OF RUMANIA
Record Label: FOLKWAYS RECORDS
Record Number: FW04419
Title: KEEN FOR A DEAD CHILD
Composer: TRAD
Performer: KITTY GALLAGHER/CITINI GHALLCHOIR
Album: WORD LIBRARY OF FOLK AND PRIMITIVE MUSIC: IRELAND
Record Label: ROUNDER RECORDS
Record Number: CD 1742
Title: KEEN FOR ART O'LEARY 1
Composer: TRAD/EIBHLIN DUBH NI CHONAILL
Performer: BREANDAN O MADAGAIN
Album: CAOINTE AGUS SEANCHEOLTA EILE KEENING AND OTHER OLD IRISH MUSICS
Record Label: MOC MUSIC
Record Number: LC 04986
Title: CAOINEADH NA MARBH/CAOINE FOR THE DEAD
Composer: TRAD
Performer: ARAN FEMALE SINGER/BRIDGET MULLIN
Album: SONGS OF ARAN
Record Label: FOLKWAYS RECORDS
Record Number: FW04002
Title: GOL NA DTRI MUIRE/THE WEEPING OF THE THREE MARYS
Composer: TRAD/ARR NOIRIN NI RIAIN
Performer: NOIRIN NI RIAIN/MONKS OF GLENSTAL ABBEY
Album: CAOINEADH NA MAIGHDINE
Record Label: GAEL-LINN
Record Number: CEFCD 084
Title: I AM STRETCHED ON YOUR GRAVE
Composer: TRAD/KING/ARR. O'CONNOR
Performer: SINEAD O'CONNOR
Album: I DO NOT WANT WHAT I HAVEN'T GOT
Record Label: CHRYSALIS RECORDS
Record Number: CCD1759
Title: DIRGE ON THE MOTHER'S GRAVE/KUOLINITKU AIDIN HAUDALLA
Composer: ANNA ANDREJEVNA SUTJAJEVA IN HAUDALLA
Performer: ANNA ANDREJEVNA SUTJAJEVA IN HAUDALLA
Album: ITKUJA KARJALASTA, INKERISTA, SUOMESTA: LAMENTS FROM KARELIA, INGRIA, FINLAND
Record Label: SKS
Record Number: 6420614440018
Title: LAMENT IN FINNISH
Composer: JIM WILCE
Performer: JIM WILCE
Album: N/A
Title: GRAIH MO CHREE
Composer: TRAD
Performer: CAIT BRANIGAN
Title: GRIEF
Composer: EITHNE NI UALLACHAIN/DONAL O'CONNOR
Performer: EITHNE NI UALLACHAIN/DONAL O'CONNOR/GILLES LE BIGOT
Album: BILINGUA
Record Label: GAEL-LINN
Record Number: CEFCD206