The Blue of the Night with Carl Corcoran Thursday 5 December 2013
This Week on Blue....
Greek composer Eleni Karaindrou(pictured below) , best known for scoring the films of Greek director Theo Angelopoulos, has composed a Stage Cantata, "David" for soloists, choir and orchestra based on a text by an unknown 18th century poet from the Greek island of Chios. ECM's Manfred Eicher produced a recording of a live 2010 performance with violist Kim Kashkashian leading the ensemble. This recording was recently released and it's Carl's featured choice all this week on the Blue of the Night.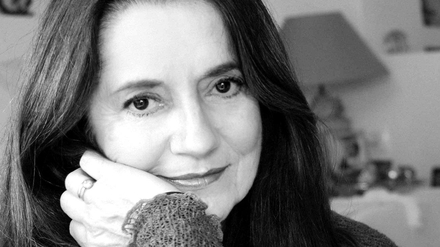 The Blue of the Night with Carl Corcoran
This week, Carl and Eamonn feature songs by an early 18th century composer from Austria. Hear a selection of lieder, many written by a teen-age Franz Schubert, nightly from 10pm.
LOUIS REMEMBERED
It's been a sad year for the music world with the loss of many iconic figures. One of our own legends, jazz guitarist Louis Stewart left us earlier this year. Louis' musical legacy is recognised and lauded in the international jazz world. At home in Ireland, where he chose to base himself even at the peak of his international fame, he became a friend and mentor to many in a burgeoning jazz community. His loss is immense. In March 2014, Louis was the featured artist on The Blue of the Night with Carl Corcoran. This special programme features many of Louis' wonderful performances and his chat with Carl, recalling his early days and the highlights of his international career.