The Blue of the Night with Carl Corcoran Wednesday 4 December 2013
This Week on Blue....
Tigran Hamasyan is a contemporary jazz pianist and composer rooted equally in American jazz and in his native Armenian folk. He is no stranger to Irish shores. In the past he has played here in different settings - last time with an Armenian folk choir and before that with his jazz trio. Next week he's back in Dublin performing at Christ Church Cathedral - but this time solo. His latest CD on Nonesuch Records, An Ancient Observer is under the Blue spotlight this week - Tigran on piano, vocals and effects ... a Blue of the Night recommendation.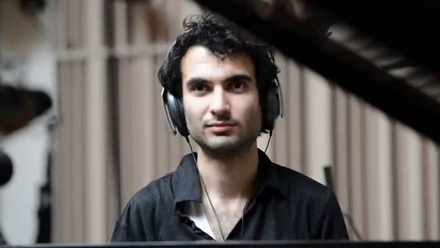 The Blue of the Night with Carl Corcoran
This week, Carl and Eamonn feature songs by an early 18th century composer from Austria. Hear a selection of lieder, many written by a teen-age Franz Schubert, nightly from 10pm.
LOUIS REMEMBERED
It's been a sad year for the music world with the loss of many iconic figures. One of our own legends, jazz guitarist Louis Stewart left us earlier this year. Louis' musical legacy is recognised and lauded in the international jazz world. At home in Ireland, where he chose to base himself even at the peak of his international fame, he became a friend and mentor to many in a burgeoning jazz community. His loss is immense. In March 2014, Louis was the featured artist on The Blue of the Night with Carl Corcoran. This special programme features many of Louis' wonderful performances and his chat with Carl, recalling his early days and the highlights of his international career.