Coming up on Thursday's programme...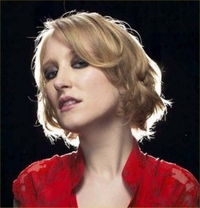 July 23: Tonight, Eamonn sits in for Carl to link up Patty Griffin, ahead of her September date in Dublin; a new recording of Grieg's "Lyric Pieces" by Spanish pianist Javier Perianes; jazz wunderkind Joey Alexander; part of a Shostakovich cello sonata; singer/songwriter Gwyneth Herbert (pictured), in advance of an Irish tour that starts in Wexford at the end of the month; 2 x Scott Joplin; an orchestration of Pete Townshend's "Quadrophenia"; jazz singer Helen Merrill (see BLUE TUNES, below); and guitarist Antoine Berthiaume. 10pm start...
Mon 27th - Thurs 30th July: Carl's on his holidays this week. Ellen Cranitch will be here to help us wind down with the usual blend of tasteful late-night selections, including a nightly nocturne or two (see below).