Opera Night Saturday 16 December 2017
The Metropolitan Opera New York Saturday Matinee Broadcasts - 2018-19 Season
Launched in 1931, the Met's Saturday matinee broadcasts are the longest-running continuous classical radio series in American broadcast history. The 87th season of Saturday broadcasts will once again be heard over the Toll Brothers–Metropolitan Opera International Radio Network. You can hear the 2017/18 Season every Saturday from 7pm on Opera Night and for details of the season, view their schedule here. **Please note we will not be taking the broadcasts of December 8th, 22nd and 29th**
---
Saturday December 8th - Irish National Opera present Marriage of Figaro by Mozart
One of the greatest comic operas ever written, Mozart's fast-paced masterpiece The Marriage of Figaro is a highlight of Irish National Opera's 2018 programme and draws together an outstanding cast and creative team to bring Irish opera right back into the heart of Dublin city, to the Gaiety Theatre stage.
This comic tale of mayhem and mischief boasts some of the most beautiful and familiar music ever written including the famous overture. Mozart's superb score drives the drama with unforgettable solos and hilarious ensemble numbers and the energetic story of servants outwitting their masters and the quick-witted Susanna rejecting her employer's advances has thrilled and delighted audiences for 250 years.
With a dream-team ensemble cast, Irish National Opera's first main-stage opera features Irish celebrity mezzo-soprano Tara Erraught, fresh from the Met Opera New York, who sings Susanna and is joined by internationally acclaimed Irish singers Máire Flavin (Scottish Opera & Glyndebourne Opera Festival), Aoife Miskelly (Welsh National Opera & Opera North), veteran star Suzanne Murphy (English National Opera, WNO & Opera North), Ben McAteer (English National Opera & WNO), up-and-coming soprano Amy Ní Fhearraigh, and critically acclaimed New Zealand bass Jonathan Lemalu singing the title role.
Celebrated theatre and opera director Patrick Mason, acclaimed designer Francis O'Connor, and award winning lighting designer Paul Keogan join with rising star maestro Peter Whelan in a new partnership with the world class Irish Chamber Orchestra and the chorus of Irish National Opera to stage this exquisite and spirited production of The Marriage of Figaro.
(Recorded in the Gaiety Theatre in Dublin in April 2018, First broadcast - 11th August 2018)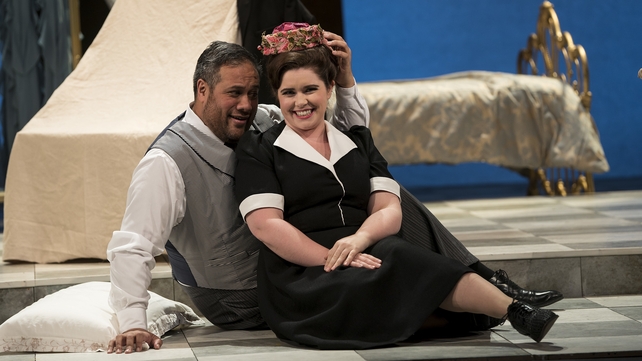 ---
Saturday December 15th - The Metropolitan Opera New York presents Verdi's La Traviata
Yannick Nézet-Séguin conducts the Metropolitan Opera Orchestra and Chorus in Michael Mayer's richly textured new production, featuring a dazzling 19th-century setting that changes with the seasons. Soprano Diana Damrau plays the tragic heroine, Violetta, and tenor Juan Diego Flórez returns to the Met for the first time in five seasons to sing the role of Alfredo, Violetta's hapless lover. Baritone Quinn Kelsey is Alfredo's father, Germont, who destroys their love. (Juan Diego Florez and Diana Damrau in Verdi's La Traviata Photo Vincent Peters, Met Opera)