Opera Night Saturday 14 October 2017
Saturday October 20th - Pelleas et Melisande by Claude Debussy
Debussy's only completed opera Pelleas et Melisande, is widely considered to be one of the 20th century's greatest. His setting of Maurice Maeterlinck's love triangle between Melisande (Magdalena Kozena, pictured) and Golaud (Gerald Finley, pictured) and his younger half-brother Pelleas (Christian Gerhaher) creates a distinctive and tense atmosphere. This is all underpinned by Debussy's complex and subtle harmonies and expressive use of colour as performed by the London Symphony Orchestra and Chorus under conductor Simon Rattle.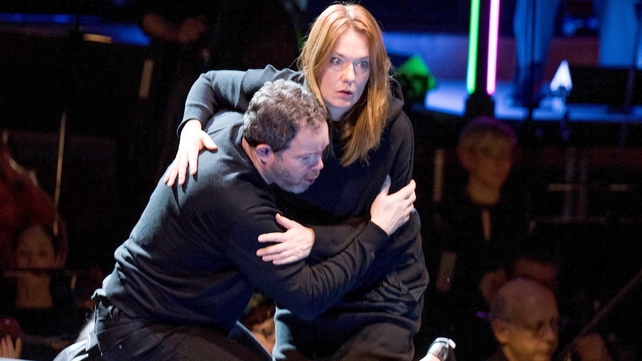 ---
Wexford Festival Opera 2018
Saturday 27th October - Mercadante's Il bravo (The Assassin) live from the National Opera House, Wexford
Often compared to Verdi in terms of musical style, Saverio Mercadante's Il bravo is one of the works in which his comparison to Verdi are most evident. Despite its quintessentially Italian title, the plot is originally drawn from James Fennimore Cooper novel and thus surely qualifies as one of the first operas to have been based on American literature. It's an old tale set in 16th-century Venice. The Bravo, a colloquial name for an assassin, is a tormented character who had long ago killed his wife in a fit of jealousy. Unjustly accused of plotting against the state, he has been forced by the Council of Ten to become their secret hired assassin. In tonight's production which is being simulcast as part of the EBU Premium Opera Season Gustavo Castillo is Foscari, Alessandro Luciano is Pisani, Rubens Pelizzari sings the title role, Eimon Mechlinski is Luigu, Clarissa Costanzo isTeodora and Ekaterina Bakanova is Violetta. The Orchestra and Chorus of the Wexford Festival Opera is conducted by Jonathan Brandani. (Alessandro Luciano & Ekaterina Bakanova in 'Il bravo' by Mercadante WFO 2018 photo by Clive Barda)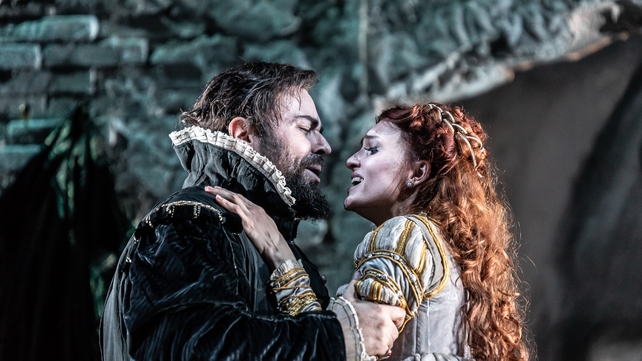 ---
Saturday 3rd November - William Bolcom's Dinner at Eight (European Premiere recorded in the National Opera House)
Dinner at Eight is William Bolcom's most recent opera, having received its world-premiere under David Agler's baton at Minnesota Opera in March 2017. As befits its setting, in Depression-era Manhattan, the music of Dinner at Eight teems with 1930s influences, especially jazz and blues. Based on the play by George S. Kaufman which ran on Broadway in 1932, it was quickly turned into a film with Jean Harlow. The Seattle-born composer, who turned 80 this year, successfully weds American musical comedy and opera to a libretto by Mark Campbell in a plot which revolves around an ill-fated dinner party. Dinner at Eight is essentially a comedy, laced with biting, darker elements of greed, infidelity and addiction and features a sizeable cast of characters hell-bent on fiddling while New York City burns around them. A co-production with Minnesota Opera and Atlanta Opera. Cast includes Mary Dunleavy, Stephen Powell and Sharon Carty. David Agler conducts the Wexford Festival Opera Orchestra and Chorus. (Sharon Carty as Lucy Talbot in 'Dinner at Eight' by Bolcom WFO 2018 photo by Clive Barda)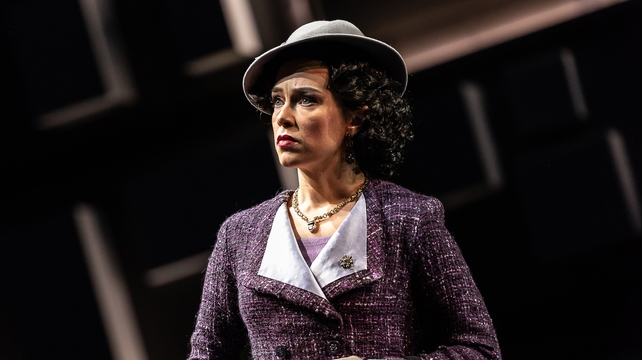 ---
Saturday 10th November - Double Bill: L'oracolo (The Oracle) by Franco Leoni and Mala vita (Wretched Life) by Umberto Giordano
Franco Leoni's, L'oracolo was premiered at Covent Garden in 1905, but fared better in America. Set in San Francisco's Chinatown just after the Boxer Rebellion, its lurid plot centres on a sinister opium dealer Chim-Fen.
The compact Mala vita (1892) is based on a novella about Neapolitan slum-life, telling the story of a worker who, suffering from tuberculosis, vows to reform a prostitute if he is healed through prayer. The plot proved shocking for Italian audiences of the day in spite of receiving 24 curtain calls from the audience at its 1892 premiere. Francesco Cilluffo conducts the Wexford Festival Opera Orchestra and Chorus in a recording from the 2018 Wexford Festival Opera from the National Opera House.
(Leon Kim & Joo Won Kang in 'L'oracolo' by Leoni WFO2018 photo by Clive Barda)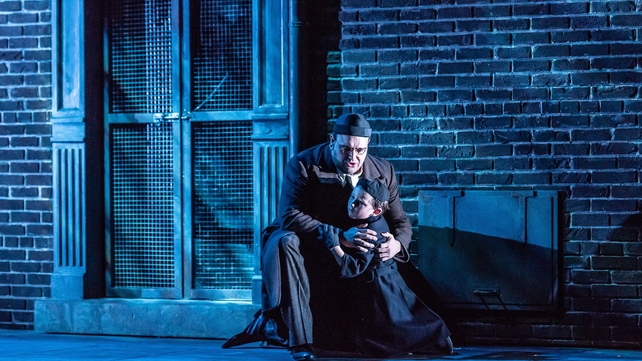 (Chorus of 'Mala vita' by Giordano WFO2018 photo by Clive Barda)