Opera Night Saturday 2 November 2013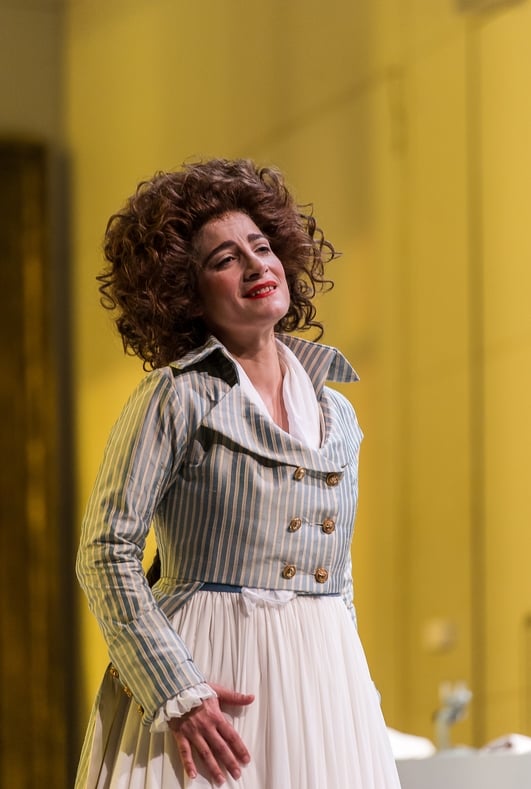 Opera Night - live from Wexford Festival 2013
Saturday 2nd November 2013 - A double bill of Massenet live from the Wexford Festival Opera 2013, Therese and La Navarraise
The story of Thérèse concerns three people who are forced by the brutal politics of the French Revolution to confront their relationships and to make life and death choices.
Thérèse: Nora Sourouzian
Armand de Clerval: Philippe Do
Morel: Damian Pass
André Thorel: Brian Mulligan
La Navarraise is an opera in the verismo tradition that depicted lower-class contemporary life. It is the story of Anita, a young woman from Navarre, who, like Thérèse, is caught up in historical events. Set during the civil war in Spain in 1874, Anita is fearful for the safety of the soldier she loves.
Anita: Nora Sourouzian
Araquil: Philippe Do
Garrido: Brian Mulligan
Remigio: Damian Pass
Friday 1st November 2013 - The Florentine Straw Hat by Nino Rota live from the Wexford Festival Opera 2013
Il Cappello di paglia di Firenze (The Florentine Straw Hat) by Nino Rota, described as a musical farce. Written in 1945 and sung in Italian, this opera is a witty and brilliant satire on the petty conventionalism of the French bourgeoisie. Here Rota's musical style is akin to that of a latter-day Rossini, with elements of Puccini and Verdi. Nino Rota is perhaps best known as a film score composer, including the music for The Godfather films.
Conductor: Sergio Alapont
Fadinard, wealthy bridegroom: Fillipo Adami
Nonancourt, agriculturist: Salvatore Salvaggio
Beaupertuis: Filippo Fontana
Elena, daughter of Nonancourt: Claudia Boyle (pictured)
Anaide, wife of Beaupertuis: Eleanor Lyons
La baronessa di Champigny: Asude Karayavuz
Emilio: Owen Gilhooly
The Metropolitan Opera New York Saturday Matinee Broadcasts
Launched in 1931, the Met's Saturday matinee broadcasts are the longest-running continuous classical radio series in American broadcast history. The 87th season of Saturday broadcasts will once again be heard over the Toll Brothers–Metropolitan Opera International Radio Network. You can hear the 2017/18 Season every Saturday from 7pm on Opera Night and for details of the season, view their schedule here.
---
Saturday April 21st - The Metropolitan Opera New York presents Thomas Ades' The Exterminating Angel
Following the rapturous response to his last opera, The Tempest, the Met presents the American premiere of Thomas Ades's The Exterminating Angel, inspired by the classic Luis Bunuel film of the same name. Hailed by the New York Times at its 2016 Salzburg Festival premiere as 'inventive and audacious ... a major event,' The Exterminating Angel is a surreal fantasy about a dinner party from which the guests can't escape. Tom Cairns, who wrote the libretto, directs the new production, and Ades conducts his own adventurous new opera. (Amanda Echalaz and Christine Rice in Thomas Ades' The Exterminating Angel - Photo Ken Howard, Metropolitan Opera)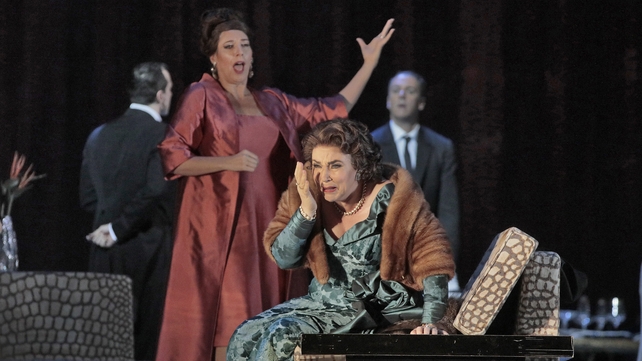 ---
Saturday April 28th - The Metropolitan Opera New York presents Massenet's Cendrillon
'Glorious', raved the New York Times when Joyce DiDonato sang the title role of Cendrillon at the Royal Opera in 2011. 'Her performance was thoroughly enchanting.' Now, for the first time ever, Massenet's sumptuous take on the Cinderella story comes to the Met, with DiDonato starring in the title role. She is paired with mezzo-soprano Alice Coote in the trouser role of Prince Charming, Kathleen Kim as the Fairy Godmother, and Stephanie Blythe as the imperious Madame de la Haltière. Bertrand de Billy conducts Laurent Pelly's imaginative storybook production. (Joyce DiDonato as Massenet's Cendrillon - Photo by Bill Cooper)