Opera Night Saturday 10 August 2013
Details of recordings played
Track Name: Entrance of the Gods into Valhalla
Composer: Wagner & Johann Strauss
Orchestra: Cleveland
Conductor: George Szell
Album Title: Szell conducts Wagner
Record Label: SONY
Record Catalogue Number: SS 89035
Duration: 06:34
Track Name: Morgenlich...
Complete Work Name: Wagner Scenes & Arias
Composer: Wagner & Johann Strauss
Soloist: Leo Slezak
Orchestra: Berlin State Orchestra
Additional Performers: 1928 recording
Conductor: Manfred Gurlitt
Album Title: Wagner Scenes & Arias
Record Label: Deutsche Grammophon
Record Catalogue Number: 459 006-2
Duration: 04:26
Track Name: Dich, teure Halle...
Complete Work Name: Legendary Wagner Singers of the 1930s
Composer: Wagner, Richard
Soloist: Hilde Konetzni
Orchestra: Berlin Deutsche Oper
Conductor: Hans Schmidt-Isserstedt
Album Title: Legendary Wagner Singers of the 1930s
Record Label: Teldec
Record Catalogue Number: 8573-83022-2
Duration: 03:05
Track Name: Das der mein Vater...
Complete Work Name: Legendary Wagner Singers of the 1930s
Composer: Wagner, Richard
Soloist: Max Lorenz
Orchestra: Bayreuth Festival Orchestra
Conductor: Heinz Tietjen
Album Title: Legendary Wagner Singers of the 1930s
Record Label: Teldec
Record Catalogue Number: 8573-83022-2
Duration: 09:38
Track Name: Tristan und Isolde Act 3 Scene 3
Complete Work Name: Tristan und Isolde
Composer: Wagner, Richard
Soloist: Kirsten Flagstad
Orchestra: Philharmonia
Additional Performers: Dietrich Fischer-Dieskau; Blanche Theobom; Edgar Evans; Josef Greindel
Conductor: Wilhelm Furtwangler
Album Title: Tristan und Isolde
Record Label: EMI
Record Catalogue Number: CDS 7243 556254 2
Duration: 16:54
Track Name: Parsifal-conclusion
Complete Work Name: Parsifal
Composer: Wagner, Richard
Soloist: Hans Hotter
Orchestra: Bayreuth Festival
Choir: Bayreuth Festival Chorus
Additional Performers: George London; Jess Thomas
Conductor: Hans Knappertsbusch
Album Title: Parsifal
Record Label: Philips
Record Catalogue Number: 464 756-2
Duration: 19:43
Track Name: Das Rheingold-conclusion
Complete Work Name: Das Rheingold
Composer: Wagner, Richard
Soloist: George London
Orchestra: Vienna Philharmonic
Additional Performers: Eberhard Wachter; Set Svanholm; Kirsten Flagstad
Conductor: Georg Solti
Album Title: Das Rheingold
Record Label: DECCA
Record Catalogue Number: 455 556-2
Duration: 11:42
Track Name: Die Walkure-opening storm
Complete Work Name: Die Walkure-
Composer: Wagner, Richard
Orchestra: Berlin Philharmonic
Conductor: Herbert Von Karajan
Album Title: Die Walkure-
Record Label: Deutsche Grammophon
Record Catalogue Number: 457 785-2
Duration: 02:51
Track Name: Die Walkure-Act 1 conclusion
Composer: Wagner, Richard
Soloist: Jon Vickers & Gundula Janowitz
Orchestra: Berlin Philharmonic
Conductor: Herbert Von Karajan
Album Title: Die Walkure
Record Label: Deutsche Grammophon
Record Catalogue Number: 457 786-2
Duration: 16:13
Track Name: Tannhauser-beginning
Complete Work Name: Tannhauser
Composer: Wagner, Richard
Soloist: Wolfgang Windgassen
Orchestra: Bayreuth Festival Orchestra
Choir: Bayreuth Festival Chorus
Additional Performers: Grace Bumbry
Conductor: Wolfgang Sawallisch
Album Title: Wagner-Great Operas from the Bayreuth Festival
Record Label: DECCA
Record Catalogue Number: 478 0279
Duration: 35:47
Track Name: Die Meistersinger -excerpts
Complete Work Name: Die Meistersinger -excerpts
Composer: Wagner, Richard
Orchestra: Chicago Symphony
Conductor: Fritz Reiner
Album Title: Fritz Reiner The Director
Record Label: BMG
Record Catalogue Number: 74321 84219 2
Duration: 12:08
Track Name: Wesendonck-Lieder (3) Im Treibhaus
Complete Work Name: Wesendonck-Lieder
Composer: Wagner, Richard
Soloist: Jonas Kaufmann (tenor)
Orchestra: Orchester der Deutschen Oper Berlin
Conductor: Donald Runnicles
Album Title: Kaufmann - Wagner
Record Label: Decca
Record Catalogue Number: 4785189
Duration: 06:07
The Metropolitan Opera New York Saturday Matinee Broadcasts
Launched in 1931, the Met's Saturday matinee broadcasts are the longest-running continuous classical radio series in American broadcast history. The 86th season of Saturday broadcasts will once again be heard over the Toll Brothers–Metropolitan Opera International Radio Network. You can hear the 2016/17 Season every Saturday from 7pm on Opera Night and for details of the season, view their schedule here.
Saturday 25th February - Dvorak's Rusalka
Kristine Opolais stars in the role that helped launch her international career, the mythical Rusalka, who sings the haunting "Song to the Moon." Mary Zimmerman brings her wondrous theatrical imagination to Dvorák's fairytale of love and longing, rejection and redemption. Brandon Jovanovich, Jamie Barton, Katarina Dalayman, and Eric Owens complete the all-star cast, and Mark Elder conducts. (Kristine Opolais in the title role and Jamie Barton as Ježibaba in Dvorák's Rusalka. Photo by Ken Howard/ Metropolitan Opera)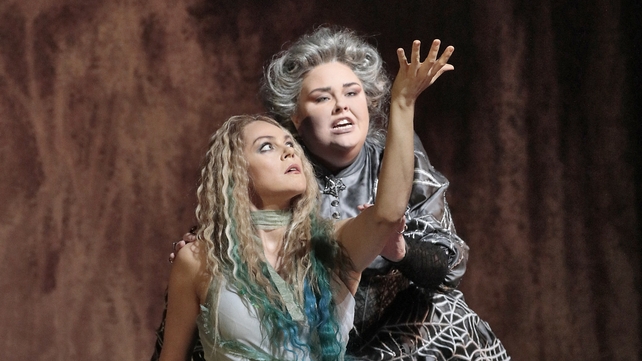 Saturday March 4th - Opera Night presents Gerald Barry's Alice's Adventures Under Ground
7:00m Bernard brings us some exclusive RTÉ lyric fm recorded works by Gerald Barry Gerald Barry live from
7:30pm Gerald Barry's Alice's Adventures Under Ground presented by New Music Dublin
Opera through the looking glass: Lewis Carroll meets classical music's funniest living composer in Gerald Barry's uproarious new opera featuring: Claudia Boyle, Clare Presland, Hilary Summers, Joshua Bloom,
Peter Tantsits, Daniel Norman and Stephen Richardson
RTÉ Concert Orchestra
Thomas Ades (conductor)
8.30pm Carl Orff's Die Klugge
We'll also include a fairy-tale opera by Carl Orff, Die Kluge, based on the Brothers Grimm story, The Story of the King and the Wise Woman. Thomas Stewart sings the role of the king, bass Gottlieb Frick is the peasant and Lucia Popp sings the role of his daughter, with the Munchner Rundfunkorchester conducted by Kurt Eichhorn.