Marty in the Morning Friday 20 December 2013
All this week we are giving you the chance to be in the big draw on Friday for our trip to the
opera in Verona to see Carmen in association with the Travel Department.
Travel Department is a leading tour operator in Ireland specialising in guided group holidays to over 100 different destinations all over the world. Lake Garda, Venice & Verona Opera Holiday with
RTE lyric fm's Marty Whelan. 7 Nights for 2 people!



Carmen at the Arena di Verona, 2015.
Join me for the opera trip of a lifetime. During this magical holiday, explore the historic towns that hug the coast of Lake Garda and stroll through quaint streets and squares, all set in the tranquil surroundings of blue waters and towering mountains. You will take in an unforgettable performance of Bizet's Carmen at the Arena di Verona, which is sure to leave you spellbound. First performed in 1875, Bizet's acclaimed masterpiece tells the story of the downfall of Don Jose, a naïve soldier who is seduced by the fiery gypsy, Carmen.
There are two further excursions included in this 7-night holiday. In Venice, gaze upon St. Mark's Basilica; watch gondolas sail along the canals, and admire the stunning piazzas, bridges and gothic buildings that make this city so magnificent. You will also take a guided boat trip of Lake Garda to view some of the beautiful sites and places of interest on the lake, including stops in the towns of Malcesine and Limone.
With the serene waters of Lake Garda, the unique beauty of Venice, and the classic Italian romance of Verona, this trip to Italy is the perfect combination of opera, culture and history.

This fabulous prize includes: GH Liberty Hotel, Riva del Garda
Flights from Dublin to Milan

7 night stay in the 4 *star GH Liberty Hotel, Riva del Garda on a half board basis.

Guided Boat tour of Lake Garda, with stop overs in the beautiful towns of Limone & Malcesine.

Opera Performance of Bizet's Carmen on Friday 29th June

Full day guided excursion to Venice.

T & C's apply
Travel Department offer holidays to suit a range of tastes and interests…...whether it's some down time in down town San Francisco, a trip to discover the secrets of the Great Wall of China or soaking up the culture and sights in stunning Sorrento
Just answer the simple question set each day to be in with a chance to be in the draw on Friday:
TEXT: 51554 or email: marty.lyricfm@rte.ie Traveldepartment.ie for full details of all holidays.
Neven's Recipies - Maple Glazed Ham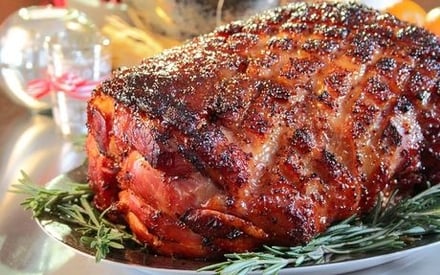 A traditional ham is the perfect choice if you've got hordes of visitors to feed, so it's especially good to have over the festive period. A certain crowd pleaser, it tastes equally good served hot or cold. Have you ever wondered what the difference is between ham, bacon and gammon? Bacon is cured pork; gammon is a hind leg cut of bacon; and once gammon is cooked, it's called ham. Any leftovers from this ham or a turkey can be used in countless other dishes, such as in a creamy filling for vol-au-vents, in risottos or just the ham is excellent for a spaghetti carbonara, so there's no waste – even the bone will make a wonderful stock.
Serves 10–12
5.25kg (11lb) leg of gammon (on the bone and skin on)
4 celery sticks, roughly chopped
2 onions, sliced
1 bunch of fresh thyme
1 tbsp black peppercorns
200ml (7fl oz) Irish whiskey
200ml (7fl oz) maple syrup
2 tbsp redcurrant jelly
2 tbsp balsamic vinegar
1 tbsp ground allspice
1 tbsp whole cloves
Pineapple salsa:
1 ripe pineapple, peeled, cored and cut into 1cm (½in) dice
1 tbsp caster sugar
1 small red onion, finely chopped
finely grated rind and juice of 1 lime
½ large red chilli, seeded and finely chopped
1 tbsp chopped fresh mint
1 tbsp chopped fresh coriander
2 tsp freshly grated root ginger
sea salt and freshly ground black pepper
Although gammon is less salty nowadays, soaking is still a good idea. Place the gammon
in a large pan and cover with cold water. Leave to soak for at least 6 hours or overnight is best, then drain.
Weigh the gammon joint and calculate the cooking time, allowing 20 minutes per 450g
(1lb) plus 20 minutes – a 5.25kg (11lb) joint should take about 4 hours. Place in a large pan, cover with water and bring to the boil, skimming off any scum. Add the celery, onions, thyme and peppercorns and return to the boil, then cover, reduce the heat and simmer until completely tender, occasionally skimming off any scum that rises to the top. If you aren't sure the gammon is properly cooked, check the bone end – it should come away freely from the gammon joint. Drain and leave until it's cool enough to handle.
Preheat the oven to 180°C (350°F/gas mark 4).
Carefully peel away the skin, leaving the layer of white fat intact. Using a sharp knife, score the fat diagonally to make a diamond pattern, being careful not to cut into the meat. Place the whiskey in a pan with the maple syrup, redcurrant jelly, balsamic vinegar and ground allspice. Bring to the boil and simmer for about 10 minutes, until slightly thickened. Stud the ham with the cloves and place in a large roasting tin with a little water to prevent the bottom from catching and burning. Brush a layer of the syrup all over the ham, reserving the remainder. Cook for 1 hour, brushing over another layer of the glaze every 15 minutes, until it's all gone. Remove the cooked ham from the oven, transfer to a serving platter and leave to rest for 15 minutes.
Meanwhile, make the pineapple salsa. Mix the diced pineapple with the sugar. Heat a non-stick frying pan over a high heat, add the pineapple and cook quickly for about 2 minutes to lightly caramelise it. Tip into a bowl and add the onion, lime rind and juice, chilli, herbs and ginger. Season to taste and set aside to allow the flavours to develop.
To serve, carve slices from one side of the ham, cutting diagonally to achieve an even thickness.
When you reach the bone, insert the knife at a flatter angle and slice across the top of
the bone. Turn over the leg to carve slices from the other sides. Arrange on serving plates with spoonfuls of the pineapple salsa.