Marty in the Morning Friday 22 November 2013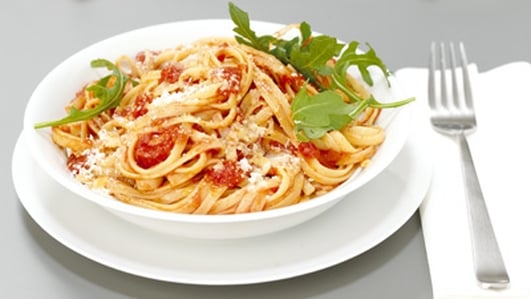 Neven's Recipes - Ragu Sauce
This dish is a perfect stand-by for converting into dishes such as moussaka, cannelloni, chilli con carne, lasagne, cottage pie and as a filling for pancakes and jacket potatoes.

Serves 10

Ingredients
Ragu Sauce
1 tbsp rapeseed oil
25g butter
1 onion, finely chopped
2 carrots, finely chopped
2 celery sticks, finely chopped
2 garlic cloves, crushed
225g button mushrooms, sliced
100g rindless pieces of smoked streaky bacon, finely chopped
350g lean minced beef (quality assured)
1 tbsp tomato puree
Ragu Sauce
400g cans chopped tomatoes
300ml beef stock (low salt kallo)
1tbsp chopped fresh basil
freshly ground black pepper
Method:

Heat the butter and oil in a large sauté pan with a lid until sizzling.

Add the onion, carrots, celery, garlic, mushrooms and bacon and sauté over a medium heat for 10 minutes until the vegetables have softened and everything is lightly browned, stirring frequently.

Add the minced beef to the pan, reduce the heat and cook gently for 10 minutes until well browned, stirring to break up any lumps with a wooden spoon.

Stir in the tomato puree, canned tomatoes and half of the stock and bring to the boil, stirring to combine.

Reduce the heat under the pan, half cover with the lid and simmer very gently for about 2 hours or until the meat is meltingly tender, stirring occasionally and adding a little more of the remaining stock as it becomes absorbed.

Add basil to the sauce and mix well to combine, then simmer uncovered for another 30 minutes until the bolognese sauce is well reduced and thickened, stirring frequently.

Season with ground black pepper.

Serve with pasta.

Georgina Campbell's Ireland is delighted to announce a 12 month "Official Media Partnership"
with RTÉ lyric fm. The recently hosted "Georgina Campbell Irish Breakfast Awards 2017" – In Association with Fáilte Ireland was supported by RTÉ lyric fm. The new partnership with Georgina Campbell's Ireland was launched on the popular "Marty in the Morning" show with Marty Whelan on RTÉ lyric fm with a focus on the promotion of Irish hospitality, Irish food and Irish tourism this year.





Georgina Campbell is one of Ireland's leading food and hospitality writers and is current President of the Irish Food Writers' Guild. Her practical and down-to-earth approach has earned many fans for her cookery columns and cookbooks, and the same honesty has always applied to her comprehensive and critically acclaimed, independently assessed guides to Ireland's best places to eat, drink and stay.

Speaking about the new "Official Media Partnership" for 2017 Aodán Ó Dubhghaill, Head of RTÉ's Orchestras, lyricfm, Quartet & Choirs said: "We are delighted that RTÉ lyric fm is today announcing a media partnership with Georgina Campbell's Ireland independent hospitality guides, and Ireland's longest-running food and hospitality awards. This partnership is a great fit between the two brands and we look forward to working with Georgina and her team."

Click here for full press release.
---
What our listeners think. 'You make us what we are',.. click here!



---

Food with Neven Maguire
You can find all of Neven's delicious recipes from the Marty in the Morning Friday programmes going back over the months, by clicking here.
---
"Marty Recommends…More" out now!. on Universal Music Ireland.





The wonderful one-disc collection will features 23 classic titles all carefully chosen by Marty Whelan.
Now in its third instalment of "Marty Recommends"…The album follows the hugely successful 2015 release "Marty Recommends" achieving Gold Status and most recently the festive "Marty Recommends…Christmas" edition. The catalyst of which was devised from this daily show with RTÉ Lyric FM "Marty in The Morning". Click here for details and full track listing.
---



An exclusive look behind the scenes with Marty in the Morning. Click here to watch now and stay tuned!
---



Marty Meets Van Morrison in Belfast fo r an exclusive interview. Listen back here to part 1.