Marty in the Morning Friday 22 November 2013
All this week we are giving you the chance to be in the big draw on Friday for our trip to the
opera in Verona to see Carmen in association with the Travel Department.
Travel Department is a leading tour operator in Ireland specialising in guided group holidays to over 100 different destinations all over the world. Lake Garda, Venice & Verona Opera Holiday with
RTE lyric fm's Marty Whelan. 7 Nights for 2 people!



Carmen at the Arena di Verona, 2015.
Join me for the opera trip of a lifetime. During this magical holiday, explore the historic towns that hug the coast of Lake Garda and stroll through quaint streets and squares, all set in the tranquil surroundings of blue waters and towering mountains. You will take in an unforgettable performance of Bizet's Carmen at the Arena di Verona, which is sure to leave you spellbound. First performed in 1875, Bizet's acclaimed masterpiece tells the story of the downfall of Don Jose, a naïve soldier who is seduced by the fiery gypsy, Carmen.
There are two further excursions included in this 7-night holiday. In Venice, gaze upon St. Mark's Basilica; watch gondolas sail along the canals, and admire the stunning piazzas, bridges and gothic buildings that make this city so magnificent. You will also take a guided boat trip of Lake Garda to view some of the beautiful sites and places of interest on the lake, including stops in the towns of Malcesine and Limone.
With the serene waters of Lake Garda, the unique beauty of Venice, and the classic Italian romance of Verona, this trip to Italy is the perfect combination of opera, culture and history.

This fabulous prize includes: GH Liberty Hotel, Riva del Garda
Flights from Dublin to Milan

7 night stay in the 4 *star GH Liberty Hotel, Riva del Garda on a half board basis.

Guided Boat tour of Lake Garda, with stop overs in the beautiful towns of Limone & Malcesine.

Opera Performance of Bizet's Carmen on Friday 29th June

Full day guided excursion to Venice.

T & C's apply
Travel Department offer holidays to suit a range of tastes and interests…...whether it's some down time in down town San Francisco, a trip to discover the secrets of the Great Wall of China or soaking up the culture and sights in stunning Sorrento
Just answer the simple question set each day to be in with a chance to be in the draw on Friday:
TEXT: 51554 or email: marty.lyricfm@rte.ie Traveldepartment.ie for full details of all holidays.
Marty in the Morning
Join the dawn chorus with Marty for your morning wake-up call with music, travel updates, competitions and news and weather.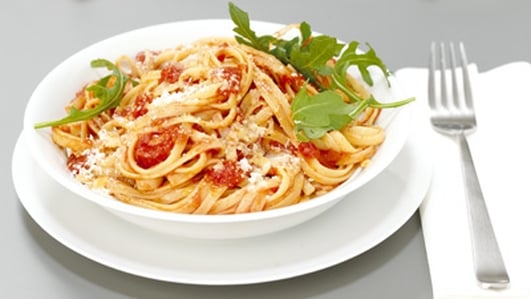 Neven's Recipes - Ragu Sauce
This dish is a perfect stand-by for converting into dishes such as moussaka, cannelloni, chilli con carne, lasagne, cottage pie and as a filling for pancakes and jacket potatoes.

Serves 10

Ingredients
Ragu Sauce
1 tbsp rapeseed oil
25g butter
1 onion, finely chopped
2 carrots, finely chopped
2 celery sticks, finely chopped
2 garlic cloves, crushed
225g button mushrooms, sliced
100g rindless pieces of smoked streaky bacon, finely chopped
350g lean minced beef (quality assured)
1 tbsp tomato puree
Ragu Sauce
400g cans chopped tomatoes
300ml beef stock (low salt kallo)
1tbsp chopped fresh basil
freshly ground black pepper
Method:

Heat the butter and oil in a large sauté pan with a lid until sizzling.

Add the onion, carrots, celery, garlic, mushrooms and bacon and sauté over a medium heat for 10 minutes until the vegetables have softened and everything is lightly browned, stirring frequently.

Add the minced beef to the pan, reduce the heat and cook gently for 10 minutes until well browned, stirring to break up any lumps with a wooden spoon.

Stir in the tomato puree, canned tomatoes and half of the stock and bring to the boil, stirring to combine.

Reduce the heat under the pan, half cover with the lid and simmer very gently for about 2 hours or until the meat is meltingly tender, stirring occasionally and adding a little more of the remaining stock as it becomes absorbed.

Add basil to the sauce and mix well to combine, then simmer uncovered for another 30 minutes until the bolognese sauce is well reduced and thickened, stirring frequently.

Season with ground black pepper.

Serve with pasta.