Neven's Recepies - Courgette ideas
Spiced Courgette and Tomato Chutney
(Makes 1kg)
2 onions chopped
1 tbsp Rapeseed oil
500g Tomatoes Chopped
500g Courgettes Diced
300 ml White Wine Vinegar
1 tbsp Tomato Puree
2 Granny Smith Apples Peeled and Diced
250 g Brown Sugar
2 tbsp Mixed Spice
1 tbsp Mustard Seeds
1 tsp Root Ginger Grated
4 Garlic Cloves Crushed
Put all the ingredients in a large saucepan. Bring slowly to simmer, stirring to stop the mixture sticking.
Simmer uncovered on a low heat for 2 hours. Until dark and thick. Pour into sterilised jars and leave for 2 – 3 weeks before eating.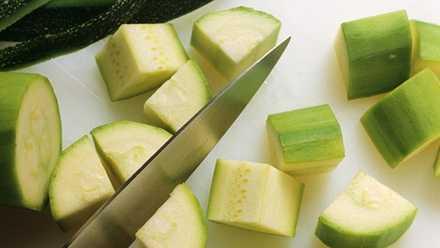 Quinoa, Courgette and Feta Salad
Serves 2
75 g Quinoa
1 Large Courgette
1tbsp Red Wine Vinegar
Rapeseed Oil 2tbsp
4 Spring Onions finely sliced
100 g Cherry Tomatoes halved
100g Feta Cheese
1 Red Chilli Finely Chopped
1tbsp Chopped Parsley
Cook the Quinoa according to pack instructions, then drain under cold water. Drain again. Cut the ends off the courgette then cut into ribbons using a potato peeler. Whisk together the vinegar and oil together and season.
Put the rest of the ingredients in a large bowl then pour over the dressing and carefully toss everything together. Divide into two bowls or plates.