Marty in the Morning Friday 7 June 2013
Delighted to be bringing you this competition all this week on the show - with the winner
being announced on Friday & with a prize of;

Two tickets to the opening concert of the National Concert Hall's International Concert Series 2018/19.
On Wednesday 29th August, the Baltimore Symphony Orchestra with their Music Director Marin Alsop and solo violinist Nicola Benedetti perform a special Bernstein Centenary Programme featuring his symphonic dances for the much West Side Story and more.



Overnight stay for two people at the Shelbourne Hotel with B&B, Wed. 29th August 2018 (non- transferable)
Two-course evening meal with bottle of house wine for two people in The Terrace Café at the NCH on 29th August with two complimentary concert programmes and an invitation to interval drinks reception on the night of the concert.
The Question;

Where is Nicola Benedetti from:
a) Scotland
b) Italy
c) Norway

email: marty.lyricfm@rte.ie
Text: '51554'
Neven's Recepies - Dressings
Dressings:
GINGER SESAME DRESSING
Makes about 100ml (3 1/2fl oz)
1 tsp finely grated root ginger
2 tbsp white wine vinegar
1 tbsp dark soy sauce
2 tbsp vegetable oil
2 tbsp toasted sesame oil
sea salt and freshly ground black pepper
Place the ginger in a small bowl with the white wine vinegar and soy sauce. Stir until well combined, then slowly whisk in the vegetable and sesame oils to emulsify and thicken. Season to taste and store covered with clingfilm in the fridge until needed. Use as required.
PREPARE AHEAD
This will keep happily for up to 1 week in the fridge.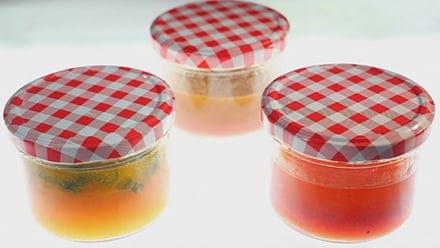 BASIL PESTO
Makes about 250ml (9fl oz)
1 large bunch of fresh basil leaves (at least 50g (2oz))
2 garlic cloves, peeled
25g (1oz) toasted pine nuts
175ml (6fl oz) olive or rapeseed oil
50g (2oz) freshly grated Parmesan
sea salt and freshly ground black pepper
Place the basil in a food processor with the garlic, pine nuts and a quarter of the oil. Blend to a paste, then slowly add the remaining oil through the feeder tube. Transfer to a bowl and fold in the Parmesan, then season to taste. Cover with clingfilm and chill until needed.
PREPARE AHEAD
This will keep happily in the fridge for up to 1 week – just top it up with a little extra olive oil to keep it tasting lovely and fresh. It can also be frozen.
Alternative potato accompaniments


SWEET POTATO FONDANTS
This has to be one of my favourite accompaniments at the restaurant, where I often serve it with duck or lamb. I normally use a 5cm (2in) straight-sided cooking ring as a cutter, which creates perfect little sweet potato towers every time!
Makes 4
2 sweet potatoes, each at least 8cm (3in) long and 4cm (1 1/2in) across
25g (1oz) butter
1 tsp sunflower oil
sea salt and freshly ground black pepper
300ml (1/2 pint) chicken stock
2 fresh thyme sprigs
Peel the sweet potatoes and trim down until they are 8cm (3in) long so you are left with cylindrical sections. Place these on your chopping board and cut each one into 2cm (3/4in) slices, then use a straight-sided cutter to stamp out 8 x 4cm (1 1/2in) rounds.
Heat a frying pan over a medium heat and add the butter and oil. Add the sweet potato discs and cook for 2–3 minutes on each side, until golden. Season to taste and pour in enough stock to come three-quarters of the way up the sweet potatoes.
Add the thyme sprigs to the fondants, then increase the heat and bring to the boil. Reduce the heat and simmer gently for 10–12 minutes without moving the potatoes, until all of the stock mixture has gone and the potatoes are tender when pierced with the tip of a sharp knife. Turn the discs over carefully with a spatula. You will notice that the bottoms have started to brown and caramelise. Cook for 3–4 minutes, until browned and completely tender.
COOK AHEAD
Make the sweet potato fondants up to 2 days in advance and keep covered in the fridge until needed. Reheat on a baking sheet at 180°C (350°F/gas mark 4) for 10 minutes. They also keep well in a cool oven.
Keywords