Marty in the Morning Tuesday 4 June 2013
Marty Reccommends, Week Beginning Monday 3rd June}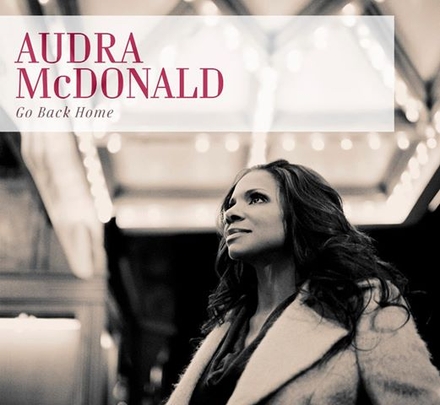 Audra McDonald's Go Back Home,
Five-time Tony Award-winner's album features works by wide range of musical theatre composers
"A one-of-a-kind musical super-talent … an irreplaceable resource… One of Ms. McDonald's essential qualities (is) her aura of almost uncontainable enthusiasm. That sense of excitement, in which she tugs a song forward emotionally, is inherent in the quickness and tang of her vibrato, as though feelings are pouring out of her almost faster than they can be reined in. Her soprano voice is stronger than ever, its mighty middle range a daunting power tool."—New York Times

Georgina Campbell's Ireland is delighted to announce a 12 month "Official Media Partnership"
with RTÉ lyric fm. The recently hosted "Georgina Campbell Irish Breakfast Awards 2017" – In Association with Fáilte Ireland was supported by RTÉ lyric fm. The new partnership with Georgina Campbell's Ireland was launched on the popular "Marty in the Morning" show with Marty Whelan on RTÉ lyric fm with a focus on the promotion of Irish hospitality, Irish food and Irish tourism this year.





Georgina Campbell is one of Ireland's leading food and hospitality writers and is current President of the Irish Food Writers' Guild. Her practical and down-to-earth approach has earned many fans for her cookery columns and cookbooks, and the same honesty has always applied to her comprehensive and critically acclaimed, independently assessed guides to Ireland's best places to eat, drink and stay.

Speaking about the new "Official Media Partnership" for 2017 Aodán Ó Dubhghaill, Head of RTÉ's Orchestras, lyricfm, Quartet & Choirs said: "We are delighted that RTÉ lyric fm is today announcing a media partnership with Georgina Campbell's Ireland independent hospitality guides, and Ireland's longest-running food and hospitality awards. This partnership is a great fit between the two brands and we look forward to working with Georgina and her team."

Click here for full press release.
---
What our listeners think. 'You make us what we are',.. click here!



---

Food with Neven Maguire
You can find all of Neven's delicious recipes from the Marty in the Morning Friday programmes going back over the months, by clicking here.
---
"Marty Recommends…More" out now!. on Universal Music Ireland.





The wonderful one-disc collection will features 23 classic titles all carefully chosen by Marty Whelan.
Now in its third instalment of "Marty Recommends"…The album follows the hugely successful 2015 release "Marty Recommends" achieving Gold Status and most recently the festive "Marty Recommends…Christmas" edition. The catalyst of which was devised from this daily show with RTÉ Lyric FM "Marty in The Morning". Click here for details and full track listing.
---



An exclusive look behind the scenes with Marty in the Morning. Click here to watch now and stay tuned!
---



Marty Meets Van Morrison in Belfast fo r an exclusive interview. Listen back here to part 1.