Latvian Radio Choir at the NCH Competition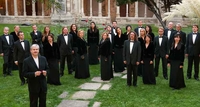 Winners of the Grammy Award for Best Choral Performance in 2014, the Latvian Radio Choir makes its National Concert Hall debut on Sunday 3rd May, 8pm as part of the NCH International Concert Series 14/15.
Classic Drive has a pair of tickets to give away to wjhat will be a wonderful concert along with a twocourse pre-theatre dinner at Bang Restaurant on Sunday 3rd May and B & B at the Shelbourne Hotel on Sunday 3rd May. Just tune in on Wednesday, Thurs and Friday this week with a chance to win.