Lorcan Murray brings you the very best of the new releases on Classic Drive and we have each featured album listed below. Tune in Monday to Friday to hear a track or two from the latest pick and keep an eye on the web page for #DriveCDPick giveaways!
#DriveCdPick 2016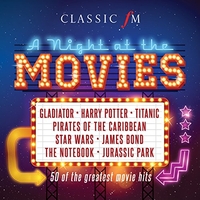 A Night at the Movies is a new 3-CD box set features music from some of the best loved movies of all time and of course, the most iconic film score composers...The Lord of the Rings, Star Wars, Harry Potter, ET, Gladiator, The Mission, Saving Private Ryan, Ladies in Lavender, The Piano, Schindler's List and many more.
---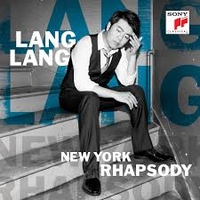 The magic of New York City fires the imagination of superstar pianist Lang Lang on his new album New York Rhapsody. He is joined by a wide array of special guests including Herbie Hancock, Lindsey Stirling, Madeleine Peyroux and Sean Jones. From the haunting reveries of Gershwin and Copland to the in-the-moment intensity of songs made famous by Alicia Keys, Lou Reed and Don Henley, New York Rhapsody rediscovers the dazzle and the soul of America's most symbolic city. Following the release of the album, a star-studded concert special Live From Lincoln Center will be released on DVD later this year.
---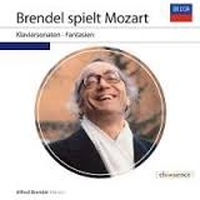 Alfred Brendel plays Mozart's Piano Sonata's and Fantasies, works of course central to the keyboard repertoire. This wonderful collection consists of 7 CDs, a compilation of the recorded works by Brendel including the famous "Alla Turca" Sonata No.11 in A major, published back in 1975.
---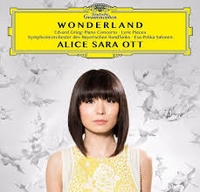 German-Japanese pianist Alice Sara Ott takes us into the world of mountain trolls and elves, hills and fjords through a selection Edvard Grieg's works – his Lyric Pieces, as well as through selected piano versions of pieces from the Peer Gynt Suites, and one of the most famous works of piano literature: Grieg's piano concerto in A minor, for which she teams up with one of the top orchestras, the Symphonieorchester des Bayerischen Rundfunks, under star conductor Esa-Pekka Salonen.
"The album represents my own very personal journey through Grieg's 'wonderland'. I should like to take this opportunity to invite you to leave behind your everyday lives for a moment and enter Edvard Grieg's magical and imaginary world with me"
---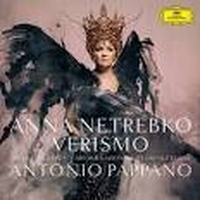 Anna Netrebko presents her long-awaited new studio album Verismo – the first in three years – displaying her remarkable vocal maturity and reaffirming her status as one of the leading sopranos of her generation. Verismo features Netrebko in the greatest, most irresistible hits of the Grand Italian repertoire of the fading 19th Century, with arias by Puccini, Leoncavallo, Ponchielli, Boito, Giordano, Catalani. Showcasing brand new interpretations of some of the greatest and most popular opera arias of all time. A winning classical music team too with Orchestra dell'Accademia Nationale di Santa Cecilia and conductor Sir Antonio Pappano.
---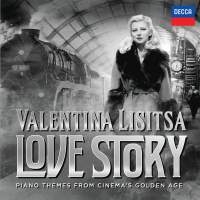 Valentina Lisitsa explores the glorious music of cinema's unparalleled golden era looking back to the cinematic glory days of the big screen, performing the finest piano concerto music composed especially for film.The pieces are arresting original scores for piano and orchestra composed for movies of the 1940s and 1950s including Dangerous Moonlight, Stagefright, and The Apartment. The album also brings us up-to-date with captivating music from Murder on the Orient Express, On Golden Pond and Pride & Prejudice.
---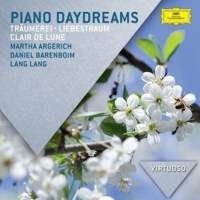 Piano Daydreams features some of the world's greatest pianists including Martha Argerich, Daniel Barenboim, Helene Grimaud, Wilhelm Kempff, Lang Lang, Yundi Li, Mikhail Pletnev, piano and more playing everything from Satie's Gymnopédie No.1 to Liszt's Liebestraum No.3
This wide ranging collection traces the development of the piano from its 18th century beginnings to the sophisticated modern grand that eventually emerged during the 20th Century.
---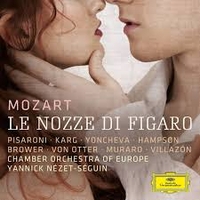 Recorded with a stellar cast, one of the brightest and most insightful conductors of our day and a specialist handpicked orchestra playing at their best in the stunning venue of Festspielhaus Baden-Baden (July 2015), Yannick Nézet-Séguin's "completely gripping, high-contrast" Le Nozze Di Figaro is "a brilliant triumph", and is our album of the week this week. The July 2015 concert performance recorded here, stirred the critics to heap praise on Luca Pisaroni's "thrilling" Figaro, Thomas Hampson's Count "illuminating every word", Sonya Yoncheva's Countess "recalling Callas's vocal colours", Angela Brower's "fascinatingly delicate, sensitive" Cherubino and Anne Sofie von Otter's "wonderfully perceptive, charming Marcellina", all in a performance "crowned" by Christiane Karg's "enchanting" Susanna and Rolando Villazón as Basilio, who "had the audience at his feet"
---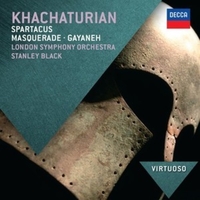 A real treat for fans of Aram Il'yich Khachaturian, the Soviet Armenian composer and conductor. This album contains re-released recordings on the Virtuoso label, originally published between 1975 & 1978 with the London Symphony Orchestra conducted by Stanley Black, performing the Ballet suites: Spartacus, Masquerade and Gayaneh.
---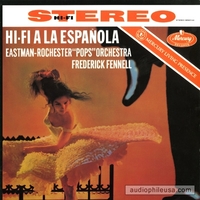 A brand new Vinyl release on Mercury Records with Vinyl sales soaring: Universal music decided to release this gem Hi-Fi A La Espanola. Frederic Fennell conducts the Eastman-Rochester Pops Orchestra with nine composers from six countries in a musical tribute to the artistic influence of Iberia, Cuba, Mexico, the United States and Australia.
---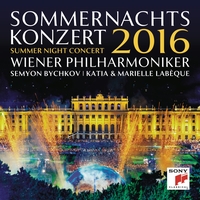 Summer Night Concert with the Vienna Philharmonic Orchestra. This annual open-air event takes place in the magical setting of the Schönbrunn Palace Baroque park in Vienna with the palace as a magnificent backdrop. Entrance to the concert is free, and each year up to 100,000 people take up the invitation. The concert is also broadcast on TV and radio in more than 60 countries, and thus reaches an audience of millions. This year's Summer Night Concert took place on Thursday 26 May, 2016. The eminent Seymon Bychov conducted the Summer Night Concert, with sisters Katia and Marielle Labèque playing as soloists ...so listen in all this week and enjoy!
---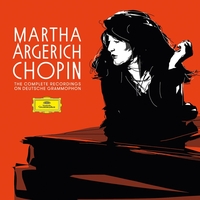 Our album this week was released in time to celebrate Martha Argerich's 75th Birthday (June 5th) acknowledged the world over as one of the greatest, if not the greatest living pianists! This 5 CD set brings together Martha's complete studio, live and radio recordings on Deutsche Grammophon and documents her special, intuitive and passionate relationship with Chopin's music. This retrospective offers a comprehensive view on the composer who has always been at the very heart of Martha Argerich's repertoire.
"Her playing has unmatched authority, boldness and brilliance" ~ The Observer
---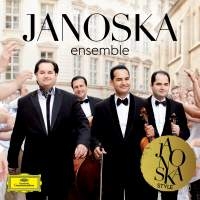 The debut album from the Janoska Ensemble. With their inimitable 'Janoska style' the four members of the Ensemble have chosen to present a picture of Vienna as a cultural melting pot, lacing it with irony and wit and taking it beyond the confines of the Austrian capital. On "The Janoska Style" virtuoso classics by Franz Waxman, Niccolò Paganini and Pablo de Sarasate are heard alongside a Viennese work by Fritz Kreisler and operetta themes by Johann Strauss combined with the strains of a Csárdás, music from the Balkans, the world of the tango, rumba and of jazz improvisations. Their inexhaustible inventive arrangements allow the Janoska to explore a wide range of works from popular classics to compositions that they have written themselves.
---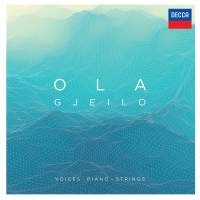 Rising composer Ola Gjeilo releases his debut on a major label, an important release of heavenly, bewitching, eternal new choral music for our time. Ethereal yet tangible, this is music with wide appeal; music of purity and beauty; music at once restful and uplifting.The composer Ola Gjeilo draws on influences from his Nordic background to conjure modern choral music of exceptional beauty. Radiant vocal textures with Tenebrae, Voces 8 are enhanced by transcendental instrumental additions; a twinkling piano performed by Ola himself; captivating, exquisite strings; and bewitching acoustic guitar.
---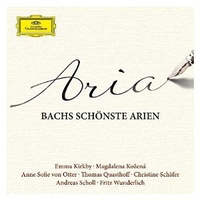 To Haydn, Mozart and Beethoven, Bach was a master of keyboard counterpoint. To Mendelssohn, he was a composer of epic choral works. To Stravinsky, he was a master craftsman. To music lovers, he will always be one of the world's most sublime creative geniuses.
This album "ARIA" presents over one hour of J.S. Bach's most beautiful arias, performed by some of the greatest artists including Emma Kirkby, Magdalena Kozená, Anne Sofie von Otter, Thomas Quasthoff, Christine Schäfer, Andreas Scholl and Fritz Wunderlich.
---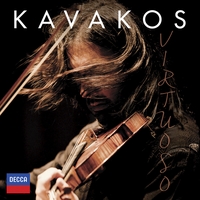 One of the world's finest violinists Leonidas Kavakos, showcases virtuoso works for the violin. Included on this album are some of the most exciting and challenging violin works ever written, alongside beautiful, lyrical encores. Displaying a formidable technique to stunning effect, Greek violinist Leonidas is heard here at his very best.The album features the devilish and highly demanding violin writing of Italian Paganini alongside the Spanish influences of De Falla and Tarrega, the Czech allure of Dvorak, the elegance of Britten and Elgar, and the Russian spirit of Tchaikovsky and Stravinsky. Leonidas Kavakos plays the Abergavenny Stradivarius of 1724 – a violin which itself will almost certainly have known legendary performances of these incredible works, and which sings here as if Kavakos was born to play them on this instrument.
---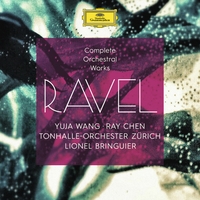 This 4-CD box set of Ravel's complete orchestral works and solo concertos, performed by the Tonhalle Orchester Zürich under the baton of Lionel Bringuier. The new set represents something of a rarity in its completeness and in having largely been recorded live. The soloists are pianist Yuja Wang and violinist Ray Chen.
---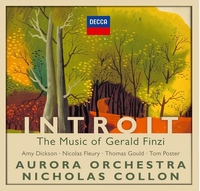 This Album commemorates the 60th Anniversary of the passing of British composer Gerald Finzi. Decca Classics and the Finzi Trust collaborate here to bring some of Finzi's finest works to a whole new audience.The pieces are some of the best kept secrets of pastoral England . Re-imagined popular vocal works are performed by Classic Brit winner and Grammy nominee Amy Dickson (saxophones). Other soloists include Thomas Gould (violin), Tom Poster (piano) and Nicolas Fleury (French horn).
This new release invigorates Finzi's music with the dynamic Aurora Orchestra and Nicholas Collon, playing arrangements specially commissioned from some of the country's best arrangers by the Finzi Trust – the 'guardians' of this wonderful repertoire.
---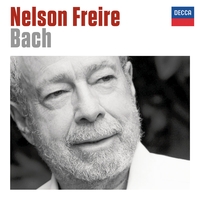 Nelson Freire brings a lifetime's experience to his first-ever album devoted to the music of J.S Bach. It was recorded in Freire's 70th birthday year and provides a superb overview of Bach on the piano: towering original works such as the Fourth Partita and Chromatic Fantasy & Fugue; one of Bach's own keyboard transcriptions (the sublime slow movement of Marcello's Oboe Concerto) plus a selection of transcriptions by Busoni, Siloti and Myra Hess.
---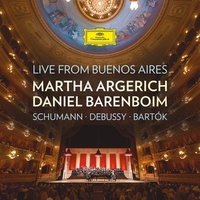 A live recording of another of the legendary concerts that Daniel Barenboim and Martha Argerich have given in the Teatro Colón, Buenos Aires – in this case, the summer of 2015. The Classical icons, close friends since childhood, returned to their beloved native city for this emotionally charged evening of marvellous music making...Including works for two pianos: Debussy's arrangement of Schumann's Six Studies in Canon Form, Debussy's own En blanc et noir and Béla Bartók's Sonata for Two Pianos and Percussion.
---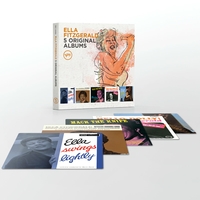 Ella Fitzgerald - 5 Original Albums released as one box set as part of Verve records 60th celebrations. The five albums in the set include Ella Swings Lightly 1958, Sings Sweet Songs for Swingers 1959, Ella in Berlin-Mack The Knife 1960, Hello,Dolly! 1964 and Whisper Not 1966. Each day we'll feature an album and play a track or two from the American Jazz legend known of course as the First Lady of Song!
---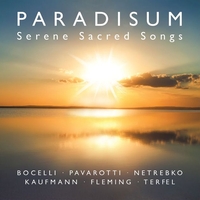 Paradisum - Serene Sacred Songs - this 2 CD collection brings together the calmest and most thoughtful sacred songs ever written, performed by some of the world's greatest singers including Andrea Bocelli, Luciano Pavarotti, Jonas Kaufmann, Anna Netrebko, Renée Fleming, José Carreras and Bryn Terfel.
The music range features Composers from Mozart and Bach to the contemporary cool of today's great writers such as Eric Whitacre and Ola Gjeilo.
---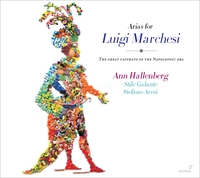 Arias for Luigi Marchesi. Recapturing the impact made by the colourful figure of the castrato Luigi Marchesi at the turbulent and revolutionary end of the 18th century has been a project embracing an exhibition, symposia, the publication of scores associated with the divo and this fabulous new recording performed by Ann Hallenberg, Stile Galante and conductor Stefano Aresi. Marchesi, called the 'Apollo of his times', was courted all over Europe, from St Petersburg to Vienna, London to Milan, Munich, Naples and Warsaw. Hallenberg ventures wholeheartedly into the musical mind of this extraordinary star of late opera seria in a vivid recreation that garnered a five star review in BBC Music Magazine while David Vickers in Gramophone praised, "'Ann Hallenberg s powers of supple precision, melodic sweetness, flawless coloratura and expressive pathos are on compelling form'.
---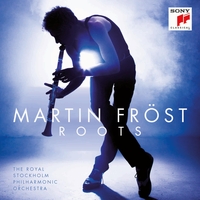 Describing the repertoire on Roots, Martin Frost comments "My sound-world journey travels through the sources of classical repertoire, and draws a line from the earliest "roots" of music—music inspired by dance and folk, music drawn from sacred rituals of praise, and music as pure entertainment... My journey moves from Gregorian chant, Hildegard von Bingen and Telemann, via gypsy, klezmer and traditional folk music from a variety of countries, all the way through to new works and re-workings of classical pieces… " The CD title refers to the very origins of Martin himself - the final track is a setting of the beautiful and simple Scandinavian folksong Jag vet en dejlig rosa (I know a rose so comely) which comes from Dalarna in the heart of Sweden.
---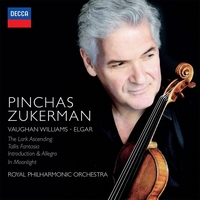 Israeli violinist Pinchas Zukerman returns to The Lark Ascending for the first time on record in over 40 years in a magical performance with the orchestra of which he is Principal Guest Conductor: the Royal Philharmonic, founded 70 years ago by Sir Thomas Beecham. Zukerman plays and conducts a collection of the best in English music: Vaughan Williams' Tallis Fantasia and Elgar's Introduction & Allegro and Serenade for Strings frame shorter works such as Salut d'amour, Chanson de Matin and Chanson de Nuit. The recording also includes the world premiere recording of In Moonlight: an arrangement for solo viola, strings and harp of Elgar's famous Cantopopolare.
---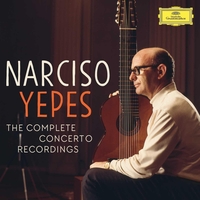 Spanish guitar legend Narciso Yepes, who was known for his outstanding technical abilities and his fine artistic judgment, recorded exclusively for Deutsche Grammophon for more than 20 years. This collection brings together all of his concerto recordings for the Yellow Label, recorded between 1969 and 1979. The repertoire ranges from Vivaldi Lute Concertos adapted for guitar to works written for Yepes and other leading guitarists of the 20th century.