Sebastian Adams, Composer in Residence 2016: Blog 1
This is the first of a series of blogs about my time as RTÉ lyric fm's Composer in Residence. As most people reading this probably don't know who I am or what I do, I thought it would be good to include an explanatory infographic: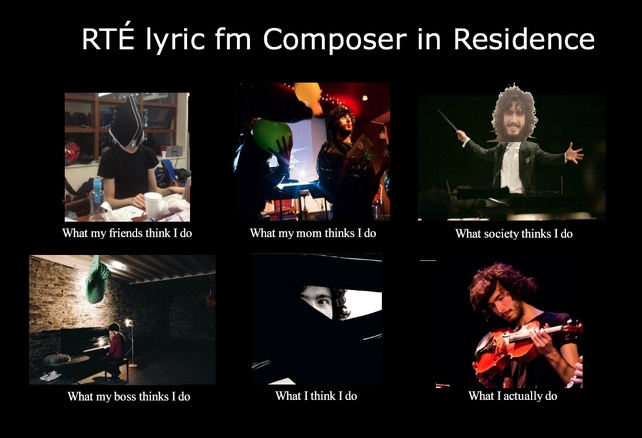 In all seriousness, the RTÉ lyric fm Composer in Residence means I will be spending the year writing a series of pieces for RTÉ (some orchestral pieces, a string quartet, a Christmas carol, a piece for school use, a radio theme tune) and doing blogs, radio and outreach work that offer a public window into the life of a young composer.
I am a composer, but composers have a great history of being multitaskers – most of the greats from the past were concert pianists, conductors, administrators and educators. For some, like Mahler (whose works are simply so brimming with notes it's hard to imagine ever getting time to write them all down, let alone the genius and energy to think of them), composing was a pursuit to while away the summer holidays.
Personally, I fit my composition around a litany of sins that mainly involve trying to make newly composed music happen in real life. I co-direct an ensemble Kirkos, dedicated to exploring new ways of presenting music (our next gigs are on Jan 29th and March 20th), I perform new music and improvise regularly as a viola player, and I was formerly chair of the Irish Composers Collective before throwing the reins at the unmatchable Sorcha Coller. I also work a lot with computers, programming in a music language called Max. Probably the feature of my career so far that gives me the most pride is that there are almost three hundred pieces by Irish composers that wouldn't have been performed for the first time without my efforts. You can keep track of me here.
As a composer, my harmonic and melodic language and way of thinking draws as much on late-Romantic German music as it does on more recent music, and where I tend to try to push against boundaries is by introducing moments of extreme stasis where they disrupt the grain of the music (for example, the painfully long periods of silence and repeated notes in this piece.
Every composer today has their own outlook on the 'right way to write', but my own view is that each extreme reached in the 20th century has the capacity to produce great music, but that none of them individually has a large enough expressive range to write ALL the great music that our century needs. The beauty of being a young composer now is that we can mix the palettes of all existing music in a way that has never been permissible before.
My current assignment for RTÉ lyric fm has me thinking deeply about the ideas mentioned in the previous paragraph. I've been tasked with writing a popular suite for orchestra, something that should appeal to a typical radio listener. This is quite a tricky thing for a composer, as it is very easy for us to lose sight of what the 'man on the street' (or even the hardcore classical music aficionado) wants to hear. After the most recent Kirkos concert, we received a lecture from an unsuspecting audience member on the fact that dissonance is only acceptable in very small doses. We were shocked, as we had thought that it was a very audience friendly event!! (If you're reading this, we're very sorry for ruining your Christmas)
I think that anecdote gives you an idea of why this is such a difficult commission – especially as I'm determined to produce something that is not an artistic compromise for me. When this aspect of the Residency was first mentioned to me, I was terrified, and not keen at all on the idea. But as time passed, it grew on me. Nothing like a good challenge! It's one that many of the greats have risen to in the past (the Shostakovich Jazz Suites being prime examples, this magical Waltz in particular. My first sketches for this suite began today, and hopefully they will progress enough in the next month that I can do a short recording walking through some of the sketches and explaining what I intend to do with them! If you're curious to see what my existing orchestral music sounds like, here is everything I've managed to get recorded.
As I sign off, I'd like to thank RTÉ for the great faith they've placed in me by offering me this residency. The Composer in Residence scheme offers something which extends way beyond a series of prominent commissions: thanks to RTÉ lyric fm, I am now in the first weeks of a full calendar year in which I can devote myself entirely to creative pursuits. That is definitively not what I had expected to be doing in 2016, and it will probably have decades-long repercussions for my development as an artist. RTÉ should be applauded for having the nerve and foresight to maintain such a position (whatever you may think of the current holder!!), and it will be for the great good of Irish cultural life if many other musicians over the years are given the same chance I have now.
Talk soon!! Sebastian.
Sebastian Adams, Composer in Residence 2016: Blog 2
Hello again! I looked up my last blog post to check what I had been droning on about previously, and couldn't believe that it has been two months since that was written!! Which means I am now a quarter of the way through my year as RTÉ lyric fm's Composer in Residence…Yikes!
It has been a busy couple of months, particularly over the last week, and one of the nice surprises is that I have been doing more viola playing than I had expected.
At the end of January, Kirkos took part in an excellent concert of minimalist film music run by the Irish-based Australian composer Natasa Paterson (which came complete with over-18s-only imagery that was greatly enjoyed by certain portions of the audience – sadly, all this took place beyond my field of vision).
In the middle of the month, I made my first ever (!!) trip to London to take part in a very unusual gig with the composers' collective Bastard Assignment (once again, this concert involved some VERY explicit props), and just the other day I was involved in the premieres of two brilliant new pieces: Hypnic Jerks, a solo viola piece by Finola Merivale (a huge emerging talent, check her out here) and Kirkos' first ever collaboration with Dublin Laptop Orchestra and Tonnta Music for an epic new piece by my predecessor here at lyric, Linda Buckley. This was part of a really special event run by Ensemble Music, a burgeoning production company who are beginning to make serious inroads in creating appreciative audiences for the sorts of talented artists who previously found them hard to come by.
Other viola-related events have included a couple of rehearsals with the phenomenal Jonathan Nangle, one of my former teachers. Jonathan has been a huge influence on me in every respect, and is without doubt one of the finest composers in the country – we're launching a new improvising partnership on April 20th in the Dun Laoghaire Lexicon, as part of my residency there.
After all this (and the unmentioned Arts Council applications I may or may not have been involved in drafting), I think I can forgive myself for maybe not getting quite as much composition done as I had hoped. In preparation for my short, sharp orchestral suite for the RTÉ Concert Orchestra, I wrote a movement and a half (one half still to come) of a short 1916-related piano piece for my close friend, the outstanding pianist Máire Carroll. This work is inspired by one of the sadder and more overlooked aspects of 1916, a thought-provoking idea which was Máire's, and not mine.
Still on a 1916 note, I also recently completed my first piece of work for RTÉ lyric fm. This is a theme tune for Writing the Rising a short series running this week and next at midday, presented by Damien Kiberd. I set about this with armed with nothing but a viola, a computer and a very cheap microphone. The theme is a treatment of the tune Óró, sé do bheatha 'bhaile. It begins in rousing style with about eight overdubbed viola parts, before skitching quickly into a slow, mournful version. For the slow version, I recorded the viola using a hotel mute (for practicing when other people are around – this gives a small, strangled sound) and a very bad microphone specially chosen for the hiss it introduced. I augmented the recording with a sample of a vinyl record with nothing pressed on it, and the tune gets slower and slower using digital manipulation. The point of this is to drag the listener into a reflective mood as they prepare to listen to Kiberd's fascinating views on the subject in question.
I've also made some progress on the aforementioned orchestral suite! Three movements are partially done in short score (i.e. unorchestrated) form, and I have an idea for a fourth. One more is needed, and I'm still not sure whether my current idea for the title and overall subject – Francesco Geminiani's Treatise on the Art of Good Taste in Music – is going to stick… but we're getting there.
Next time, I might post a little clip explaining part of the composition process for this movement, which revolves around many permutations of the same four notes.
Till then, goodbye!
Sebastian Adams, Composer in Residence 2016: Blog 3
I'm aiming to get my suite for the RTÉ Concert Orchestra finished in the next 20 days or so, although I have a bit longer before my deadline if I end up running into trouble.

The composition process for this piece is falling into a pattern that is becoming more and familiar to me: months and months of worrying and doing nothing, and then a short, frenzied period of real work! The doing nothing bit includes a bit of procrastination, but also a lot of heading down blind alleys:

When I wrote to you last, I said that I had written three movements of the suite in sketch form (out of four in total). Around the time of that last blog, I got very stuck – with no ideas and no idea where my ideas were going to come from!

I started looking at the great popular orchestral music of the past, trying to analyse them, looking for the secret ingredients that bound them together: Prokofiev's Classical Symphony, the Peer Gynt suites, the Karelia Suite, and so on. A welcome outcome of this soul-searching was that I awoke a new appreciation for this school of music, lifting a slight and unsightly veil of snobbery (if everyone likes it, it must be crap – never a good thought to think!). This is music that's direct, easy to understand, unselfconscious, and it loses none of the depth of expression that these composers access in their more serious music. An unwelcome outcome – the magic ingredient seemed to be nothing except brilliant material.

On that bombshell, I burned the sketches for two of my movements.
Now I had almost nothing – one sketch that I felt was 100% me, 100% what the orchestra want, and 100% one of my best things, but absolutely no idea where to go next. I was stuck at this point for about two months, and my mind was drawn again to the ghosts of Prokofiev and Grieg.

As the word Suite implies, most of the pieces in this genre used elements of dances as their backbones, although they were clearly not meant to be danced to! This is, I think, part of the reason why a popular suite is so difficult for a 21st-century composer. Not only are most of the languages we write in utterly incompatible with these dance forms (and by extension, with the genre of the orchestral suite), but these dances themselves have no relevance to contemporary culture! Why the hell would I write a jig for orchestra? Who actually wants to hear that?
Of course, while we don't have dances in the classical sense, we certainly have dance music….. I concluded that the dance suite can be relevant, as long as we don't mean the traditional version. The point of a popular suite is that it's somehow universal, getting over the cerebral nature of classical music, removing the barriers for an untrained ear, and there's certainly plenty of music around now that fulfills a similar function.
A little known fact about me is that despite my very classical background, I actually got into composition by writing electronic dance music (or at least my own version of it). When all seemed lost, the music I wrote as a teenager came to save me.
Click here for a sneak preview
Sebastian Adams, Composer in Residence 2016: Blog 4
It's three months to the day since I last blogged about my time as RTÉ lyric fm Composer in Residence (meaning my year is almost three quarters finished). The piece for the RTÉ Concert Orchestra seems a distant blink in the past, although the parts are still being re-proofed over and over, whenever I can face them. A single mistake can make you look stupid in front of an orchestra, or even derail an entire piece, and it's almost impossible to catch every error. A mistake that is glaringly obvious when you start trying to play the clarinet part can be almost impossible to find when you have a full score with roughly 50,000 notes to sift through. That's what mine had, and so I spent far too much of the summer with piles of paper gradually moving from one side of my desk to the other…
Apart from that, I had a lot of interesting work to do: I spent a long time on projects for the RTÉ ConTempo Quartet, writing them a piece (which I'm very happy with – they'll be touring the country in October) and also writing programme notes for the Bartok String Quartets and the Haydn Op. 76 Quartets. Those quartets (12 in total) are among the greatest music there is, and it was an absolute pleasure to read about them and try to form enough opinions about them to write the notes. I didn't manage a holiday, but I did get a working break in Bern, visiting two good friends and doing two free improvisation gigs (viola, vocals and electronics). Incredibly beautiful city, and floating down the river Aare at top speed looks likely to be my lasting memory of Summer 2016. The string quartet for ConTempo was written very soon after the Concert Orchestra piece and meant my compositional energies have got a bit low, so I am happy to have other things to be focusing on for the next while (although I do have a Christmas Carol to finish shortly).
In the next six weeks I have a part in organising two very big events… The first is a performance of Bach's St John Passion with Fishamble Sinfonia in Christ Church Cathedral on 1st October, with Residentie Bachkoor (over from the Hague). This is a huge step forward (and back) for Fishamble Sinfonia, by far the largest and most difficult piece we've decided to play, and also a step into real baroque territory away from our usual early classical music. It's exciting to be a part of it, it's such beautiful music, but the rest of the committee and I are spending a lot of time worrying about where to get 86 choir risers and so on.
The second is two weeks later, when Kirkos will do a massive presentation of work from and inspired by the Fluxus movement. Fluxus is basically a response to the mummification of art, and comprises most of the weirdest things you have ever heard being done in the name of art (often with serious points behind them). Fluxfest is a huge operation, happening in the Temple Bar Gallery Atrium Space on 15th October, incorporating about ten brand new pieces (and all the logistics associated with actually getting them), video pieces, a couple of pianos, a bale of hay and all sorts of other props, a whole collection of spare/old instruments we will have to find in skips (all donations welcome – email me!) etc. etc. Rob Coleman and I have spent countless hours searching for existing Fluxus pieces to perform, and we've started holding workshops for our players as they need to rethink their whole way of performing – if anything, knowing how to play an instrument very well is a disadvantage for this concert!!! It will be chaotic, thought provoking and absolutely amazing. Please come along! Thinking up something like Fluxfest and figuring out how to make it happen is a huge creative act in itself, and something I find just as artistically satisfying as actually writing music. If you create a truly memorable concert, you have made a real impact on the lives and minds of the people who attend – and that is being an artist is all about! The beauty of all this concert stuff is that it will activate a different creative impulse, allowing my composition cells to recharge – come October 16th (or maybe after a short holiday to make up for my busy summer), I'll be ready to dive headlong into a piece for the RTÉ National Symphony Orchestra, who probably won't know what hit them, judging from what I'm currently feeding my brain here.