Wexford Festival Opera 2018 - Mercadante's Il bravo (The Assassin) live from Wexford Festival Opera
Click here to listen or scroll below to 00:30:30 to begin viewing
Often compared to Verdi in terms of musical style, Saverio Mercadante's Il bravo is one of the works in which his comparison to Verdi are most evident. Despite its quintessentially Italian title, the plot is originally drawn from James Fennimore Cooper novel and thus surely qualifies as one of the first operas to have been based on American literature. It's an old tale set in 16th-century Venice. The Bravo, a colloquial name for an assassin, is a tormented character who had long ago killed his wife in a fit of jealousy. Unjustly accused of plotting against the state, he has been forced by the Council of Ten to become their secret hired assassin. In tonight's production which is being simulcast as part of the EBU Premium Opera Season Gustavo Castillo is Foscari, Alessandro Luciano is Pisani, Rubens Pelizzari sings the title role, Eimon Mechlinski is Luigu, Clarissa Costanzo isTeodora and Ekaterina Bakanova is Violetta. The Orchestra and Chorus of the Wexford Festival Opera is conducted by Jonathan Brandani. (Alessandro Luciano & Ekaterina Bakanova in 'Il bravo' by Mercadante WFO 2018 photo by Clive Barda)
---
William Bolcom's Dinner at Eight (European Premiere recorded in the National Opera House)
Dinner at Eight is William Bolcom's most recent opera, having received its world-premiere under David Agler's baton at Minnesota Opera in March 2017. As befits its setting, in Depression-era Manhattan, the music of Dinner at Eight teems with 1930s influences, especially jazz and blues. Based on the play by George S. Kaufman which ran on Broadway in 1932, it was quickly turned into a film with Jean Harlow. The Seattle-born composer, who turned 80 this year, successfully weds American musical comedy and opera to a libretto by Mark Campbell in a plot which revolves around an ill-fated dinner party. Dinner at Eight is essentially a comedy, laced with biting, darker elements of greed, infidelity and addiction and features a sizeable cast of characters hell-bent on fiddling while New York City burns around them. A co-production with Minnesota Opera and Atlanta Opera. Cast includes Mary Dunleavy, Stephen Powell and Sharon Carty. David Agler conducts the Wexford Festival Opera Orchestra and Chorus. (Sharon Carty as Lucy Talbot in 'Dinner at Eight' by Bolcom WFO 2018 photo by Clive Barda)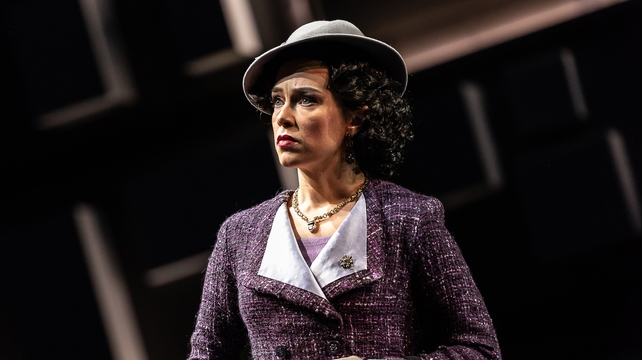 ---
Double Bill: L'oracolo (The Oracle) by Franco Leoni and Mala vita (Wretched Life) by Umberto Giordano
Franco Leoni's, L'oracolo was premiered at Covent Garden in 1905, but fared better in America. Set in San Francisco's Chinatown just after the Boxer Rebellion, its lurid plot centres on a sinister opium dealer Chim-Fen.
The compact Mala vita (1892) is based on a novella about Neapolitan slum-life, telling the story of a worker who, suffering from tuberculosis, vows to reform a prostitute if he is healed through prayer. The plot proved shocking for Italian audiences of the day in spite of receiving 24 curtain calls from the audience at its 1892 premiere. Francesco Cilluffo conducts the Wexford Festival Opera Orchestra and Chorus in a recording from the 2018 Wexford Festival Opera from the National Opera House.
(Leon Kim & Joo Won Kang in 'L'oracolo' by Leoni WFO2018 photo by Clive Barda)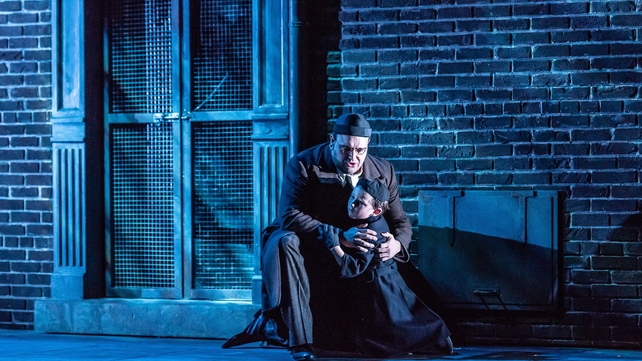 (Chorus of 'Mala vita' by Giordano WFO2018 photo by Clive Barda)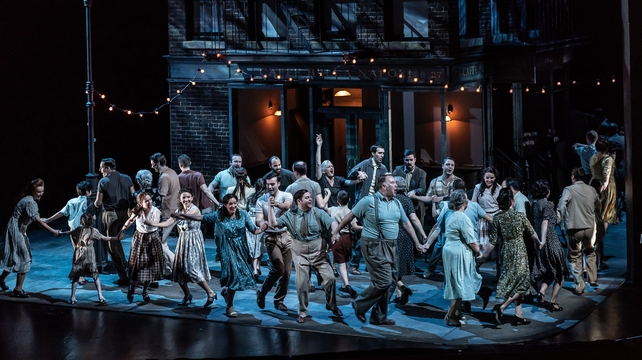 ---
Watch Again: The Big Bang - Gala launch of Irish National Opera
We celebrate the launch of Irish National Opera with the voices of leading Irish singers Orla Boylan (pictured), Claudia Boyle, Sharon Carty, Jennifer Davis, Anna Devin, Imelda Drumm, Máire Flavin, Ben McAteer, John Molloy, Miriam Murphy, Gavan Ring and Padraic Rowan. Featuring the RTÉ National Symphony Orchestra conducted by Fergus Sheil, with music by Wagner, Catalani, Korngold, Saint-Saëns, Verdi, Gluck, Wallace, Gounod, Tchaikovsky, Giordano, Rossini, and Verdi from operas Lohengrin, La Wally, Samson et Dalila, Aida, Orfeo ed Euridice, Maritana, Roméo et Juliette, Eugene Onegin, La cenerentola, La Traviata and Falstaff. This concert was recorded at the National Concert Hall on January 9th.
Paul brings us this year's production of Margherita by Jacopo Foroni in a production recorded in the National Opera House as part of this year's Wexford Festival Opera. Yuriy Yurchuk sings Conte Rodolfo, Matteo d'Apolito is Ser Matteo, Alessandra Volpe sings the title role, Andrew Stenson is Ernesto, Giuliana Gianfaldoni is Giustina, Filippo Fontata is Roberto and Jo Hyun Kim is Gasparo and the Orchestra and Chorus of Wexford Festival Opera is conducted by Timothy Myers. (Alessandra Volpe in title role of 'Margherita' by Foroni. Photo by Clive Barda)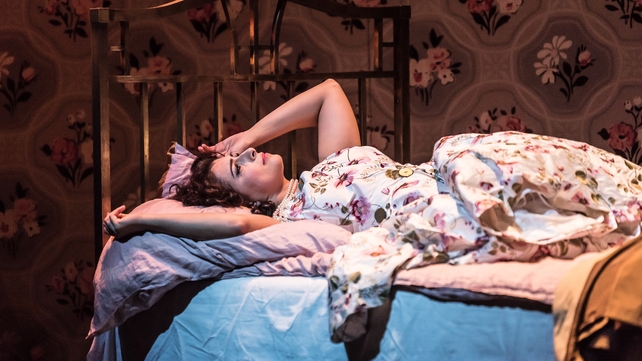 ---
Tonight Paul Herriott brings us Franco Alfano's Risurrezione recorded live at the Wexford Festival Opera 2017. Gerard Scheider is Prince Dimitri, Anne Sophie Duprels is Katiusha, Charles Rice is Simonson, Romina Tomasoni is Governante and Louise Innes is Sofia Ivanovna. Francesco Cilluffo conducts the Wexford Festival Orchestra and Chorus. (Niamh White & Anne Sophie Duprels in Risurrezione by Alfano. Photo by Clive Barda)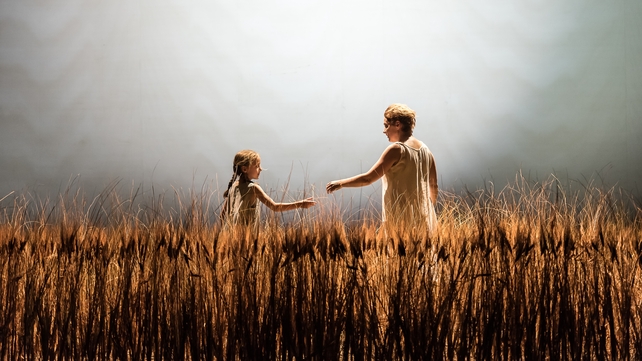 ---
Paul Herriott presents tonight's performance of Cherubini's Medea directed by Fiona Shaw live from the National Opera House, Wexford as part of the Wexford Festival Opera. Norwegian soprano Lise Davidsen sings the title role, Medea, Ruth Iniesta is Glauce, Raffaella Luponacci is Neris, Sergey Romanovsky is Jason and Adam Lau is King Creon. Stephen Barlow conducts the Wexford Festival Chorus and Orchestra. (Lise Davidsen in title role of 'Medea' by Cherubini. Photo by Clive Barda)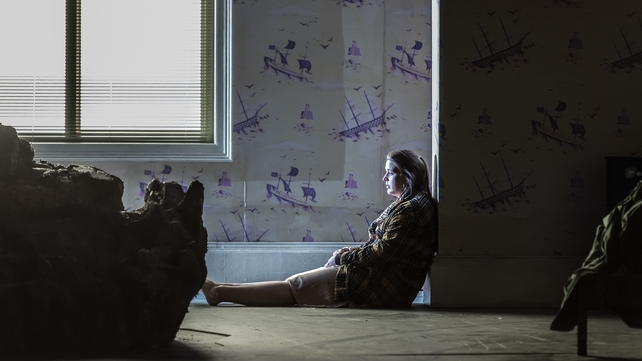 ---
WATCH AGAIN: Robert O'Dwyer's Eithne
Doireann Ní Bhriain introduces Robert O'Dwyer's Eithne live from the National Concert Hall, Dublin, a romantic adaptation of a mysterious ancient Irish legend, as the mortal son of Ireland's High King falls in love with the magical Eithne, daughter of the King of Tír na nÓg.
'Bhí an ceoldráma seo ligthe i ndearmad ar fad go dtí gur tháinig an scór chun cinn ag ceannt i 2002, áit ar cheannaigh Leabharlann Náisiúnta na hÉireann é,' a deir Grúpcheannasaí Gaeilge, Rónan Mac Con Iomaire. 'Is beag a cheap ag an am go gcuirfí a léithid de cheoldráma ar mhór-scála, go hiomlán trí Ghaeilge, ar stáitse arís go brách, ach tá sé iontach anois go mbeidh an deis ag an bpobal Ceolfhoireann Siansa Náisiúnta RTÉ a fheiceáil i mbun a léirithe sa bhfómhar."
Tá ceol Eithne báite i traidisiúin ceoldrámaíochta na hEorpa mar a bhí ag deireadh an naoiú céad déag, le tionchar Dvorák agus Wagner le sonrú sa gceol. Insíonn an ceoldrama scéal banphrionsa Thír na nÓg, agus a haistir ar fud na cruinne ar thóir laoch a thabharfadh ar ais chuici a máthair a bhí curtha faoi gheasa.
A rare example of an opera with the libretto in the Irish language. Eithne stars internationally acclaimed artists soprano Orla Boylan (pictured) as Eithne, baritone Gavan Ring as the High King of Ireland and tenor Robin Tritschler as Ceart, Eithne's lover. The chorus of Opera Theatre Company and the RTÉ National Symphony Orchestra are conducted by Fergus Sheil.