Temple Bar Cultural Trust (TBCT) has unveiled an extravaganza of magical yuletide festivities and cultural treasures for a special Festive First Thursday on December 6th.
Dublin's Cultural Quarter will explode with festive delight as the Christmas lights are lit, followed by an eclectic mix of movies, markets and tours to celebrate the happiest time of the year.
In partnership with the Temple Bar Traders and beginning at 5.30pm on Thursday, December 6th, The Lord Mayor of Dublin, Naoise Ó Muirí, will switch on the enchanting Christmas lights in the area.
Running down the main spine of Temple Bar Dublin's Cultural Quarter, the twinkling lights will hang along Fleet Street, Crown Alley, Temple Bar, East Essex Street, Curved Street, Eustace Street, West Essex Street and Cow's Lane. There will be complimentary mulled wine and mince pies for visitors whilst they feast their eyes on the amazing light projection from Melimage on the Smock Alley Theatre building on West Essex Street.
The businesses of Temple Bar will be open late for Christmas shoppers to browse the diverse range of festive goods on offer, along with an eye-catching outdoor projection by the wonderful Melimage on the Smock Alley Theatre facade on West Essex Street in the Old City are of Temple Bar. A choir will provide the soundtrack with popular Christmas carols ringing through the city's thriving cultural centre.

At 6pm, a free First Thursday's Festive Tour will begin, inviting people to experience Temple Bar and the Old City under the warm glow of the Christmas lights. The public can then return for a screening of the hit Christmas comedy Elf in the cosy surroundings of Meeting House Square, Temple Bar at 8.30pm. Complimentary hot chocolate, popcorn and blankets will be given to all guests. There might even be a special visit from one of Santa's little helpers…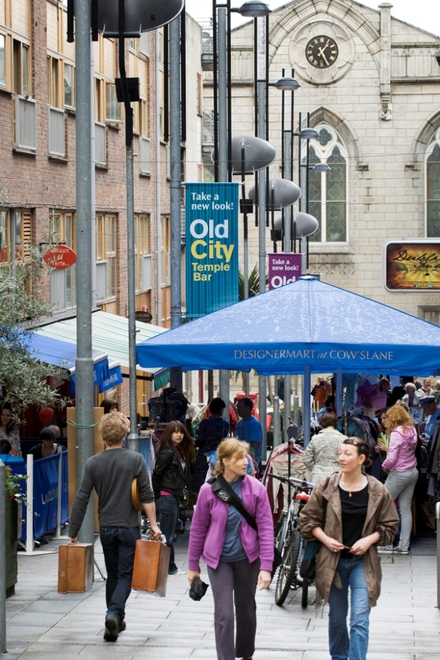 First Thursdays is an event which takes place on the first Thursday of every month offering members of the public a late night opportunity to visit galleries and cultural centres for free after hours.
In addition to the yuletide events and Christmas cultural fare, the eclectic and diverse traders and retailers of Temple Bar will be offering festive gift options throughout the festive period. If you're looking for an extra special seasonal gift, visit Designer Mart in the Old City where you will find lovingly crafted handmade products available, perfect for stocking fillers this Christmas. The traders of Temple Bar are also getting in on the festive spirit with in-store Christmas events and promotions. For fans of delicious seasonal fare, the Meeting House Square Food Market will offer some incredible local produce to satisfy any yuletide palette.


The Gutter Bookshop in Old City, Temple Bar is aiming to make Christmas shopping an enjoyable and relaxing experience this Christmas. Every Thursday in December, the Gutter Bookshop in Old City, Temple Bar will host Christmas Shopping evenings from 6-8pm where you can enjoy a glass of mulled wine or warm spiced apple juice as well as some festive treats as you browse their unique selection of books and gifts. Enjoy a more relaxed and traditional Christmas shopping experience in the Old City this December.

All of the events on December 6th are completely free of charge. For more information visit: www.templebar.ie. A final number of free tickets will be released for the screening of Elf in Meeting House Square via entertainment.ie on Friday, November 30th.