At this stage, Paddy Kehoe is something of a Corfu veteran, and his love affair with the island will never flag (if he manages to stay clear of boats with bad disco.)
At this stage, Paddy Kehoe is something of a Corfu veteran, and his love affair with the island will never flag (if he manages to stay clear of boats with bad disco.)
Mostly I find myself trying to decide what kind of blue is going on out there, as I pass an idle hour. Back home, I've even gone Googling colour tables to try and describe the colour of the Ionian Sea, which is where you will find the island of Corfu of which we speak. Kerkyra - as Corfu is rendered in Greek - is one of the Ionian islands of Greece, but it is a Meditteranean island surely in the grander scheme of things.
We have gone to Corfu seven times over as many years, flying with Budget Travel originally, nowadays with Falcon Holidays. And going there on our chartered flight, I tend to think that we are flying to the Meditteranean, not so much the Ionian. Defiantly thinking so, in fact, as we crossed the apron in spattering rain this June, one last benediction wetting our heads before we arrived, after a three hour flight to an island sweltering in the mid-thirties. I've been there when the thermometer has hit 40, so I'm inclined to believe that the best time to go to Corfu is May or September.
A week spent there last September was very pleasant indeed, but still hot enough to want to plunge repeatedly into the Ionian. And of course, the prices get keener late in the season, ditto for May, when we gather the wonderful flowers and shrubs, the oleander and bougainvillea look particularly gorgeous.
Back to that sea colour business though. The word "cobalt" I like to use to describe one of the Corfu "blues," and sometimes the sea is indeed that muted navy that is cobalt. But the greener end of the spectrum, turquoise and jade are also encompassed. Turquoise when seen from above, the waters that swirl around the dazzling white rocky coves of Kassiopi or wash into the coves beneath the so-called New Fort in Corfu town are crystal clear close-up. You immerse yourself in them naturally, an absolute necessity at the height of summer.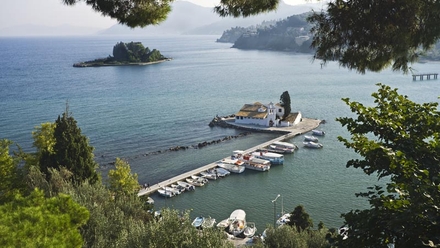 Both the Old and New Forts in so-called Corfu town (more properly a small city) were built by the Venetians. These colonisers established themselves on the island in 1386 and ruled thereafter for the best part of four centuries. The two forts, prominent features of the town, are definitely worth visiting, as much for the fine views as anything else. The enduring Venetian imprint can be seen in the narrow streets, in the architecture of many of the buildings and the Venetian sewerage network still operates below the city streets. The new rulers offered gold to the citizens of Corfu in return for planting olive trees. Thus there are an estimated three million olive trees today, some of them over 400 years old, trees which thankfully are no longer sprayed with pesticides by airplanes.
Yet a mere three per cent of the world's olive oil comes from Corfiot olive – too much hard work for too little return, it seems. The Corfiots themselves bring their harvest, which is shaken down and caught in great black nets to factories who press the olives into oil for a fee. Alternatively, citizens can pay in kind with their produce, an interesting way of doing business.
And of course, it's not just olive oil for cooking. I myself like to bring home tablets of fragrance-free olive soap each year. "Very good for the body," says Spiros who sells them for a Euro and ten cent a piece in his supermarket in Messonghi - that's not just sales talk, it feels genuinely good when you lather it on. Apparently, the oil is boiled with caustic soda and sea salt for several weeks, and eventually rendered into soap.
Food and drink, then? Loulass Village serve a to-die-for Moussakas, a kind of lamb and aubergine pie, far more interesting than the lasagna which it resembles. Try their Lamb Stamna, essentially a tasty Irish stew with lots of peas. Or swordfish on their Sunday barbecue nights, delicious. The family's home-grown vegetables mean that eating a tomato, in say one of their tasty omelettes, is an entirely special experience. As for the drink, the ubiquitous Greek beer Mythos has a wonderful "cut", as us beer afficioandos tend to say. A pint of Mythos is perfect with the food. Finish the whole experience off with a Greek coffee and a modest glass of ouzo with ice.
On each of our trips there, we have stayed at the family-run Loulass Village aparthotel , at Psarras in the south of the island. See http://www.falconholidays.ie. Alternatively, phone Nicola at Falcon on (01) 887 37 07. Psarras is a country place, a scatter of houses set by a beautiful bay, close to the small, friendly village of Messonghi. Messonghi in turn runs into the greater tourist strip that is new Moraitika (as opposed to to the original, older village which I have yet to visit.) Alas, you will look in vain for a nightclub scene - there seems to be just one in Moraitika. Go south to Cavos, obviously, for the clubbing scene and the excess.
Our Loulass Village aparthotel has been patronised for years by Irish people primarily, many of whom keep coming back year after year. Costas and his wife Maria do their utmost to make sure that all their guests have the best stay possible and the tastefully-appointed aparthotel is indeed an ideal place to bring young children. The aparthotel has both an adult and a kiddies pool while a fifteen-minute walk brings you to a beach that never gets too crowded, certainly outside of the weekends.
Across the calm stretch of blue water from Psarras, you see the great, desolate mountains of Northern Greece, which continue in great barreen folds into mysterious Albania. Indeed you can take a day trip to the small city of Saranda in Albania, by ship from Corfu town, and visit historic Roman ruins at Butrint. There are organised coach trips around Corfu itself and boat trips to neighbouring Ionian islands, among them Paxos and Anti-Paxos. A visist to the charming water park Aqualand is a great day out.
But be careful about who you take the boat trips with, and have no shame about asking the following question: will we be bombarded by bad Euro-disco at full volume throughout the entire trip? Yes, we were such hapless soldiers last September. And, boy, did they pack the punters on.
Paddy Kehoe