RTÉ Travel's Ed Leahy documents travelling by ferry as a means of reaching your travel destination.
"Are you going on your holidays?" It was a part of the pre-holiday ritual as our elderly neighbour, Mrs Quinn, would stick her head through the open window of our already over-packed Ford Escort and wish us well, before slipping my mother some cash for a 'few sweets for the journey'.
Our holidays were of the camping variety, and year on year, my Dad's ambitions grew as he plotted expeditions into continental Europe – first France, then further south to Sitges in Spain, before taking on the terrifying tunnel through the majestic Mont Blanc en route to Rimini on the east coast of Italy.
These almost week-long automobile adventures to sunny climes appeared absurd for this young lad, sitting squashed in the boot of the estate car, making sure not to encroach into my older brother's allotted space for fear of a dead arm or three to accompany me to the final destination.
But looking back, the memories are indelible and now with the benefit of retrospective rose-tinted glasses, my nostalgia-inspired recollections include rolling vineyards, field upon field of statuesque sunflowers, heart-stopping winding Alpine and Pyrenees hair-pin bends and the obligatory last-minute manoeuvre out of the left lane to the amusement of local villagers as oncoming traffic slowed on approach.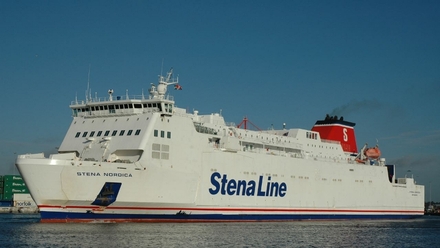 And then there were the ferries. Dun Laoghaire to Holyhead, Dover to Calais and the sick-inducing overnight voyage from Rosslare to Cherbourg or Le Havre. The ferry was an essential part of the process and it served us well throughout.
So after twenty-odd years of moving on from port to airport, a trip to the Lake District in England was enough to tempt me back to the high seas to renew acquaintances with a former sparring partner, the Irish Sea, and the old reliable ferry from Dublin to Holyhead.
The pre-voyage packing was already scoring brownie points for the ferry as the car boot was filled with everything that I may need and plenty more that I was sure would not be required – no baggage limit to worry about on this trip.
It was one of the very few sunny Dublin days in this Olympic year and a mid-morning coffee and Danish was enjoyed on the Dun Laoghaire promenade ahead of our lunchtime sail.
Coffee finished and five minutes later I was rolling onto the awaiting ferry. Five minutes more before I was relaxing in the stylish Stena Plus lounge, enjoying a complimentary coffee and muffin, already set up on the laptop taking full advantage of the free onboard Wifi.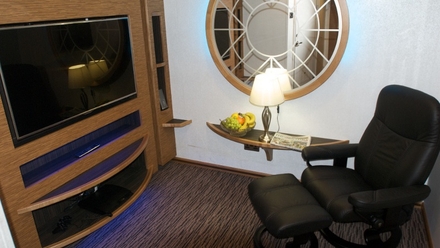 It was, admittedly, a very calm day but I barely noticed that we had set sail as I enjoyed a ramble around the high-speed Stena HSS Explorer with only two hours to kill before we reached Holyhead.
I had been on a ferry twice in the past twenty years. The first of those was a jolly on the once popular Booze Crusie, which took you to Holyhead and back, where filling the car or the suitcase with cheap duty-free was the order of the daylong return trip.
And my more recent ferry experience was another drink-fuelled adventure, this time to the Euro 1996 qualifying clash between Ireland and the Netherlands at Anfield.
It's fair to say that ferry travel has evolved a lot since those days, and now a stroll around the ship is a very enjoyable experience with plenty to keep you occupied for the short hop to Wales.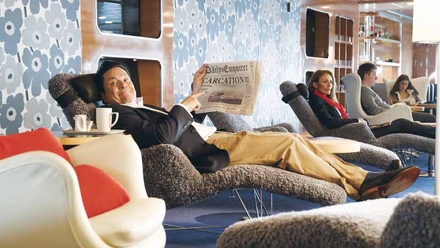 The Stena Plus lounge offers very comfortable seats and surroundings with a wide choice of complimentary food and beverages, also including free newspapers and magazines, and boasts great views out to the Irish Sea.
There is an additional charge to use the Stena Plus facility but it certainly adds good value to the experience, which also includes express boarding and disembarkation.
But having explored the entire ferry, the comfort factor is not just reserved for the premium passengers, as the facilities throughout are excellent with comfort, cleanliness and space being very much a constant on board.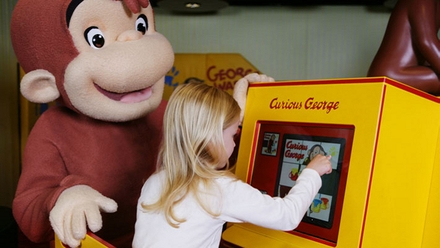 And the onboard experience includes quality shopping options and a Curious George-themed play area for kids, showing DVDs, with bead trees, memory blocks, colouring stations and chalk boards.
There is also a play area for teenagers and adults with games and video arcades, as well as a plethora of flat screen televisions dotted throughout the lounge and bar area on board.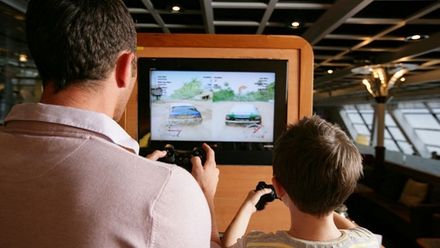 With a four-hour car journey on arrival, the ferry again proved very useful for the preparation as I enjoyed a very tasty grilled chicken sandwich and chips, which allowed me to hit the road immediately.
My return trip, however, proved a bit more eventful.
Leaving for Holyhead in plenty of time, I took a slight detour on the England-Wales border for a flying visit to the historic city of Chester.
A canal-bank walk and a tour of the town were enjoyed before dining at a fine steakhouse in this quaint and historic city centre.
Departing Chester, I chose instinct over information, and soon found myself approaching the Merseyside town of Birkenhead.
The clock was now ticking as I cut across north Wales and got back on track but it was now touch and go as to whether I was going to make the night ferry to take me home.
A steady pace on the, thankfully, empty motorway brought me into Holyhead just thirty minutes ahead of departure time. If this was an airport check-in, I would most certainly have been forking out for a new flight, but the ease and accessibility of the ferry proved priceless as I was waved along and aboard within minutes of arriving.
The journey home was on the bigger, if slower, Stena Nordica, but the relaxing environment on board made for a very pleasant change from the Cannonball Run I had just undertaken from Chester.
Again, the onboard facilities were top class with everything that was on the fast ferry, as well as other options, including en-suite cabins offering a comfortable, relaxing and private area with plenty of peace and quiet.
Private lounges equipped with luxury leather seating, a flat screen 3D TV, a Playstation 3 console and games as well as tea and Nescafe espresso making facilities are also available.
All that was left when I got back in the car on arrival at Dublin Port was a ten-minute spin through the docklands and home.
The kettle was already boiling as I pondered the Dublin airport passport and security checks, the baggage carousel and the overpriced taxi home.

Getting there: Stena Line currently offer great 'Car-Cation' and 'Kids Travel Half-Price' options on all their ferry routes from Ireland. Prices start from as little as €89 single for a car plus driver, and passengers can book the private lounges from only €30.
For more information, visit www.stenaline.ie or call 01 204 7777.