No sooner are they back to school but they are off again!
This year's Mid-Term Break runs from Saturday 27th October until Sunday 4th November, so why not take the opportunity to explore Ireland with the kids and have some great value family fun. There is loads to see and do – from underground caves to life on the ocean waves, dolls houses to bird's nests, high wires and sugar highs!

Make sure to pick up a copy of the new Discover Ireland Autumn Special Offers Brochure to plan your Mid-Term break. Packed with almost 200 offers from all around Ireland, plus added value 'treats', the Discover Ireland Autumn Special Offers Brochure is your ultimate guide to all that's on offer this Autumn. Pick up your copy is Discover Ireland Centres across the country, or simply download from discoverireland.ie
So get top marks this Mid-Term with lots of great adventures waiting you and your family at www.discoverireland.ie.

Keep Them Sweet!
How about a delicious treat with a day out at one of the country's top sweet makers, Willie Wonka style! Take a Ritchie's Mints Factory tour in Inchicore, Dublin, home of the Milky Moo and After Dinner Mint, and see all sorts of confections from cinnamon rolls to bon bons being made.
If chocolate is more your thing, then head to The Chocolate Warehouse in Walkinstown, Dublin, a unique fun venue where visitors can enjoy the story and the mystic of chocolate. Or get hands on at The Chocolate Garden in Tullow, Co. Carlow, where you can decorate your own creations and learn about ice cream. There is an animal park, a kids train and a forest walk next door in Rathwood!

All Dolled Up!
Check out the magical miniature world of Tara's Palace Museum of Childhood at its new home in Powerscourt House, Enniskerry, Co. Wicklow. It has Irelands largest period dolls house with 22 rooms each furnished with painstakingly crafted miniature furniture. There are hundreds of exhibits including a house in a bottle and the smallest doll in the world! If teddy bears are more their style, check out Bear Essentials at Bawnboy Co. Cavan, which has a garden, gift shop and the largest collection of teddy bears in the country.


Go Wild
For a walk on the wild (animal) side, check out the new additions at Dublin Zoo including a baby giraffe, a new elephant and a baby tapir. In Cork, Fota Wildlife Park has a new Lemur and its baby monkey, Shay Gibbon. Three guesses who he's named after!

Older kids will love the raptors at a high flying bird of prey centres. Let them be a falconer, or take a hawk walk, with experts at Woodlands Falconry in Tullow, Co. Carlow, Eagles Flying in Ballymote, Co. Sligo, or at Ireland's School of Falconry set in the lush surrounds of Cong, Co. Mayo. At the Burren Birds of Prey Centre they'll be enraptured by some of the largest displays in the country of falcons, hawks, owls and kestrels. Don't miss they white tailed sea eagles. One of the oldest sports known to man, they might even catch their tea!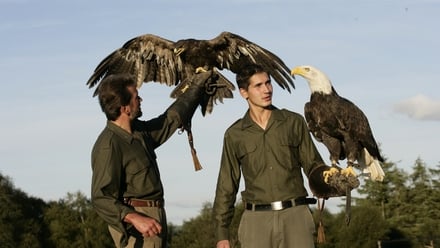 Ships Ahoy!
The kids can keep up the history lessons on Mid-Term with a maritime themed excursion aboard the Jeanie Johnston Tall Ship and Famine Museum at Custom House Quay in Dublin where guided tours are conducted daily. In Wexford the Dunbrody Famine Ship will allow you experience the sights, smells and sounds of a tall ship crossing the ocean, as well as meeting captain and crew, you'll encounter playing emigrants who tell their enthralling story. And don't miss Titanic Experience in Cobh, Co. Cork, a permanent visitor attraction commemorating the town's links with the ill fated vessel.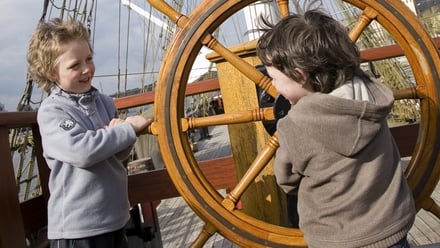 Going Underground!
Be a cave dweller, at least for a little while, with a subterranean sortie to one of the country's cave centres. At the Ailwee Caves in the Burren, Co. Clare, expert guides will give you the low down, down low. Wander through caverns, over bridged chasms and alongside a thunderous waterfall. At Crag Cave in Castleisland, Co. Cork, check out the magical stalagmites and stalactites in one of the largest cave systems in the country, almost 4km in length. In Tipperary, head on down to Mitchelstown Cave, at the foothills of the Galtee Mountains to see three massive caverns covered in nature's artistry in the form of dripstone formations, calcite curtains and glistening crystals.

Step Back in Time!
Bring the past to life with a visit to Dublinia, for tales of Vikings and Medieval Dublin. October is archaeology month, so there is loads going on, including dig workshops, treasure hunts and special tours. Keep up the Viking theme with a trip around modern day Dublin in one of Viking Splash Tour's amphibious WWII vehicles. For a gentler pace, don't miss Dalkey Castle & Heritage Centre, a 14th century castle and town house right in the centre of Dalkey, Co. Dublin – and minutes from the DART.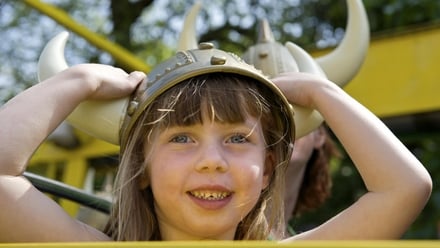 For outdoor fun, the Irish National Heritage Park in Ferrycarrig, Co. Wexford makes a terrific day out exploring ancient monastic settlements, box tombs, dolmens and crannogs, while at Bunratty Castle and Folk Park, Bunratty Co. Clare, you can experience Irish life in the 19th century, with characters to meet including the Bean an Ti, the policeman and the local teacher – just in time for school.
Don't miss out on a fantastic Mid Term Break! www.discoverireland.ie