Blessed with a rugged and beautiful coastline, we have a fantastic variety of beach, reef and break points to choose from. Little wonder serious international surfers make a beeline for Irish shores. Sure it could be Hawaii in all but climate! Believe it or not the real surfing season only starts now and runs right through until May when we have the biggest waves and the clearest water.
So it's the perfect time to take a surfing break. And so what if the water is cold - that's what wetsuits are for! Whether you are an experienced surfer in search of the big one or a novice looking to get started in more gentle conditions, there's no shortage of options.
So grab your board. And when you've had your fill of riding the ocean waves make the most of the 'après surf'! A host of great pubs, top notch restaurants and great value accommodation awaits wherever the current takes you! Say Aloha to autumn with www.discoverireland.ie/surfing, which also has a surfing video from Ireland's top pro-surfer, Easkey Britton, and a real-time surf report from around the country.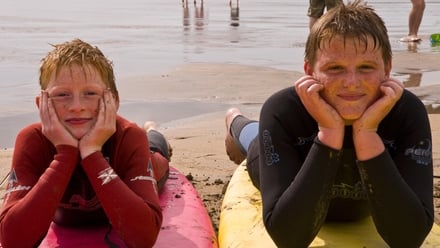 Dive into Donegal
Bundoran in Co. Donegal isn't known as the surf capital of Ireland for nothing, boasting some of the best known surf spots in the country. From the world class reef break of The Peak to the ever reliable Tullan Strand, it has something to offer every level of surfer. Bundoran town also has a terrific nightlife, with lively pubs and stunning restaurants. But wherever you travel on the Donegal coast you will find fantastic surf spots. The beach at Rossnowlagh is perfect for beginner and intermediate surfers while you will find more challenging waves in the wilds of Inishowen, Fanad Head, Dunfanaghy, Bloody Foreland and Dungloe. With 10 Irish Surfing Association schools in the county to choose from, you'll be hanging ten in no time.

Surf's up in Sligo
Neighbouring Sligo is one of the best known adventure destinations in the country, with top notch surfing to boot. Beaches at Strandhill and Enniscrone are great for seasoned surfers but also perfect for learners, with loads of surf schools in the area devoted to getting you up on your feet in no time. The beach at Easkey is legendary but wherever you are along the coast you can consistently bag big waves, clean waters and great surfing. Of course surfing is not just for dudes and The Perfect Day Surf School in Strandhill offers women only surf classes with professional female instructors! So let's go girls!! For the perfect pre or post surf meal, make sure to check out Shells Café in Stradhill. Their commitment to healthy, natural and locally sourced produce led to the owners to publishing the Surf Café Cookbook. The unique cookbook is a must read for all surfers and visitors to Stradhill with a compilation of easy to make and tasty recipes and a guide to the beautiful area of Strandhill and its vibrant culture.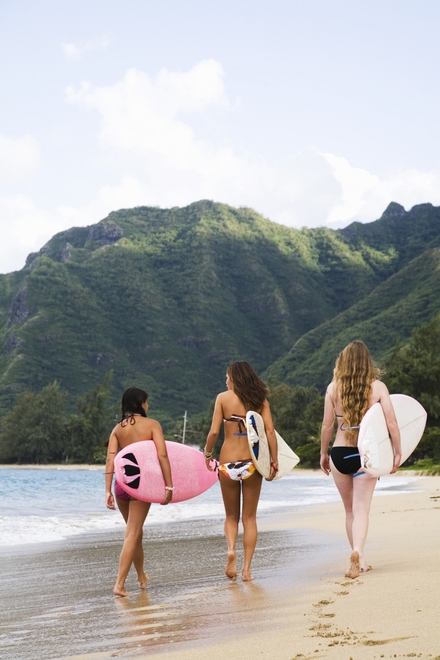 Magic Mayo
Mayo is rich in great surfing beaches including Bertra, an arm of land extending into Clew Bay. By day enjoy spectacular views over Clare Island and by night relieve every surfing second and enjoy the craic in the buzzing pubs and restaurants up the road in Westport. For a total getaway, head for the windswept beaches of beautiful Belmullet, or bag a big one at Keel Strand in Achill, a longstanding favourite among surfers. Why not try your hand, or rather your foot, at stand up paddle boarding there? SurfMayo at Carrownisky Strand in Louisburgh is one of the first surf schools established in Ireland and is open seven days a week every month of the year – apart from Christmas!

Clare champions
Any surfer worth his or her sea salt will be familiar with the surfing mecca of Lahinch in Co. Clare with waves scattered all along this exposed coastline. Throughout the year the surf schools here are a hive of activity, making it buzzing spot for a surf holiday. Once you've brushed up on your skills, head off and practice at less crowded beaches such as Doolin, Doonbeg and Spanish Point. If you want to practice languages too sign up to the Aloha Surf School in Fanore where they have instructors speaking French, Spanish or Portuguese!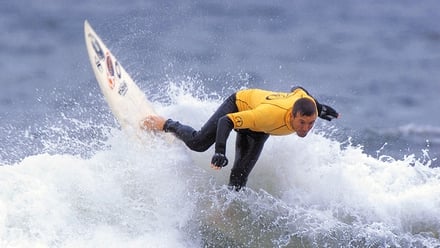 Surf the Kingdom
The South West is the great surfing secret of Ireland, just waiting to be uncovered. The diverse coastline of Co. Kerry hosts many surf spots from beach to reef point. Inch and Banna Beaches are long, sandy, and bordered by the Kerry Mountains. Not that you'll notice, as you ride the waves to shore. In beautiful Ballybunion, world class surf breaks along four miles of golden sands ensuring a trip you won't forget, whether you're a beginner or an intermediate, while the Atlantic cliff break ensures exhilarating challenges for serious surfers. At Brandon Bay you'll find the longest beach in the country, Castlegregory, extending almost 20 km, with gentle beach break surfing perfect for novices.

Wild West Cork!
Wild West Cork has some of the most beautiful beaches in the country so grab your board and take advantage of the rebel county's rebellious seas at scenic highlights such as Barley Cove, Garrettstown or Castlefreke. Or how about the endless beach at Inchydoney, the perfect place to get all the family wet suited and booted, with lessons that run all year round.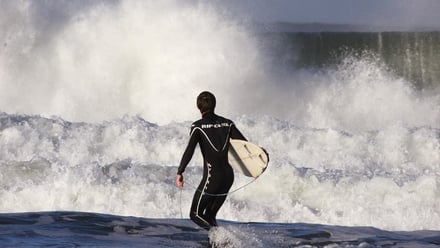 Waterford Waves
Don't miss Waterford's gorgeous Copper Coast, fringed with sandy beaches that, in the right conditions, can rival the west for fun, including Bunhahon. Terrific Tramore is a centre of surfing round here and it's perfect for beginner and intermediate alike. A great seaside resort, you'll find loads of surf schools to keep you up on your board by day, with plenty of pubs and clubs to keep you up all night too!

Wonderful Wicklow
Just because you're heading to the east coast doesn't mean you can't surf! The county's most famous beach, Brittas Bay, now has its own surf school, Brittas Bay Surf School, running right through the autumn and, depending on demand, beyond. Famous for its gentle rollers, and with all the fun of Wicklow Town just up the road, it's the perfect place to dip your toe in! You can also try Surf N Stuff surf school in Bray, one of Irelands oldest seaside resorts.

Book your surfing break now. Take your first lesson by going to www.discoverireland.ie/surfing