Giddy up for the Discover Ireland Dublin Horse Show and discover some great equestrian breaks in Ireland this summer!
Ireland is preparing for one of the "mane" events of the year – the Discover Ireland Dublin Horse Show which will attract 100,000 visitors over five action-packed days to the RDS from Wednesday August 15th to Sunday August 19th. A highlight of the equestrian calendar, the Discover Ireland Dublin Horse Show, is one of the country's best loved festivals, attracting horse lovers, horse professionals, and families from Ireland and overseas for unbeatable sporting spectacle and fun.

As well as getting close up with some famous Irish horse breeds, you can also see the cream of Irish and international show jumpers as they compete for top prizes including the coveted Aga Khan Nations Cup, the Grand Prix Trophy, and the Puissance. But it is not all about serious competition. Don't miss the daredevil antics of the Ukranian Cossacks, the fun of the Hunt Chase, the elegance of the Side Saddle riding displays and the mad antics during the All-Ireland Pony Club Games.


Even if you don't know your forelocks from your fetlocks, the Discover Ireland Dublin Horse Show is a great family day out. There are more than 300 Trade Stands offering everything from art and antiques to confectionary, jewellery, fashion and quirky house and home ideas.
It is heaven for little people. The Kids Zone has Face Painting, Pony Rides, a Pets Corner, and Billy Bubbles performing his Punch and Judy Show!
But the Discover Ireland Dublin Horse Show is not the only way to get a horsey high in Ireland this summer. There is a huge variety of equestrian breaks on offer all over the country. So why not follow up a visit to the Show with a horsey break of your own? Go to www.discoverireland.ie for some great horsey ideas!

Slow it down in a horse drawn caravan!
Why not slow things down and escape from the hectic hustle of modern life with a break in a horse drawn caravan in beautiful, unspoiled countryside? Clissman's Horse-drawn Caravans near Rathdrum, Co. Wicklow, will bring you on a journey through 12km of gorgeous countryside each day. The caravans sleep up to five and have cooking facilities on board. Go from sandy beaches to quiet lakes and majestic mountains in a matter of hours.

In Co. Laois you can travel on quiet country roads with Kilvahan Horse-drawn Caravans based in the Slieve Bloom Mountains and wander through forests and historical sites and along lakes and rivers.
Explore Co. Galway with Into the West Horse-dDrawn Caravans in Loughrea, where you and your horse decide the pace to explore. And Bernard Fagan Horsedrawn Caravans in Dublin will allow you tour some of the city's historic sites in style including The Mansion House, The National Art Gallery, Government Buildings, Merrion Square, Christchurch Cathedral and Trinity College.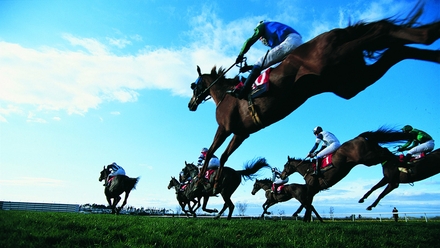 Rein In Your Horsey Skills!
You can take the opportunity to become an expert horse man or woman by combining a holiday with riding lessons! There are lots of equestrian centres in Ireland offering residential courses. Annaharvey Farm in Tullamore, Co. Offaly, close to the beautiful Lough Boora Parklands conservation area, offers residential instruction packages including show jumping, cross country and dressage. They have indoor and outdoor arenas, cross country fences and a network of farmland trails.

The Belair Equestrian Centre in Ashford, Co. Wicklow is a family run equestrian centre and hotel on 200 acres of parkland – a perfect spot for a horsey holiday with forested hills on one side and the sea on the other. The centre is particularly popular for residential cross country schooling on top notch horses.
Calvey's Equestrian & Pony Trekking Stables in Keel, Achill, Co. Mayo, offer homestay holidays with riding lessons for all ages and abilities. Children are particularly welcome here and the family pony trekking is very popular. One of the highlights is riding along stunning Keel Beach and Sand Dunes! In Co. Westmeath Mullingar Equestrian Centre offers advanced residential horse riding tuition. It has five sand arenas, plus a Grand Prix sized grass arena.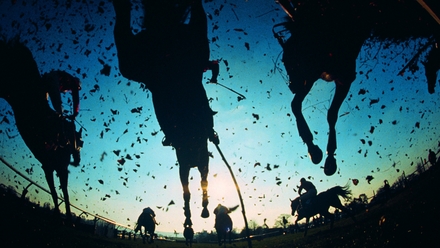 Take a Punt at the Races!
If you prefer to watch horses rather than ride them a day out at the races is for you! There are a number of great Horse Racing Festivals in Ireland that will get your heart pumping. Head off to the four-day Killarney Horse Racing Festival (August 29th – September 1st) at one of the most picturesque tracks in the world. Take in Killarney's famous lakes which are right next to the racecourse. The festival consists of four evening meetings, leaving you plenty of time for touring by day.

You can combine two back-to-back evening meetings in the South East in September for a great mid-week break, and explore the delights of the region at the same time. Gowran Park in beautiful Co. Kilkenny, has a meeting on September 5th. Why not end a day touring some of Kilkenny city's historic sites with a flutter. The following evening is the turn of Clonmel Racetrack in Co. Tipperary (September 6th)

If you want a longer stretch of racing fun, the week-long Listowel Harvest Festival Race Meeting (September 16th - 22nd) offers a great mix of national hunt and flat racing. The town comes alive to the sound of music and busking all week and there are fun races through the streets! Don't miss the selection of the Harvest Queen and the All-Ireland Wrenboy Bands Competition.

Trek 'n Trail!
Ireland has some of the most scenic trail riding and trekking in the world. There are loads of options to suit every type of rider, from short children's rides to whole days spent in the saddle. For many, there is simply no better way to relax and absorb the breathtaking scenery. You'll also benefit from picking up some additional horse riding skills and meeting new friends along the way.
The Aille Cross Equestrian Centre in Loughrea, Co. Galway, brings horse lovers on six day rides along the Connemara Coast Trail, staying in B&Bs along the way. Also in Loughrea the Slieve Aughty Centre offers donkey walking packages, with small ponies and donkeys carrying your gear while you ramble through nearby forests. You can stay in B&Bs, or return to the centre each evening.
If you have dreamed of being a cowboy, follow your dream at the Five Oaks Ranch, in Ballyshannon, Co. Donegal, which runs Western style riding trails and lessons on imported pure bred American quarter horses. They offer residential packages.

Get your very own horse for a week at Horse Holiday Farm in Grange, Co. Sligo. They also offer a special four-day Yeats Sligo Trail. An Sibin Riding Centre in Co. Clare offers a seven day trail covering around 150km, staying in B&Bs each night.
So giddy up - and check out some great horsey breaks with www.discoverireland.ie