Leaving Dublin at 5pm on a Friday evening and arriving to a warm welcome before 6.30pm is one of the true joys in life. As much as I appreciate the vast beauty this country has to offer on the West Coast, I just love a little jaunt rather than a big trek.
We were invited to stay in Gorey's Ashdown Park hotel, which has recently undergone some renovations in their Asha Spa and during the lockdown, in their dining room, The Rowan Restaurant.
Our room was spacious with a double and a single bed and a view out to the courtyard. I found the room to be a little too dark for my liking when it came to the paint and soft furnishings but hey, each to their own, right? We did however, love the welcome plate of goodies!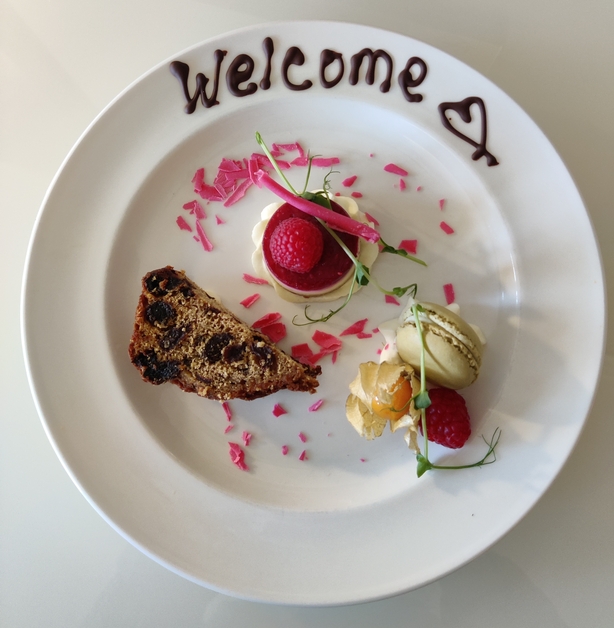 Now, onto the important stuff: the food. Food can make or break any venue for me and oh my, did the meals live up to expectations.
We had two wonderful breakfasts, I had smoked salmon and scrambled eggs, which I know we all think are hard to get wrong but believe me, these were exceptionally good. The brown soda bread gets a special shout here too, fresh, flavourful and foirfe with the eggs.
My partner enjoyed a tasty little granola pot, followed by poached eggs on toast, very nicely cooked, with excellent ooze of the yolk - chef's kiss!
We had dinner on Saturday night in the Rowan Tree restaurant which I previously mentioned has been recently renovated and was giving me downtown New York eatery vibes. Think gold down lights, parquet floors, sumptuous olive-green leather booths and the all-important atmospheric buzz.
We had a cocktail each to start; mine a passionfruit martini, his was a strawberry gin bramble, both were served in gorgeous glasses. We were off to a good start.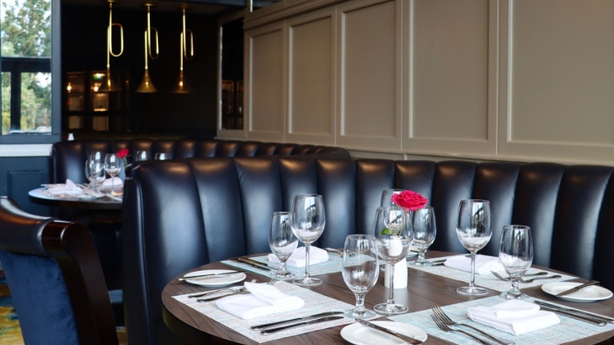 I ordered the Confit of Silver Hill Duck Leg Sesame Noodle Salad to start and absolutely loved it. The duck was tender and went perfectly with the crunchy, sweet noodle salad.
My partner picked what the server described as Ashdown Park's signature dish, the Slow Cooked Pork Belly with Tiger prawns, and we both agreed we could see why this has become a staple on the menu. It was a perfect amount of pork belly to prawns ratio, beautifully presented and tasted divine.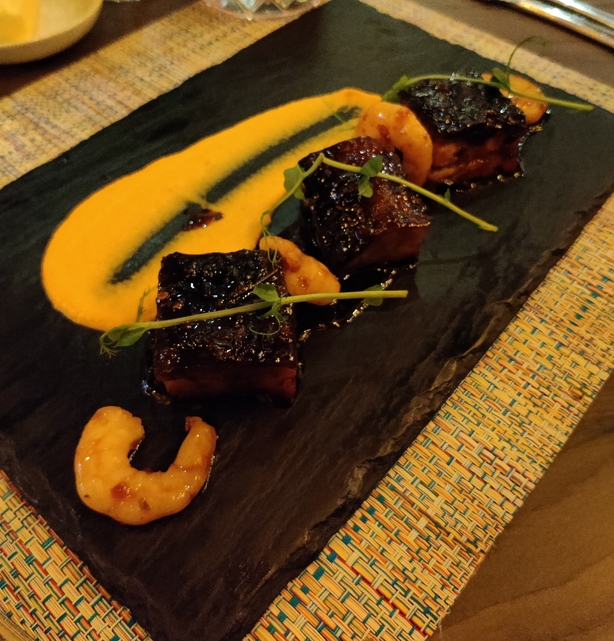 For mains, I chose the Surf and Turf - fillet steak with tiger prawns - while my partner had the Slaney Slow Cooked Shank of Lamb. I won this round.
The steak was one of the best I have ever had, I always order medium rare, and this was flawless. It was served with brandy cream sauce, but I felt the steak was so full of flavour, it didn't need a drop of sauce.
We hummed and hawed over whether we could fit a dessert and finally decided on the trio of Wexford ice creams, chocolate, strawberry (of course) and mint chocolate chip. They were the ultimate palette cleansers, and we didn't feel like we needed to be rolled out of the restaurant afterwards.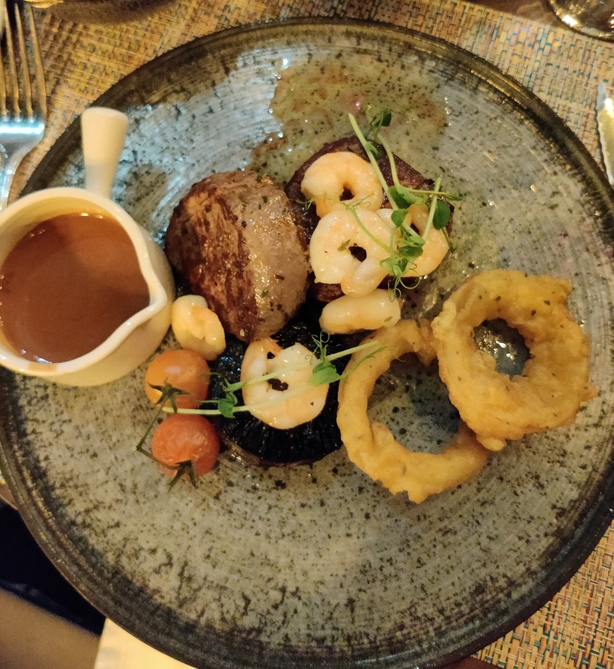 We both took a trip to the Asha spa with different expectations; me, well versed in spas, him, never having visited one in his life! Thankfully, both of us left feeling so relaxed we were ready for a nap.
My therapist, Robyn and I had a chat before the massage about what I was looking for in the treatment and though this might seem like a very small thing, it makes all the difference. I asked for a firm, deep massage as I know I have plenty of knots, and Robyn understood the assignment, getting in there with her elbows and really working hard where I needed it.
I was happy to see the spa using Sligo-based, VOYA products and even happier when the oils used were so luxurious. After our treatments, we reconvened in the relaxation room where we sat, half asleep on heated loungers.
The Verdict
Ashdown Park Hotel is a traditional Irish hotel with a few gorgeous tricks up its sleeve. The food is outstanding, and the wonderfully attentive staff makes this hotel pack well above its 4-star rated punch.
Tá sealanna caite agam i gcontae Loch Garman le roinnt blianta anuas ach ní raibh muid i nGuaire go dtí an turas seo. Tá an t-óstán seo buailte ar an mbaile beag álainn is ea é le cúpla bialann iontach agus tithe tabháirne den scoth ann freisin.
The Details
We stayed in a deluxe room as invited guests for purpose of review. The deluxe room costs €204 per night at the weekend, including breakfast. I tried the Deep Tissue Back Massage which costs €60 for 25 minutes.
For more staycation ideas, check out our reviews of Adare Manor and The K Club.