As the spring sun hit our backs cycling along the Royal Canal Greenway, it was official - despite not much cycling experience, a family cycling trip was the perfect way to discover more of Ireland's hidden heartlands.
To put our cycling experience in context before this trip, I'll give you the breakdown: the two girls (aged four and eight) have bikes, one still with stabilisers on; I have my Dad's very old Racer bike in the shed which gets a run out once a summer to the seafront that we live nearby; my wife is, shall we say, an unseasoned cyclist.
But it didn't put us off this Greenway trip and, in the end, it didn't hold us back either from really enjoying it.
We were invited as a family of four to find out what the Royal Canal Greenway was all about. It is the longest greenway in Ireland, running from Maynooth to Clondra - crossing Kildare, Meath, Westmeath, and Longford on its way. Starting in busy Maynooth, it follows the 200 year old canal through Enfield and lively Mullingar to Cloondara in Longford, with cafés, picnic spots and attractions along the way.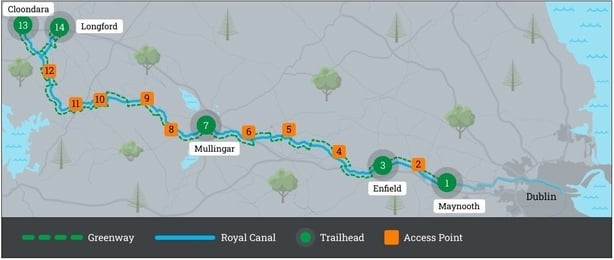 A former towpath for barges, the Royal Canal Greenway features 90 bridges, 33 locks, 17 harbours and four aqueducts that took nearly 30 years to build. Now it's been restored to a very appealing, tranquil holiday destination which you can explore all at once or choose the shorter designated routes — ranging from 6km to 15km between the 14 connecting access points and towns.
And it has become really popular, as more than 640,000 trips have been taken on this Greenway since it opened in March 2021.
It's also been a great boost for the local business - some of which we were lucky enough to visit - as 17 new businesses have opened and 13 businesses have confirmed that they have pivoted or expanded their business to provide for Greenway customers.
The 130km amenity is a joint initiative between Waterways Ireland and the local authorities in those areas.
Our Royal Canal Greenway adventure started on a Friday evening in Maynooth with an overnight stay at the Glenroyal Hotel. After battling the Friday traffic it was a great tonic to get such a lovely welcome when we entered the hotel. The two girls were whisked away to 'check-in' to the kids club, while my wife and I got a comprehensive tour of the deceptively big hotel.
The swimming pool, kids passports, and kids clubs were the highlights for the little ones. There is a really nice touch in the hotel where there is an 'adults only' pool. So that when we went with the kids to the family pool, there was lots of noise and other kids so, thankfully, we weren't annoying anyone who was just in the water for a few quiet lengths.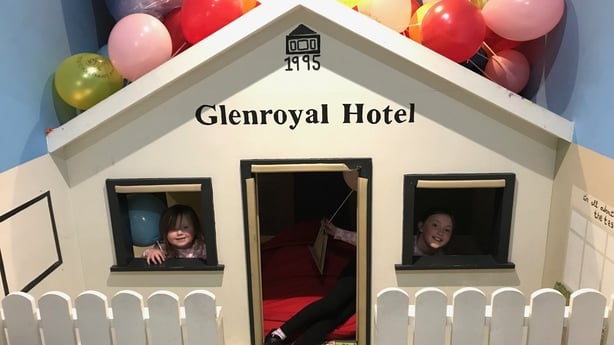 For the adults, the Arkle Bar is really busy with a nice, inviting vibe. We were invited to try dinner in The Enclosure Restaurant which is led by Executive Head Chef, Bernard McGuane.
The A La Carte menu is simple but done very well. Steak is a major theme with blackboards around the restaurant detailing cuts of steaks like Tomahawk that are available as sharing boards.
The Sirloin steaks we ordered were delicious and came out medium-rare as ordered, but with a lovely crispy finish on top. It was a perfect meal, as the girls devoured their kid's meals to rush back up to the kids club for movie night. A meal in peace with quality food is never taken for granted by tired parents.
On checkout the next morning (after another quick swimming pool dip!) we visited the Shoda Market Café, which is open to the public for coffee, gifts, wine and sandwiches.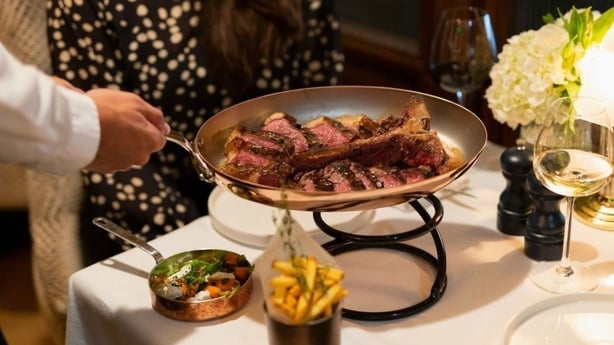 After a hearty lunch at the Hamlet Court Hotel in Kildare we were then en route to our first cycle on the Royal Canal Greenway. As we watched the skies for rain, we pulled into Mullingar Bike Hire. The family-run business have lots of bikes available and lots of advice about routes and what might suit your cycling party. We chose a tandem bike for my 8-year-old daughter and I, while my wife and 4-year-old took an electric bike and trailer combo.
With the help of the lovely staff, we decided on a short canal cycle up to a playground. They even made sure we got across the road safely before we started the cycle. We really weren't sure what to expect, but it was a lovely spin, in the beautiful spring sun. It took us around 45 minutes to reach the playground, a quick stop and we motored back.
The tandem bike crew built up good speed on the way home, while the electric bike and trailer cyclists enjoyed the scenery a bit more. It was a wonderful introduction to the Royal Canal Greenway.
That night we stayed in the Mullingar Park Hotel, a busy hotel on the outskirts of the town. We dipped into the town as we were invited to try the tasty pizzas at the Urban Forge Pizza & Café which is well situated in the main street. The pizza was of a very high quality, but the cycling was getting the better of us so we called it an early night.
The next day saw our next cycle, this time in Longford with the help of Anne-Marie and John from the Ballymahon Greenway Cycles. Again, like their Mullingar counterparts, they have a huge selection of bikes and a wealth of knowledge of the Greenway. We got great advice about which route to take and what we could expect on the cycle.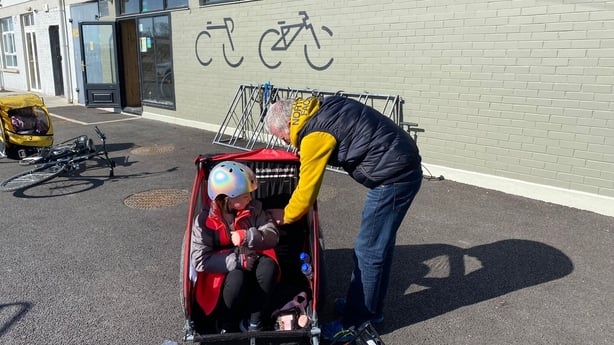 This time we were headed on about an hour-long cycle to the 2_mugs_coffee trailer and decided on two electric bikes with a trailer each for the girls.
Top tip: When deciding on what route to take, especially if you are beginners like us, it was a very good to head for a particular destination. It helps drive things along on the way there and you don't feel the cycle back then after the rest and coffee.
It turned out to be two great choices as the bikes were excellent in taking on the hills and zooming us along, while the girls were tucked up nicely. We took a spin to the coffee trailer and after being looked after by Toni with coffees and ice creams, the girls grabbed a donut each for the trip back and we headed for Ballymahon again.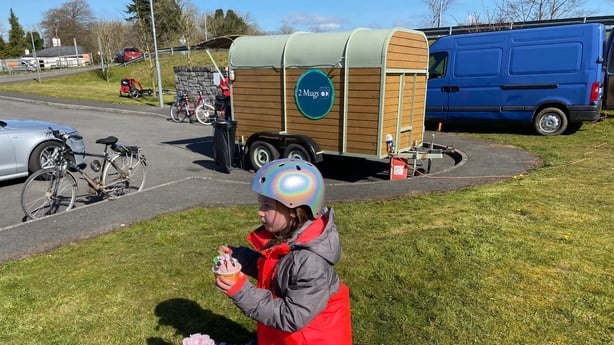 The sun was shining, and the swans followed us along the canal - it was a perfect Sunday outing and something that we would definitely do again.
Our midlands trip ended with a hearty feed in the Rustic Inn, Abbeyshrule before heading back to Dublin.
The Details:
Location: Kildare, Meath, Westmeath, and Longford.
Accommodation: We stay as a guests at both hotels.
Activities: Mullingar Bike Hire and Ballymahon Greenway Cycles - both took care of your bike rental needs on a complementary basis and are a great source of knowledge for Greenway routes.
Thanks also to the Hamlet Court Hotel Kildare, Urban Forge Pizza & Café in Mullingar, Rustic Inn Abbeyshrule, Co. Longford and 2_mugs_coffee for inviting us on a complimentary basis to try their businesses.
An interactive map of the Royal Canal Greenway showing different services along the way can be found here.
To plan your own itinerary, route and for more trip information on the Royal Canal Greenway visit: www.royalcanalgreenway.org
There are a number of similar greenways around Ireland, just waiting to be explored. Digital Dad went to the Limerick Greenway, while the Gastro Gays spent 48 hours on the Waterford Greenway .